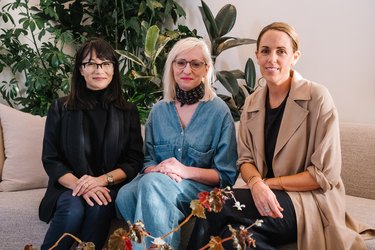 We're all about women making moves and breaking new ground 100 percent of the time, but during Women's History Month, it's an opportunity to make girl talk a number-one priority. Which is why we invited two amazing women to Hunker House to talk about their truly unique businesses: Colleen Clines, co-founder of Anchal Project, and Jodie Fried, co-founder of Armadillo & Co.
Each business operates with ethical practices and aims to promote women and families in underprivileged areas of the world. With Anchal Project, they're helping to transition women in India out of sex work by teaching them the skills required to produce their gorgeous, handmade quilts, pillows, and fashions. "All of the artisans we work with have committed to breaking the cycle of inter-generational prostitution, which I think is really powerful," Clines told the small group that gathered in the Hunker House living room. "We've seen a lot of women send their daughters to college... [there's a] ripple effect within the family and the community."
Armadillo & Co's rugs — aside from being truly gorgeous (we have a couple in Hunker House!) are fair trade and sustainable. But beyond that, the company is invested in their artisans' community in India. "A pillow or a rug was a skillset we could give our artisans," Fried explained. But an even more important initiative has been with the Armadillo & Co foundation. "What's really important to us is education," Fried said of the school they have been helping to fund for the past seven years.
Of course, we couldn't end the evening without talking about being a woman in the design profession, which has come with its challenges. "Being 23 and starting a business without training, it took many years for both men and women — but mainly men — to answer my calls," Clines shared. For Fried, she has worked hard to find her place in the rug industry, which is largely male. "You're working with men who are not used to working with women ... it took a long time to build that trust in that industry and in India."