Ever wanted to live in a movie set? Online design firm Modsy has just brought every cinephile's fantasy one step closer to reality. With the Oscars looming on Sunday, the company decided to have some fun, virtually staging rooms of past Academy Award Best Picture winners with modern-day furniture and decor. Whether you're a fan of the boho Moroccan charm of Casablanca or the classic European elegance of The Sound of Music, here's a virtual walkthrough of four interiors fit for a movie star.
Set in the 1940s home of a retired military captain, Modsy's take on The Sound of Music pairs a traditional European-styled interior (think a luxe chandelier, ballroom-style sconces, and ornate moldings) with clean-lined, modern furniture and accents from Horchow, CB2, and Interior Define. Of course, not missing the film's true trademark, the room's recreation features musical touches like a harp and sheet music. What better place to hear "Edelweiss"?
Modsy restyled Rick's nightclub into a relaxed, bohemian space with contemporary touches. Layered rugs from Loloi create loads of texture and add pops of color, while rustic lanterns create a warm, romantic mood. If you want to recreate the feeling for yourself, look for sophisticated pieces with lots of unique textures — think rattan, bone inlays, and eclectic pillows and floor coverings.
Titanic, the 1998 Best Picture winner, introduced viewers to the glamorous high seas. In their recreation of the film's smoking room and veranda café, Modsy paired sumptuous velvet fabrics and elegant lighting with live plants as a means of bringing in outdoor elements. To inspire the mood at home, look toward dark, moody hues with red accents, similar to those used in the film.
Shakespeare in Love, 1999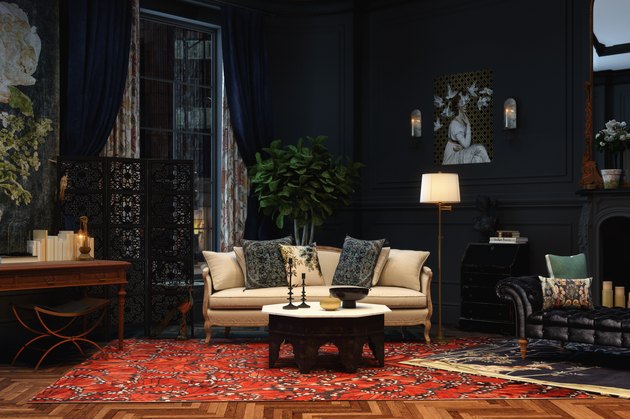 Lovers of the Elizabethan era will adore Modsy's take on a living room inspired by Shakespeare in Love. The moody space includes a Ballard Designs secretary desk (a must for writers, natch) and a swooning sofa, ideal for reading love letters. Adding to the dramatic flair, Modsy included theatrical touches like stage-inspired layered curtains and a rose bush to represent the film's iconic Rose Theatre.
In Ella Esposito's industrial living room, Modsy selected a dark color palette (to symbolize the main character's isolation) alongside a few foundational pieces that channel the film's Art Deco vibes. An aquatic blue-green wall color (Benjamin Moore's Mallard Green) is accented with a complementary velvet Chesterfield loveseat from Overstock and Dutch metal shelving from Restoration Hardware.
---
Laura is a New York City-based freelance writer who writes about travel, food, and design. Her work has appeared in Architectural Digest, Bon Appétit, GQ, Condé Nast Traveler, and more. She's a sucker for a good curbside furniture find.
View Work