All desert hikers — and gardeners — eventually get cactus spines lodged in their fingers, legs, boots or jeans. Since cacti grow in a place with very little moisture, they've developed sharp spines that repel any people or animals trying to harvest their water. Unfortunately, cacti can't distinguish between an attacker and a tender or innocent hiker, so they prick indiscriminately. However, there are a few simple techniques you can use to get rid of both large cactus joints and small, fine needles without further injuring yourself or those around you.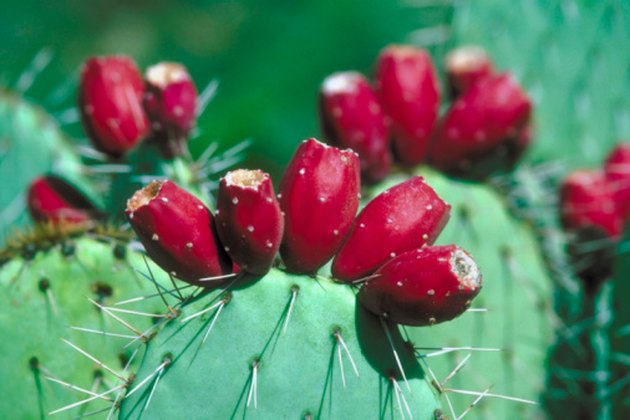 Step 1
Assess where the spines are located. If they're sticking in your clothing or shoes and haven't broken skin, your task is relatively fast and simple. If the spines have broken skin, you need to be more careful.
Step 2
Slide the end of a small comb, like the kind men keep in their pockets, under a cluster of cactus spines lodged in either your clothing or skin. Push the comb outward, flicking the spines away from you and other people or animals. This will hurt if the spines are buried in your skin.
Step 3
Comb down over the area to remove any remaining spines. Again, this will be painful if the spines have broken skin, but it's necessary.
Step 4
Dress the wounds with a disinfectant spray or gel, and wrap them tightly with gauze and medical tape.
Step 1
Attend to small needles as soon as you feel them pierce your skin. They can work their way all the way under your skin and cause infection the way a splinter can.
Step 2
Drip white school glue over the area, gently spreading it with a finger. Do not press down on the spines; you'll just lodge them deeper in your skin.
Step 3
Allow the school glue to dry completely. It should be completely clear and feel papery when dry.
Step 4
Slowly and gently peel away the layer of glue. The needles should stick in the glue and come away with it.
Step 5
Immediately dress the area with disinfectant and a plastic bandage.