The Bobcat model 743 is a skid steer loader made from 1991 to 1993. Landscapers, farmers and snow removal companies use it. It comes with a wide variety of attachments that you can easily swap out, depending on the operator's needs. You can buy attachments either directly through Bobcat and from aftermarket distributors.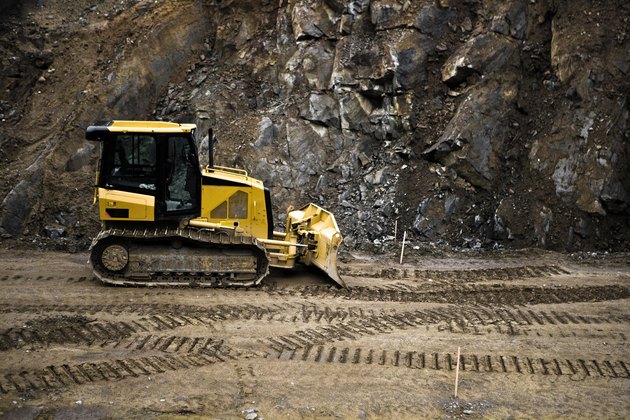 credit:
Jupiterimages/Photos.com/Getty Images
The most common attachment for the Bobcat 743 is the front-end bucket. Use the bucket to dig and haul dirt, grade landscape and even remove snow from driveways.
The hydraulic auger attachment digs deep holes in the ground. Auger attachments are handy when digging wells and footing holes for decks and fences. The auger, driven hydraulically, can power through hard ground. Augers come in diameters from 9 inches to 24 inches. You also can buy auger extensions to dig deeper holes.
The forklift attachment works for business that use the Bobcat 743 in outdoor warehouses, lumberyards and stockyards. The forks can lift pallets and large, heavy objects, making moving inventory around easier.
Landscapers most often use the stump grinder attachment. The attachment, powered hydraulically, has spinning blades that cut and shred large logs and tree stumps, turning the debris into mulch. This attachment is useful for clearing fallen limbs and tree stumps from large sections of property.