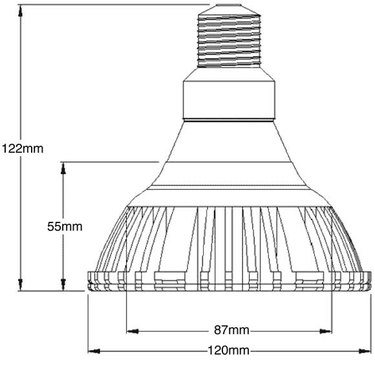 PAR 38 is a type of halogen or LED light bulb. There are two definitions for the acronym PAR, but both describe the same thing. One is parabolic aluminized reflector. The other is pressed-glass aluminized reflector. In PAR 38 lighting, both the lens and reflector are internal parts of the lamp. The gas within PAR 38 bulbs rebuilds the filament and creates a bulb that is longer-lasting than many other types of halogen lighting. PAR 38 bulbs are sturdy enough to be exposed to various types of weather without needing any fixtures for protection.
Design
PAR 38 bulbs are 4.75 inches in diameter, or 38 eighths of an inch. The capsule lead wire brazing that attaches the light-source capsule to the ferrules makes the PAR 38 bulbs. The Parabolic Aluminized Reflector bulbs are formed during the lamp-making procedure by sealing together a pressed lens section and a pressed-glass parabolic section.
Type of Light
The PAR 38 bulbs are best for more direct lighting, but the kind of lighting they provide depends upon where they are placed and the housing they are placed in. Some holders or cans that house PAR 38 bulbs change the effect that the lighting provides. The placement and angle of the PAR 38 bulbs also makes a difference. PAR 38 bulbs are incandescent bulbs. They provide a white light.
Usage
PAR bulbs are commonly used in automotive headlights, commercial down lights, residential down lights and aircraft landing lights. PAR 38 bulbs are more often used in residences and commercial locations. They are often utilized for track lighting. PAR 38 bulbs are good for indoor and outdoor use.
Different Types of PAR 38
PAR 38 bulbs are available in WSP, which is wide spot. They also come in NFL, or narrow flood. Also, PAR 38 bulbs can be purchased in WFL, which is a wide-flood beam spread. These are available in SP, or spot, and FL, or flood, as well. The two types of floodlights are the ones best for lighting a large area with one bulb. PAR 38 bulbs come in wattages from 53 watts to 250 watts.
Purchase Information
Prices for PAR 38 bulbs vary by wattage and brand. They can be found at lighting stores, in discount stores such as Wal-Mart or Target and in home-supply stores such as Home Depot and Lowe's. Your local hardware store may also be a good place to purchase PAR 38 bulbs.
---
Alicia Crowder is a full-time freelance writer. Her portfolio includes work for Free Press Houston, Nevermore magazine, Public News and online content. She has published one non-fiction book and written book reviews for multiple sites. Crowder also has experience as a technical writer of construction project specifications and computer software user manuals.