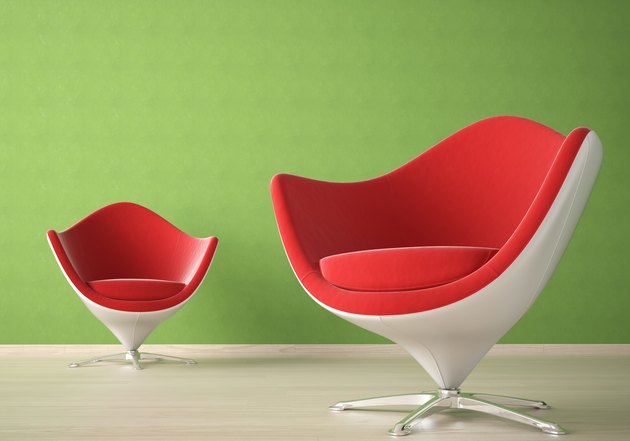 A color complement is its exact opposite hue on the color wheel. Wine colors, that mix of mostly reds and blues, have their counterpoints in yellow-greens, true greens and blue-greens. The complement to a rich purple-red burgundy might be lime or citron, to the lighter red of pinot noir, a teal or turquoise. Wine is generally understood to mean a reddish hue, but the varied golds of chardonnays and sauvignon blancs find decor complements in shades of blue-violet and purple.
Marquee Marsala
Pantone Color Institute chooses a limited palette of hues twice a year that drives a lot of color choice in decor, fashion and manufacturing. Pantone's 2015 "Color of the Year" choice was [marsala, an earthy red-brown wine](https://www.pantone.com/pages/index.aspx?pg=21167), described as dramatic, grounding, sophisticated, subtle, sultry and stirring. If that sounds like your living room,** combine a marsala upholstered sofa with a teal accent wall, slate drapes and an oriental carpet patterned in marsala, teal, mallard, cream, aqua and coconut. In the dining room, marsala-and-citron checked brocade chair cushions gleam against a backdrop of a marsala accent wall; a ceiling and three remaining walls in buttercream; and citron taffeta floor-length drapes. Because the brown in red-brown marsala represents a mix of all three primary colors, complements to the trendy hue range across yellows and blues**.
Wine Cabinets
Paint kitchen cabinets in burgundy enamel in a matte linen room with brushed aluminum appliances. The wine and linen colors hint at vineyards and woven fibers, and the brushed metal completes a texture-rich space. Light marble or butcher-block counters both work in this room, but the blended palette needs a jolt of excitement to stir things up. Decor accents in lime-green or yellowish citron can stand up to the strong burgundy. Try a backsplash of variegated yellow-green glass tiles between butcher-block counters and upper cabinets. Toss a rag rug braided in burgundy and citron in front of the sink and hunt for citron dishtowels to display. Fill a green depression glass bowl with yellow-green Key limes.
Vintner's Living Room
It's not all gloomy days of wine and roses in your house -- the living room is bursting with color, like a ripening vineyard. Rag the walls in the merest whisper of turquoise, almost an ice-blue with a trace of green in it. Then hang shiny striped silk-taffeta drapes from ceiling to floor in pinot noir, lime, cream, turquoise, pink champagne, and merlot. Borrow colors from the drapes for lime and cream upholstery on a sofa decorated with pink and merlot throw pillows. Cover a pouf in pinot noir leather or flocked velvet. Top chandelier lamps with tiny merlot raw silk shades. Bare, bleached, waxed hardwood planks are a sensuous and beautiful floor in such a dazzling room. If you must have carpet, add an overdyed oriental area rug in pinot noir or deep rose.
White Wine Blues
Paint the upstairs hallway the color of chilled white wine, and park a painted violet antique chest at the end of it. The pinot grigio or chenin blanc painted walls gain greater definition with the addition of a complementary purple hue. A hall runner woven in plums, wisteria, violet and blue-iris with a generous sprinkling of delicate yellow-green and yellow-gold flowers grounds and connects the white-wine walls with the prism of purples. The combination is as romantic as a garden in full bloom. The honey-gold of chardonnay walls in a breakfast nook is cheery framing a glossy vanilla-painted booth fitted with indigo corduroy cushions.
---
Benna Crawford has been a journalist and New York-based writer since 1997. Her work has appeared in USA Today, the San Francisco Chronicle, The New York Times, and in professional journals and trade publications. Crawford has a degree in theater, is a certified Prana Yoga instructor, and writes about fitness, performing and decorative arts, culture, sports, business and education .