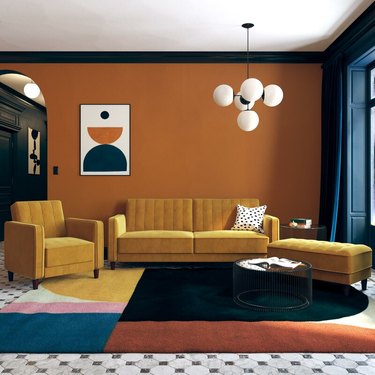 Chances are, you're familiar with Bauhaus's bold style even if the term doesn't immediately strike a chord. The aesthetic incorporates influences from midcentury, minimalist, and art deco styles, while placing a heavy emphasis on geometric shapes and vibrant colors. The palettes are often confident, modern, and sure to leave a lasting impression.
Whether you're looking for bold living room inspiration or you want to add some edge to your home office, keep scrolling to discover five Bauhaus color ideas that will help you incorporate this iconic style with ease.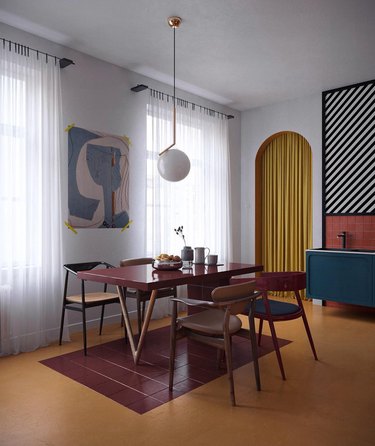 If feminine pastels are more your vibe, lighten up your walls with a subtle but punchy shade of pink. This soft hue creates tremendous balance against the geometric details of this Bauhaus-style living room featured on A Cup of Jo.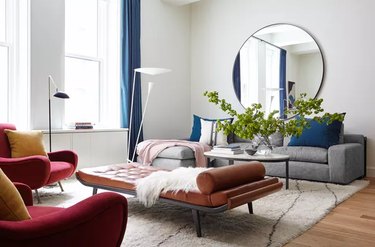 When it comes to Bauhaus color palettes, let the furniture take center stage, leaving the walls white, as seen here in this living room by Brandon Quattrone. The mixture of cool tones like gray and blue paired with rich cognacs and reds creates a great deal of visual interest and dimension without overwhelming the space.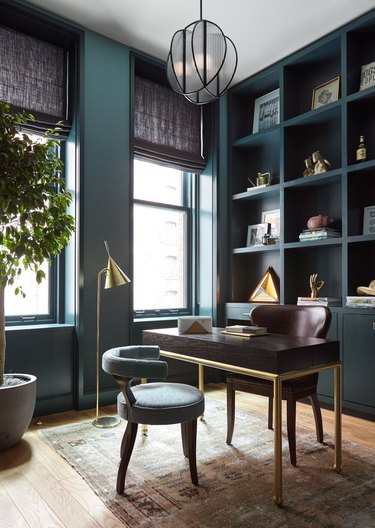 Talk about Bauhaus colors! The teal walls in this home office manage to evoke a cozy feeling while still feeling grand and architectural — key components to achieving that signature style. Take a page out of Brandon Quattrone's design book and pair dramatic wall paint with dark Roman shades for the ultimate luxe look.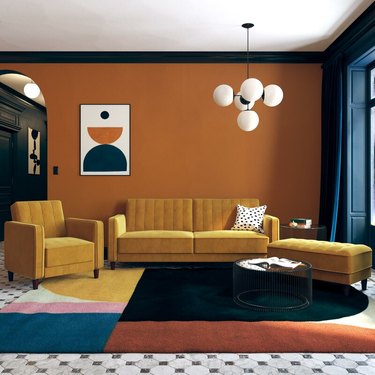 Burnt orange is often associated with midcentury modern style, which can certainly be found in elements of Bauhaus design as well. When paired with mustard yellows and rich navy blues, you'll strike the perfect level of contrast to make this look a home run.