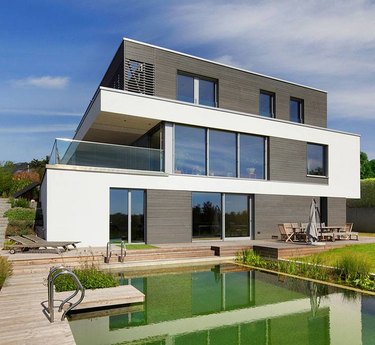 We're here to tell you that Bauhaus isn't just a sleek font you use for your Word docs. Actually, it's a design movement with a lot of history, one with its beginnings in the early 20th century. German architect Walter Gropius founded the first Bauhaus architecture school in 1919, emphasizing a modern, even futuristic look rooted in simplicity and practicality. It's not unlike Frank Lloyd Wright's approach to design, which was functional yet aesthetically pleasing in clean lines and shapely details.
If you're drawn to all-things-modern, then Bauhaus style is right up your alley. Perhaps you're currently pondering designing a new home. In this case, allow us to recommend a Bauahus style house with an exterior that feels fresh and modern even though its start goes back over 100 years.
1. Be playful with shapes.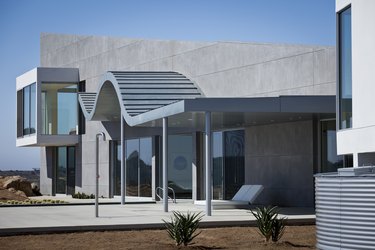 Known for its attentiveness to geometry, Bauhaus style doesn't mind taking a lighthearted approach from time to time. For instance, as seen in this home designed by Batter Kay Associates, there are straightforward, linear qualities, but the visual interest is taken up a notch with a fun, curvaceous overhang.
2. Consider a minimalist take.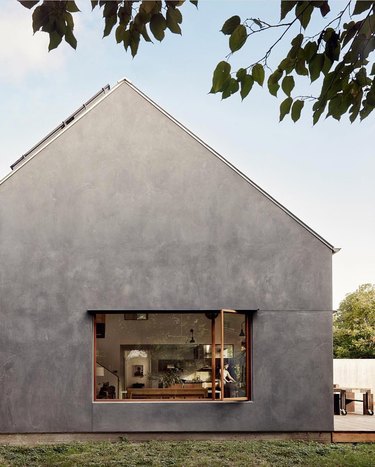 Although Bauhaus style often showcases a myriad of windows and geometric features, it can be quite simple, too. This is especially helpful if you're aiming for a minimalist look for your exterior. This charcoal-hued, minimal abode designed by Annie and Arthur at Side Angle Side is a prime example.
3. It's all about geometry.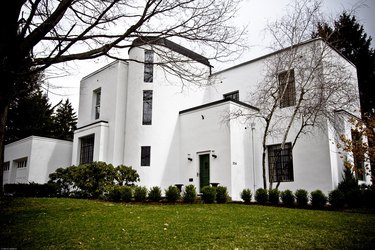 As we mentioned, a Bauhaus exterior doesn't display true Bauhaus style unless it sports some geometric details. Many Bauhaus homes can be loaded with them, from the windows to the doorways, as proven by this home captured by John Williams Ph.D.
4. Off-center isn't necessarily a bad thing.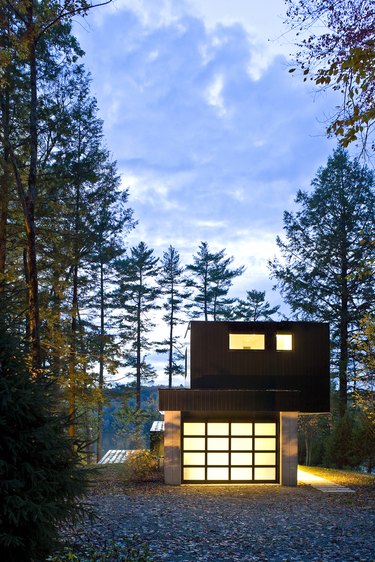 Even though there's a lot of symmetry seen in Bauhaus style homes, they aren't above spotlighting off-center details in the name of eye-catching design. Frequently, Bauhaus architecture will have a second story that is purposely askew from the first, as observed in this home beautifully designed by the team at Birdseye.
5. Opt for a simple color palette.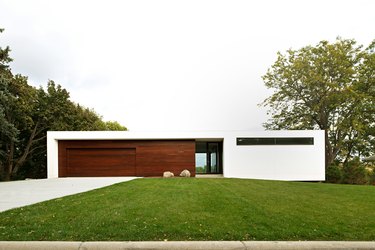 When it comes to exteriors, Bauhaus style doesn't really embrace bright, flashy colors. On the opposite side of the spectrum, you'll see neutrals like blacks, grays, whites, and wood finishes. As you imagine your dream Bauhaus abode, consider a neutral color palette, like this home by Christian Dean Architecture that flaunts a white and wood combo.
6. Experiment with materials.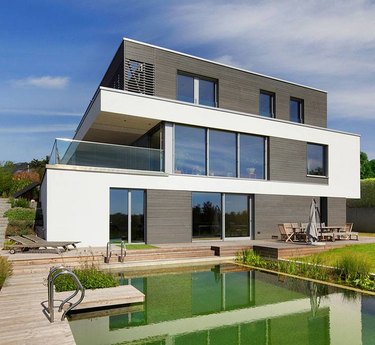 Nowadays, the materials used in Bauhaus style can be pretty flexible. Steel and glass tend to be tried-and-true choices, but you can push your exterior in an even more current direction with "organic mineral plaster and larch planking," which is what was used for this futuristic dwelling by Baufritz.