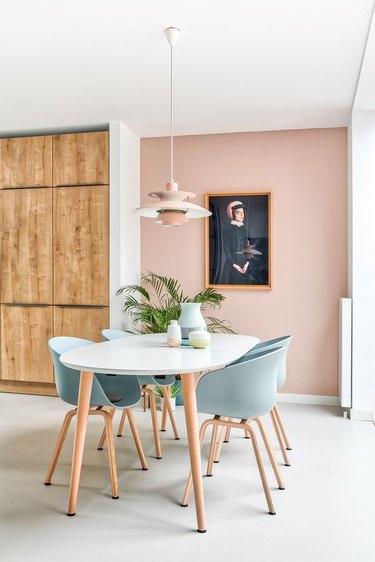 As you ponder what color palette would be best for your dining room, many questions bubble to the surface. What shade will complement the rest of my house? What will my dinner guests think? Will it work with my design aesthetic? And this is before you even get to the never-ending color ideas that you can choose from. Seriously — blue, black, green, gray, white — the list goes on and on. So how are you supposed to choose?
Well, not to muddy the waters any further but allow us to add another choice to the mix for your consideration: pink. We know, we know ... at first, the thought of rosy-colored walls didn't appeal to us either. However, after catching a glimpse of these pink dining rooms, we are officially sold on the idea. Scroll ahead for 12 blush designs that will change your mind indefinitely.
1. Embrace texture with a plaster finish.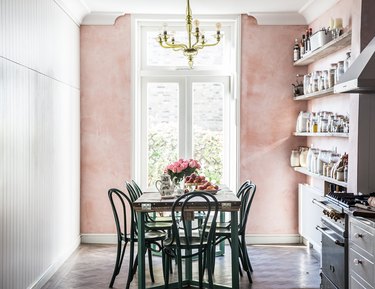 How dreamy is this French country-inspired kitchen-meets-dining room setup designed by Jersey Ice Cream Co.? As if the vintage bentwood chairs, table, and glass chandelier paired with wood flooring wasn't enough to set your heart on fire, the pink Venetian plaster walls will surely get the job done. Très magnifique!
2. Give brick a colorful facelift.
While we love the traditional rust hue of brick, or even the oh-so-popular whitewash variety, we can't help but fall for this blush rendition. Flack Studio gave the cozy room a light and colorful makeover with the help of a little pink paint, cobalt blue dining chairs and artwork, a dark green rug, and a red table base. And for good measure, they added a few modern black light fixtures.
3. Go the pastel route.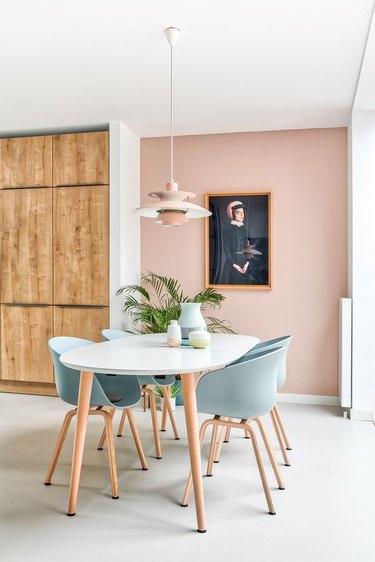 ICYMI, pastels are very on-trend at the moment. So now is the perfect time to go pink in your dining room. Follow the lead of Studio Binnen and dip your toe in with a rosy accent wall. Pair with light wood finishes, cool blue dining chairs, and an iconic pink pendant for a Scandi-inspired eatery that's dinner party ready.
4. Welcome wallpaper.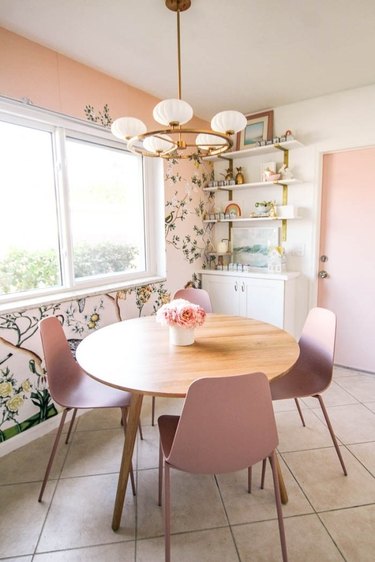 If painting isn't really your cup of tea, no problem. Opt for wallpaper in your pink dining room instead. Ashley from At Home With Ashley has the right idea with this charming botanical print from MUSE Wall Studio. And bonus: It's removable, so you don't have to stress about damaging the walls in a rental or changing your mind if you grow tired of it.
5. Keep it dreamy with drapery.
If you like the idea of a pink dining room, but you're looking for a subtle way to incorporate the rosy shade, we have one word for you: drapery. The team over at Arent & Pyke shows us how it's done in this ethereal design with the help of blush sheers that line the room and open to reveal breathtaking views. Swoon!
6. Entertain traditional style.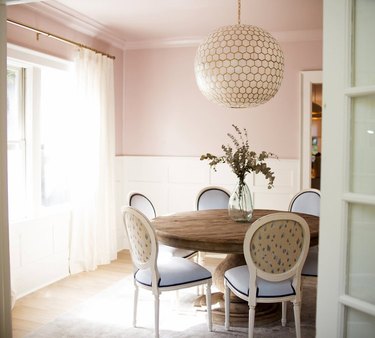 Traditional interiors are all the rage, and it's not hard to see why. This pink dining room by S. Mazzi Interiors is a picture-perfect example of the aesthetic, flaunting white wainscoting, crown molding, and Louis XVI style dining chairs. The blush walls and ceiling paired with a brass pendant add a hint of modernity.
7. Take it one step further with red.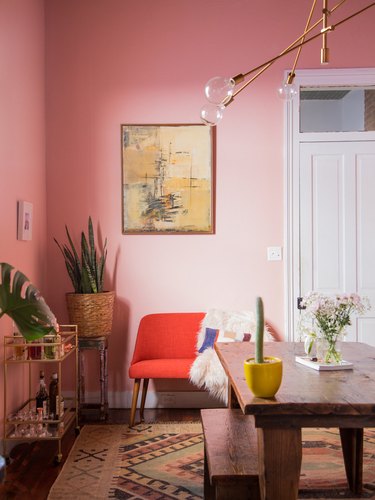 We know what you're thinking, Pink and red?! That color combo screams Valentine's Day. And yes, while it is true that if you're not careful using this rosy duo it can ruin your space, it can also make it so much better. Take for instance, this pink dining room by Matt and Beau from Probably This. Here, they paired the perfect shade ("not bright enough to be Pepto, it's too dusted to be bubble gum") with a fiery red settee, and together they are a match made in design heaven.
8. Lean boho.
9. Make it neon.
Light pastels are cool and all, but sometimes you just want something with a little extra oomph. May we introduce you to this pink dining room by Studio DIY? The neon fuchsia hue splashed throughout the white space is a bold and dramatic choice, but we wholeheartedly approve.
10. Focus on one wall.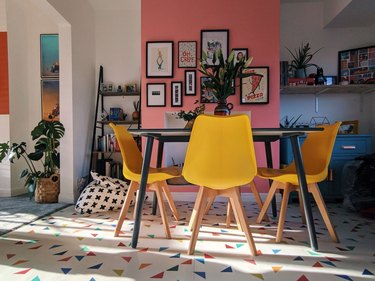 Committing to a pink dining room doesn't mean that you have to cover your space from floor-to-ceiling in the rosy hue. Take notes from this vibrant setup belonging to Helen of Oh So Lovely Helen, and focus your attention on one wall. Complete the colorful look with yellow chairs, a blue cabinet, and multicolor vinyl tile from Atrafloor.
11. Carve out your own private cafe.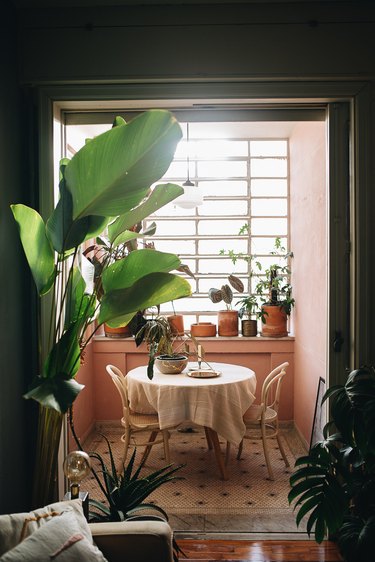 12. Make it glam.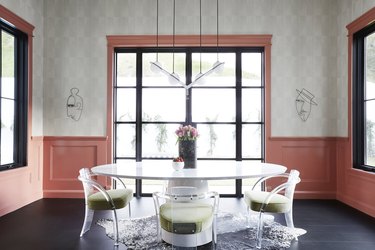 If Hollywood glam is more your speed, then feast your eyes on this pink dining room by Black Lacquer Design. The espresso wood floors and black window frames add loads of contrast, while the salmon-colored wainscoting and trim, globe-style chandelier, and acrylic chairs give the space a retro vibe that feels just a little bit fancy.