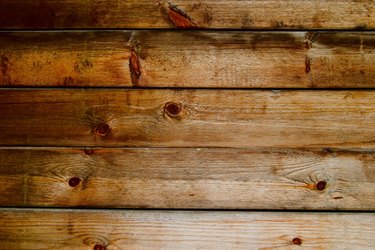 When it comes to choosing hardwood floors, homeowners have many different options. Many houses contain solid wood or laminate flooring, which both offer easy installation. Some homeowners also consider acrylic-impregnated wood flooring, a floor covering often used in commercial properties. Acrylic impregnated wood flooring is manufactured with the color and sealant infused throughout the wood so the color and finish are not only consistent on the surface of the flooring, but throughout the wood as well. While there are several advantages to this type of flooring, there are also some drawbacks, so homeowners should consider both the pros and cons when thinking about installing acrylic-impregnated wood flooring.
Pro--Wide Variety of Colors and Woods
Acrylic-impregnated wood flooring is available in a wide range of colors, so most homeowners should find a shade that matches their decor. In addition, some manufacturers offer custom colors for large orders, so the flooring can be matched exactly to other elements in the room. Because the color is impregnated into the wood, it is resistant to fading by light exposure and other elements as well. Acrylic-impregnated wood flooring also comes in an array of wood species, such as pine, oak, cherry, maple, bamboo and walnut. Homeowners may also choose from several different top coats.
Pro--Durable
Because of the acrylic resin, acrylic-impregnated flooring is typically harder than most other types of flooring. This makes it highly durable and resistant to heavy traffic. In fact, acrylic-impregnated wood flooring is often used in commercial properties that receive a great deal of foot traffic, such as restaurants, bars, shopping malls and airports. It is highly resistant to scratches and nicks as well.
Pro--Easy Maintenance
Acrylic-impregnated wood floors typically do not require the same careful maintenance that other hardwood floors do. In most cases, regular buffing keeps acrylic-impregnated wood looking polished. Follow manufacturer's directions on which cleaning products to use because the floor's coloring may be affected if the wrong cleanser is used. If scratches do occur on acrylic-impregnated floors, they are easy to fix with a spray finish that helps smooth the appearance.
Con--Cost
Due to the complex process required to inject the color into the wood, acrylic-impregnated wood floors are usually more expensive than other types of hardwood flooring. Installation costs for this type of flooring are usually higher as well.
Con--Cannot be Refinished
Because the wood is infused with the acrylic resin, acrylic-impregnated wood flooring can never be refinished. As a result, the color of the floor cannot be changed if the homeowner wants to remodel or update a room.
Con--Water Stains
While acrylic-impregnated wood flooring is typically well suited for rooms where water might be splashed, water that sits on the flooring has a tendency to stain the acrylic-impregnated wood. The spots where water has set usually lose their color, so the floor takes on a patchy, uneven look.
---
Based in New York City, Jennifer Blair has been covering all things home and garden since 2001. Her writing has appeared on BobVila.com, World Lifestyle, and House Logic. Blair holds a Bachelor of Arts in Writing Seminars from the Johns Hopkins University in Baltimore, Maryland.