Canvas awnings add a decorative element to your home's exterior and provide comforting shade from the summertime sun. When repainting or siding a house, the canvas awning may not match the new color or style -- but it can be dyed to match. A modern canvas awning is typically made of a polyester fabric and is best re-colored by immersion dying, a process that is somewhat more involved than that of dying natural fabrics.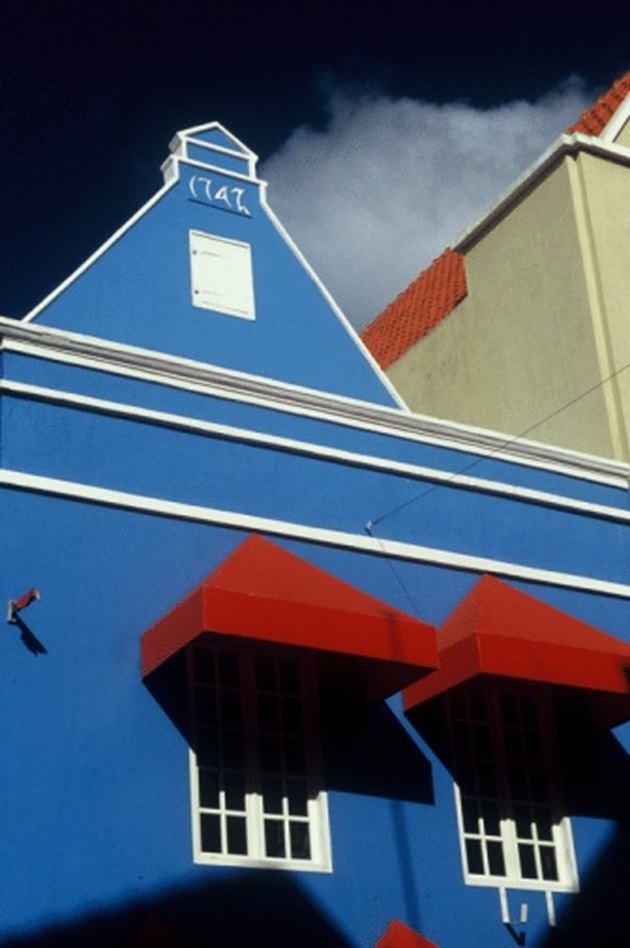 Step 1
Remove the canvas from the awning's framework and clean it in the washing machine. Wash with tepid water, using mild laundry soap. Do not place the canvas in the dryer.
Step 2
Stuff the canvas into a large stainless steel pot and cover it with water. Add approximately 1/2 tsp. of synthrapol and 1/2 tsp. of soda ash for every 3.5 yards of canvas.
Step 3
Clip a cooking thermometer onto the edge of the pot with the probe in the water for temperature monitoring.
Step 4
Soak the canvas at 140 degrees F for ten minutes and stir gently, using a stainless steel or wood stirring paddle. Remove the canvas from the water and rinse it thoroughly in the sink with warm water.
Step 5
Boil 1 cup of water in a smaller pot. Stir in the desired color of disperse dye. Use 1 to 2 tsp. of dye for lighter coloration and 2 to 3 tsp. for darker coloration. Once dissolved, strain the dye solution through nylon and pour it into a separate container. For dark coloration, also dissolve 2 tbsp. of disperse dye carrier in a cup of water, using a separate pot.
Step 6
Rinse and fill the large pot with fresh water, then heat the water to 120 degrees F. Mix in 1/2 tsp. of synthrapol, 1/4 cup of white vinegar, the dye water and the dye carrier. Stir with the stainless steel or wood stirrer.
Step 7
Place the canvas back into the water, bring the water to a boil, then leave the canvas to simmer. Bring another large pot of water to a boil in the meantime. After 30 to 40 minutes, transfer the canvas from the dye water to the clean boiling water.
Step 8
Empty the dye water, rinse the pot and fill it again with fresh water. Heat the water to 160 degrees F and add 1/2 tsp. of synthrapol. Remove the canvas from the clean water and transfer it to the water with synthrapol. Move the canvas gently around with the stirrer for five minutes.
Step 9
Rinse the canvas with warm water in the sink. Hang the canvas to air dry. Do not place the canvas in the dryer.