Sometimes used as a substrate, exterior plywood products are nailed directly to studs and covered with additional siding or stucco. T1-11 is plywood siding that replaces this layered approach with a textured, ribbed surface that typically needs no additional siding material. T1-11 is used for sheds, barns or homes when a rustic, natural look is desired.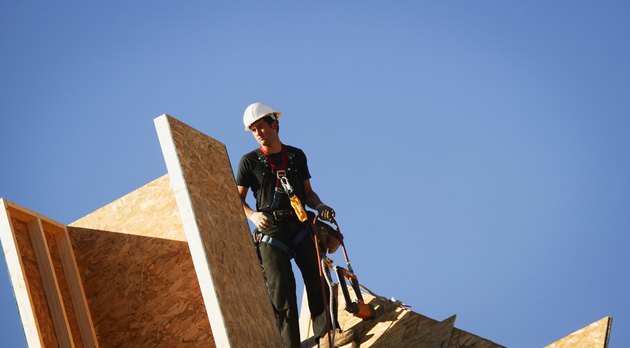 credit:
Design Pics/Design Pics/Getty Images
T1-11 plywood sheets are available in 48-by-96-inch or 48-by-120-inch sheets. Sheet thickness is either 3/8, 5/8 or 3/4 inch. T1-11 is available with a rough-surfaced, textured finish or a smooth, sanded finish. The choice between the two is determined by aesthetics. Choose the rough surface for a rustic look or the smooth surface for a finished appearance. T1-11 plywood is grooved or slotted vertically with grooves spaced 4 or 8 inches apart. Each of the two outer edges has 3/8-inch-wide lip that overlaps the previous piece. The lip thickness is half the thickness of the sheet. When edge nailed to studs, the nail passes through both lips.
Wood products typically are not specific to stated sizes. For example, T1-11 siding is specified as 48 by 96 inches. In reality, the sheets measure only 47 7/8 by 95 7/8 inches, or 1/8 inch smaller than the given measurements. Thickness can be plus or minus 1/16 inch.