When designing the home exterior, property owners often take into consideration both the external appearance of the home, the durability and the insulation. Siding, such as Dryvit siding, serves as one home exterior and insulation option. Dryvit gives customers multiple choices when deciding which siding to use.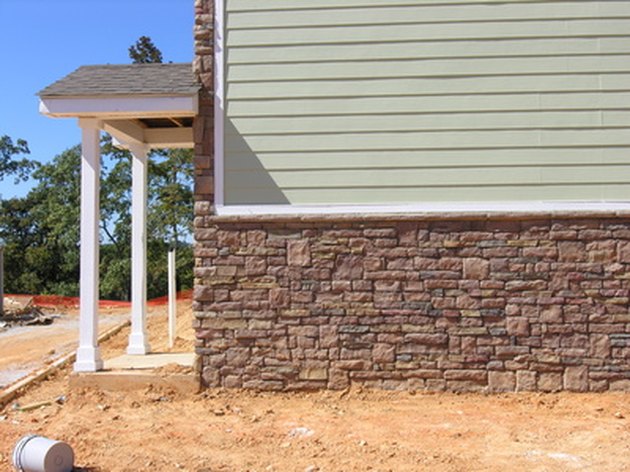 Dryvit is a home wall exterior solution, specifically a synthetic version of cement siding. Dryvit siding provides insulation and offers homeowners several styles. Contractors can make the Dryvit into any shape because of the flexible foam boards. Homeowners can install the Dryvit over their existing exterior to give their homes a new look.
The Dryvit siding is manufactured by Dryvit Systems, a private company that specializes in insulation materials located in the United States since 1969. Its product covers one out of every 11 buildings. The company produces the siding in Canada, Poland and China.
Dryvit mixes into Portland cement, creating a mix that contractors spread with a trowel. Contractors spread the siding in 18-inch-long strips. The cement must have a clean surface to successfully adhere to. The contractors install the Dryvit siding over plywood, OSB substrate or existing siding. Dryvit siding works well with ICF exteriors because the ICF blocks have higher vulnerability to physical damage and UV radiation.
Homeowners can choose from many colors and textures and can add different features such as arches, columns, decorative doorways and window borders. The Dryvit siding comes with mechanical fasteners, reinforced mesh between two layers of base coat, which provides impact resistance, and acrylic-based dirt pickup resistant finish. These finishes have mildew resistance, increasing the long-term survival of your siding. The coatings are acrylic-based and come with multiple colors and styles such as brick, Sandpebble and Sandblast. Homeowners never need to paint the Dryvit, but they can if they want to.
Extra insulation in the form of expanded polystyrene or polyisocyanurate insulation board comes with the Dryvit wall exteriors to help homeowners save on energy costs. Weather barriers keep rain and other weather factors from getting into the home. These exteriors can efficiently drain out any moisture that gets into the wall, sometimes with a vinyl drainage track. Structures that cannot effectively drain moisture will experience rot and the water fosters mold growth.