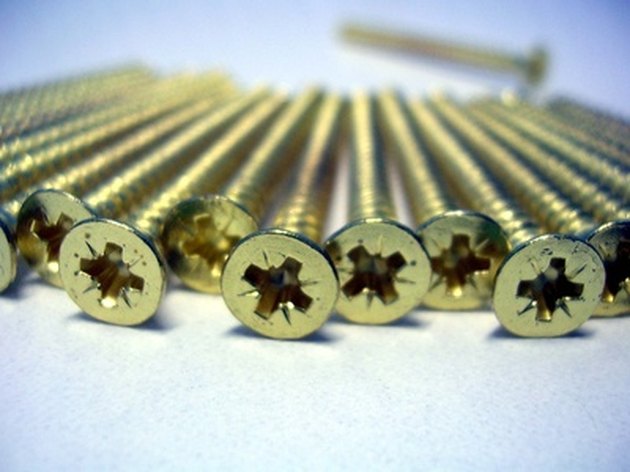 Each construction project requires its own set of hardware and tools. The types of screws vary as each has specific characteristics and designs. A variety of brass and steel screws are available. A standard steel screw will rust, but one that is galvanized will not.
Project Type
Outdoor screws must be weather resistant as indoor projects do not require the same level of moisture resistance. For example, ordinary steel woodscrews would not work for an outdoor deck project because moisture within the wood will rust the screws. Manufacturers rate screws by resistance to wet environments in hours, such as a 500-hour rating. Brass screws have a different color than steel ones, are softer and require pre-drilling.
Weather
Projects meant to weather outdoor elements such as a picnic bench or mailbox must be built with rust-resistant screws. Moisture- and rust-resistant steel screws include zinc-plated, zinc-chromate and galvanized. Solid brass screws will not rust.
Pricing
Galvanized and zinc-chromate steel screws cost more than zinc-plated steel screws because of a higher resistance to corrosion. Uncoated steel woodscrews are inexpensive and strong, but easily rust. Brass screws vary in price.
---
Sean Russell has been a freelance writer since 2007, with experience featuring retailer product on blogs, creating press releases, SEO and publishing to the writing style of hundreds of websites. He graduated from Arizona State University with a Bachelor of Arts degree in creative writing and business, and achieved a California Real Estate license. He also enjoys motorcycling.