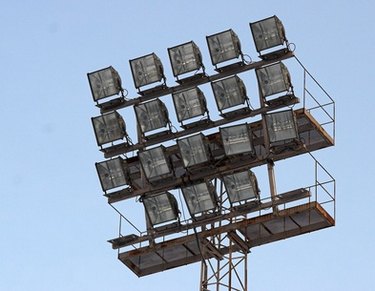 Generators are portable devices which can provide power in remote locations or when grid power is otherwise unavailable. Honda Power Equipment has for years manufactured a number of different generator models of varying sizes. The EB2200X is one model.
Identification
The EB2200X is built around a 1-cylinder, 4-stroke Honda GX140 engine. All together the generator measures 19.9 inches long, 16.5 inches wide and 16.5 inches tall. Without any fuel in the tank it weighs 43.0 kilograms (approximately 95 pounds). It has a fuel capacity of 2.9 U.S. gallons.
Features
On the exterior of the unit are an AC circuit breaker and two AC receptacles (three-pronged plugs for plugging in electronic devices). The exterior also features an oil filler cap, oil alert lamp, engine switch, recoil starter, starter grip, fuel valve and air cleaner. The fuel tank cap resides on the top of the unit.
Function
The engine in the EB2200X runs at 3,600 RPM. It features a forced air cooling system. The generator has a rated voltage of 120V, a rated frequency of 60Hz, and a rated ampere of 16.7 (A). The output is rated at 2,000 watts, with a maximum output of 2,200 watts.
---
Andrew Tennyson has been writing about culture, technology, health and a variety of other subjects since 2003. He has been published in The Gazette, DTR and ZCom. He holds a Bachelor of Arts in history and a Master of Fine Arts in writing.