A huck towel is made from a pure cotton fabric favored for cleaning surgical instruments thanks to its durability. Window washers, car detailers and cleaning companies also use these long-lasting, absorbent towels, as they tend to hold up well even after many washings. "Huck" refers to the style of weave used to make the fabric.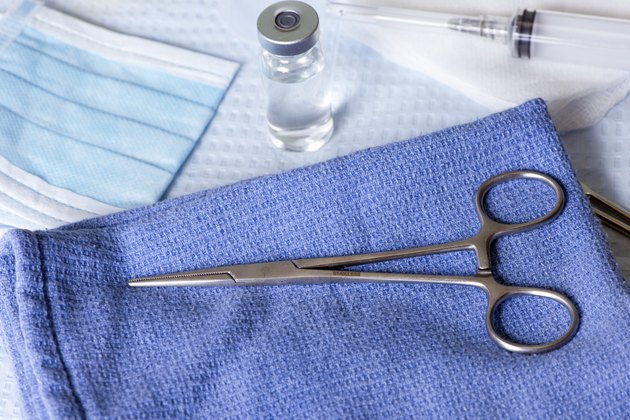 credit:
dina2001/iStock/Getty Images
Huck towels, made of cotton, are generally lint-free, making them useful for window cleaning and drying dishes. The cotton absorbs water well, and is woven in a durable manner. Huck towels are also called surgical towels because of the frequent use of this type of towel in medical facilities. The towels may be white or dyed different colors. A huck towel typically has one smooth side and one with threads slightly raised above the surface.
Huck towels are sometimes sold in bulk for commercial, medical and institutional use. Some companies require you to purchase dozens of them at a time, while smaller packs of a dozen or so may be available online or through specialty retailers. Make sure the towels are 100 percent cotton to ensure they are huck towels; blended fabrics do not absorb as well.
Embroiderers favor huck cloth and huck towels for the texture on one side of the fabric. Raised, evenly spaced rows work well for embroidery projects, as the embroidery floss passes through the raised thread loops without affecting the appearance of the back of the towel, meaning there's no unsightly loops of floss or thread to clean up on the back side.
Purchase huck cloths in an assortment of colors for various uses around the house, using the colors to denote specific use -- for instance, blue towels for drying the car, and white towels to dry dishes. Some companies even sell packages of huck towels in assorted colors for this purpose. Use white or red huck towels as dish towels; once the towels get old, stained or worn, use them to clean up messes around the garage. Clean windows, mirrors and sliding doors with huck towels to keep them clear and lint-free. Dust and polish furniture with huck towels, relegating old ones to dusting and wiping down furniture on the patio and porch.