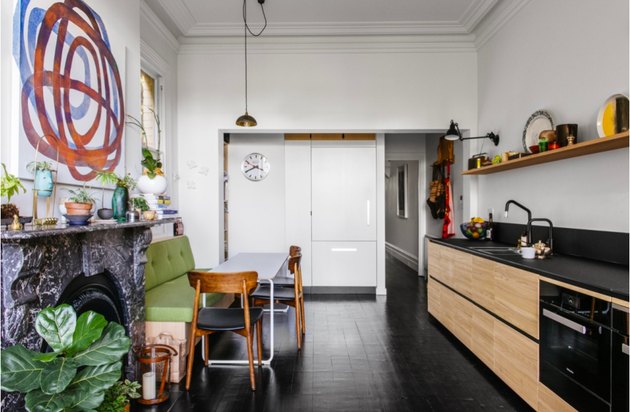 Some benefits to designing a kitchen with dark floors? Depending on which direction you go, they can make your cook space feel more romantic; otherwise dark floors can provide interesting contrast to make your scheme feel very intentional.
And we think a dark color palette can work in any zone. Moreover, a sultry space might just inspire you to get creative with your next meal. Even if you want to have a balance of light and dark in your room, richly-toned floors will make everything seem that much more worldly and intentional.
Not quite sold on the idea of dark kitchen floors yet? Here's a bit of inspiration to prove they can work.
1. Add texture and lots of it.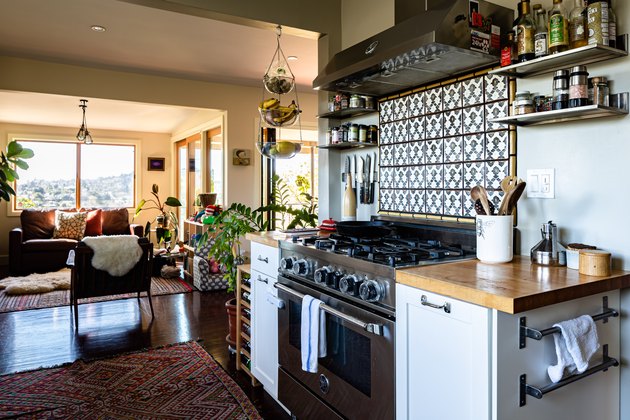 This kitchen is on the smaller side, but it's definitely mighty — thanks in part to the stove backsplash tile. And do we even need to mention all of the storage? There's so much inspo here. The floating shelf spice rack and cabinet-mounted towel rack, for example, are things even the most novice chef can appreciate. Plus, the patterned rug over the dark kitchen floor with pops of greenery ties everything together.
2. Find art pieces that complement your dark floors.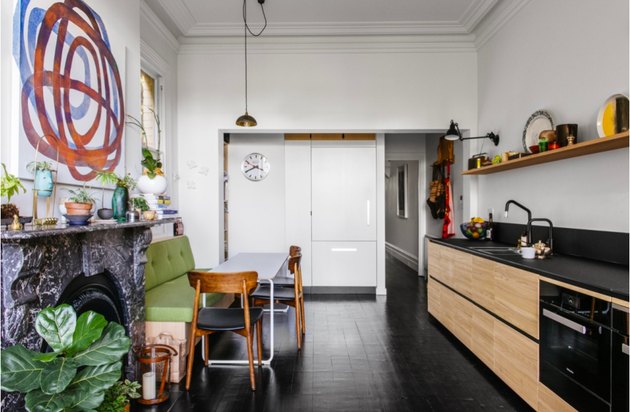 This cook space designed by Hearth Studio has the dark kitchen floors of our dreams, and not just because many of us have mostly one-wall kitchens. No, this arguably simple space looks cool, functional, and actually attainable even for people who rent. Sure, the walls are white, and most of the major appliances are in a single stretch of space. But there's a floating shelf that displays dishes and cool tchotchkes. You can totally hang a stylish one in your own home, too — just follow this handy guide. Plus, there's a stunning piece of art that goes so well with the dark flooring.
3. Balance dark kitchen floors with modern accessories.
This bright and family-friendly kitchen is just one of the jaw-dropping rooms in the home of Chris and Amber Earl. The arabesque-shaped dark floor tiles are especially charming. They prove that even a more traditional option can work as long as there are modern accessories. Take that triangular wooden cutting board; it's a combination of chic form meeting function. And the angular light fixture hanging from the ceiling really makes the room feel fresh.
4. Don't be afraid to mix trends.
This kitchen combines so many of our favorite things. The dark green walls offer the perfect amount of warmth, the rustic pendant lights shine down on all the right places, and the textured brick floors exude all kinds of old-world charm. You might think that multiple trends in one room would feel overwhelming, but in this space the opposite is true — this cook space is welcoming and interesting at the same time.
5. Create a moody interior if you have a lot of natural light.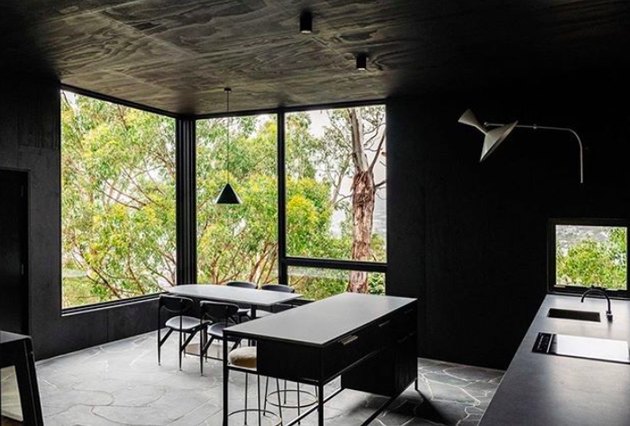 Here's another kitchen design by Hearth Studio that hits the nail on the head. Sure, the dark stone floors, walls, ceiling, and kitchen island might seem purely aspirational. But if you have natural light and windows galore in your cook space, we challenge you to venture over to the dark side — you won't feel trapped. Instead, the moody vibe will feel cozy and oh-so debonair. Even the most banal tasks will feel special. However, we do recommend layering in ample kitchen lighting. When night falls, you still need to see.
6. Dark kitchen floors can actually work with dark cabinetry.
7. A bit of country charm can do wonders.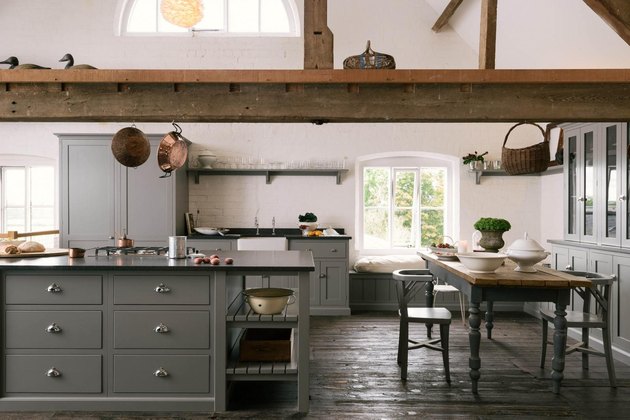 8. Don't be afraid to embrace a bit of color.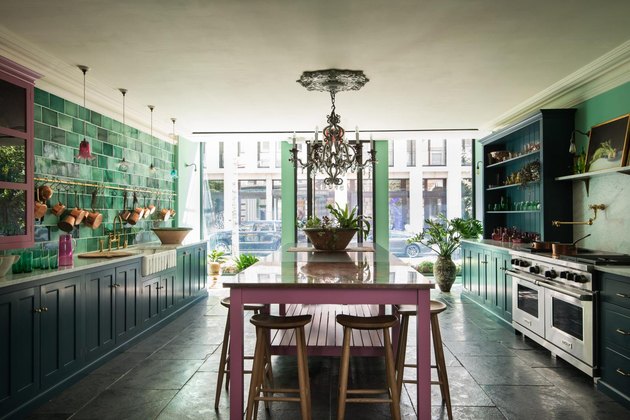 9. Combine white paint with multiple wood tones.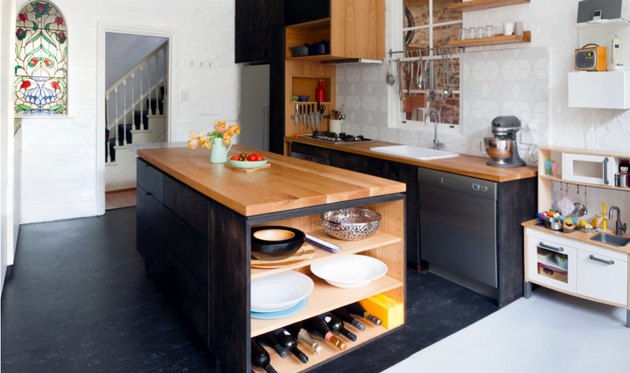 What looks like dark vinyl flooring doesn't take away from the overall openness of this cook space. And everything seems to have its own designated place. Apart from functionality, this bright kitchen does what some people are afraid to do. It fuses woods of different colors. All who doubted that dark wood and light wood could coexist, this culinary design is for you.
10. If you have interesting architectural details, let them shine.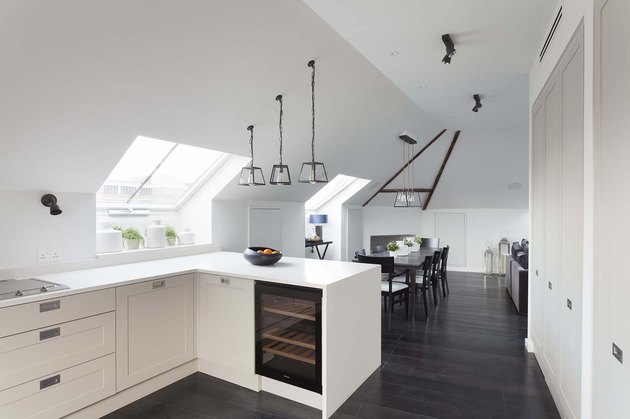 This attic-level looker features white walls, white cabinetry, and glossy wood floors. It's timeless, though, because the architectural details are allowed to stand out. The dark kitchen floors simply let that sloped ceiling do all the heavy lifting. When you don't have to pile on tons of decor, don't. Then you can afford to splurge on fun kitchen accessories like that wine fridge.