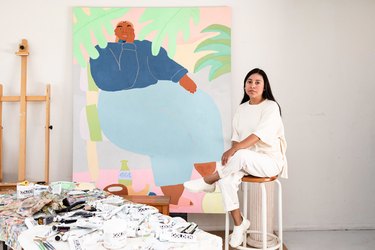 Where: Yucca Valley, California
Style: Artsy eclectic meets desert retreat
Artist Lilian Martinez and her husband wanted two things when looking for their new home: space to make their art and nature nearby to recharge.
They found both in their three-bedroom, two-bathroom 1987 home in Yucca Valley, California, which also features charming vintage floors and built-in shelves. They just needed to add their own creative twist. That's not hard considering the duo is constantly creating.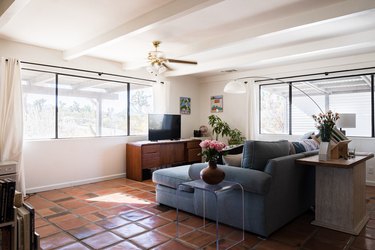 Martinez produces everything from paintings to textiles to furniture riffing on classical art history and pop culture. You can spot the latter in her depictions of characters like Lisa Simpson and the Nike logo (she actually did a mural for the Nike Los Angeles store earlier this year). We first encountered her work when we highlighted Casa Antonieta, a hotel in Oaxaca that incorporates Martinez's work into its cozy-meets-modern aesthetic. Her work has been exhibited internationally, everywhere from Ireland to Japan.
This unique mix of symbols reflects Martinez's experience of growing up as a daughter of immigrant parents. She often spent her time "gathering and sourcing and categorizing information" in a way that created its own visual language to navigate her Mexican-American identity.
Martinez studied photography at The School of the Art Institute of Chicago and fell in love with modern art — but she quickly realized the need for more depictions of people of color.
"For me it's about negotiating with history to create these alternate narratives of more inclusivity," Martinez tells Hunker. "I don't necessarily see myself in those histories."
Martinez's husband works in sculpture and the two often integrate their own artworks into their home decor. A cane bed frame from CB2 and an artwork by Martinez, for example, complement each other in the master bedroom complete with vintage Danish bedside tables from Pamono. The couple often gets items secondhand from Craigslist, thrift stores, or garage sales. When buying new items, like the bed frame, Martinez says it's important to choose things she "can imagine keeping for many years."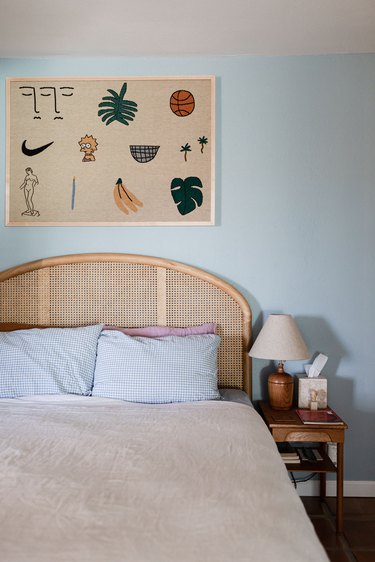 Eight years ago, Martinez created BFGF, an online shop featuring throws, pillows, and accessories in her signature style. She wanted to experiment with new modes of creating and started working on fabric design. The items are also available at stockists around the world, from Australia to Canada to London.
"The pieces that I sell through BFGF are really more accessible and functional pieces that I hope people can integrate into their lives," Martinez says.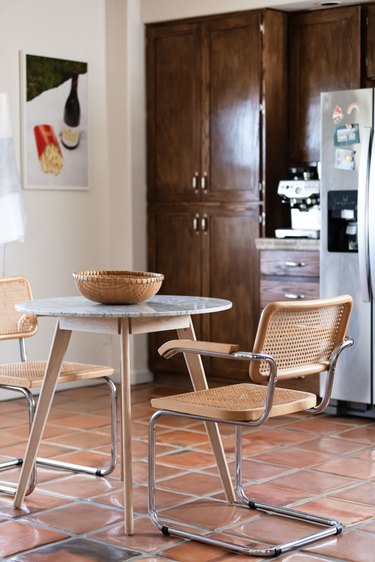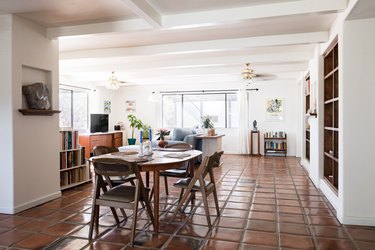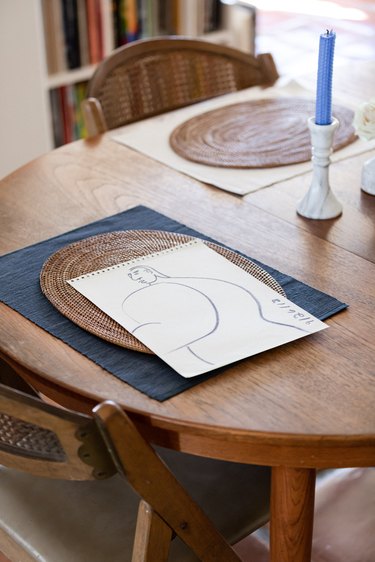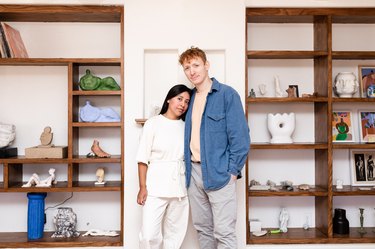 Recently, Martinez showcased new chairs at retailer Poketo. She worked with a furniture designer to bring her sketches to life and hopes to do more pieces like this in the near future.
You can spot BFGF pillows and throws throughout the house, along with ceramics by Martinez's husband.
"Being able to enjoy our work is really important to me," Martinez says. "It just feels good."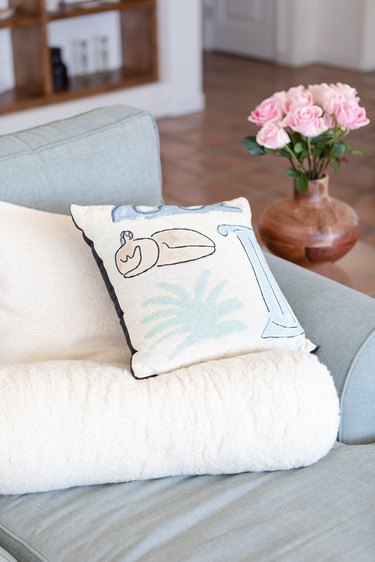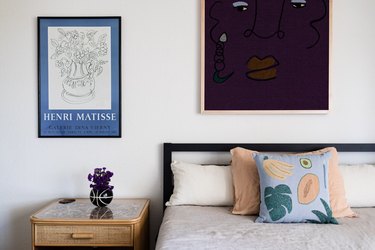 Martinez uses the house's detached garage as her studio, complete with a bathroom and sliding doors. There, she often takes on large-scale pieces reminiscent of classical artworks featuring larger-than-life figures. It's important to Martinez to use her creativity to shift how people view artworks like these.
"When people compare me to other artists it's usually a male European artist," Martinez says. "So I hope that I can sort of shift that narrative for other people making work that sort of precede my work. For there to be more inclusion or just other perspectives that are validated."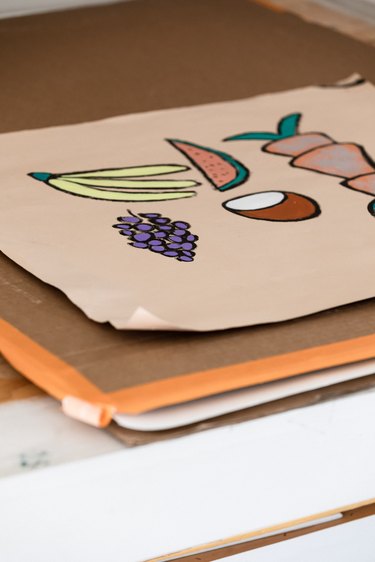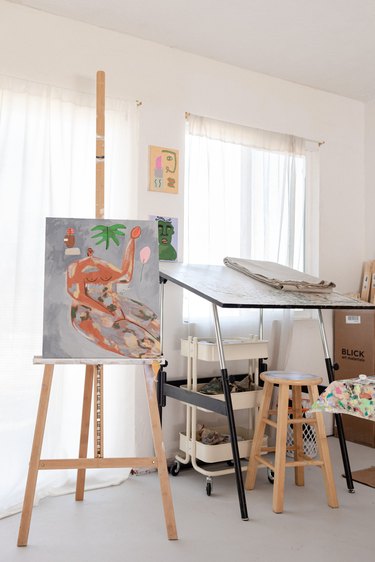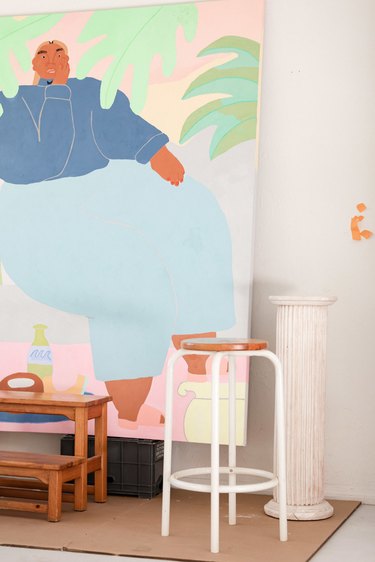 The couple has only been in their home for five months after moving from Los Angeles, and while the house was pretty move-in ready, they've got some ideas up their sleeves.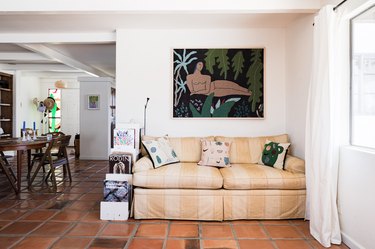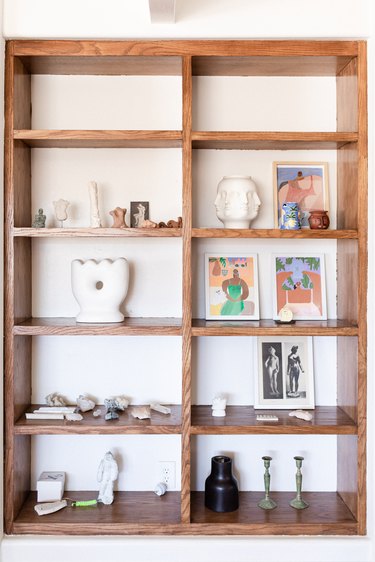 The couple dreams of one day installing a pool, completing their desert getaway. She says they'd "probably never leave" if that fantasy one day becomes a reality.
Favorite piece of design or architecture in your neighborhood, town, or city: The Joshua Tree Retreat Center. There are cottages and other communal areas designed by Lloyd Wright and a nice outdoor pool and hot tub. In the summer you can buy monthly swimming passes.
Best places for thrift store finds, antiques, or flea markets: Revivals in Cathedral City. It's always tidy and fun to look around.
Best farmers' market: There is only one farmers' market near us, the Joshua Tree Farmers Market. We like to buy eggs and produce from there.
Best happy hour: Best to have a drink at home. I like to buy wine and a big bag of truffle chips from Wine & Rock Shop to take home.
Best cheap and cheerful restaurant: It's not really cheap, but I like The Natural Sisters Cafe. I usually get the quinoa burger with chips.
Best coffee shop: My espresso machine at home.