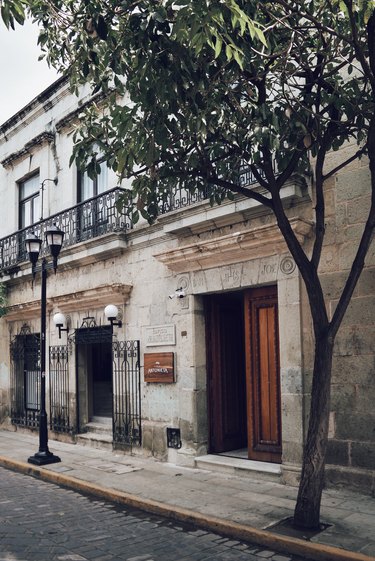 For most designers, a grandparent's home isn't exactly inspirational — think dated furnishings and questionable smells. But that wasn't the case for Helwig George, owner of Casa Antonieta, a six-room hotel in Oaxaca, Mexico. "This was my grandmother's house," George proudly states. But wait, there's more: Before his grandparents moved in during the 1970s, the property served as a monk's convent that partially survived an earthquake.
When George's mother and uncle inherited the building, it had been abandoned for 10 years after a rapid succession of offices, a shoe store, a bank, and a jewelry store were "not really giving it a personality and not speaking to the heritage and value of the building," says George.
The creation of a cultural center next door gave George an idea: why not create a boutique hotel? But the renovation came with obstacles. "We couldn't touch many of the materials in the building," he says, noting that the property's historic status limited what they could do. "We could not touch the facade at all," he explains.
But in the end, George was able to create a destination that preserves the original feeling of his grandmother's house, with a homey quality that brings in local culture.