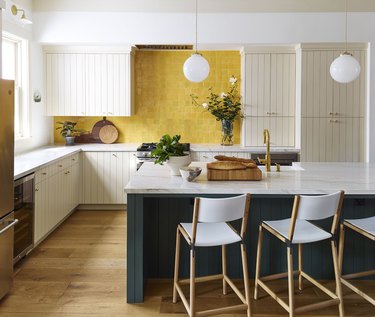 When it comes to colors, every individual has a different preference, but have you ever wondered why certain shades make you feel certain ways? It's all wrapped up in color meaning. Yes, there's really some science to how various tones and your emotions might be linked. Nature, culture, and psychology all play a part. It may sound pretty technical (just like color theory if you ask us), but ultimately it's great to be in tune with your feelings towards color and decorate your home to reflect that.
From the calming nature of blue to orange's connection to productivity, there are even certain rooms that each tone works best in. Here's all you need to know about color meaning and some pretty swoon worthy inspiration to boot. Get ready to feel inspired folks — it's the power of the rainbow.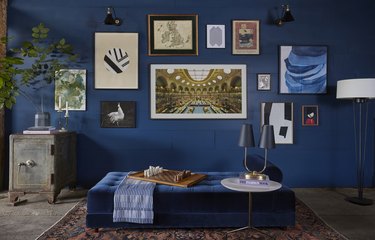 Ideal for: Living Rooms, Dining Rooms, and Bedrooms
Often voted as one of the most popular colors, blue is commonly associated with positivity, loyalty, intelligence, wisdom, confidence, and trust. Case in point: How often do you look to the blue sky when you need a moment? It's also considered a calming color, making it ideal for rooms you unwind in. Did you know the shade can even help you sleep better? Consider light and bright variations for your living room and dining area, but opt for a dark shade in the bedroom. Deeper blues represent knowledge and power while also evoking a sense of luxury.
Ideal for: Living Rooms, Dining Rooms, and Bedrooms
Green is a beautiful color to use in your home; it brings the outside in. The hue symbolizes growth, harmony, and fertility — all qualities we associate with nature. Moreover, these attributes bring a sense of security; people feel grounded when surrounded by green. Whether you're thinking about shades of lime, olive, or emerald, green can be very expressive and playful. And the contrast of using multiple hues at once is beautiful.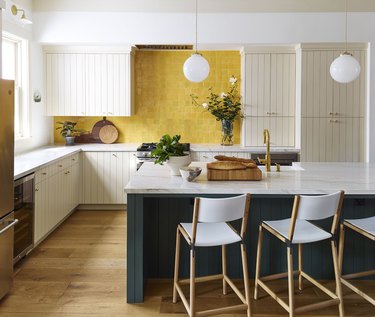 Ideal for: Kitchens, Dining Rooms, and Bathrooms
Yellow is the color of the sun and is therefore linked to joy, happiness, youthfulness, and energy. It's a bold choice for any room in your abode and is often said to stir confidence. Used wisely, this vibrant hue can create an extremely welcoming and uplifting ambience. We recommend trying it in your kitchen, dining room, entryway, or bathroom. If you're looking for a gender-neutral color, yellow is a great choice. And no need to paint every wall if you're not feeling super brave, either. An accent will do just fine.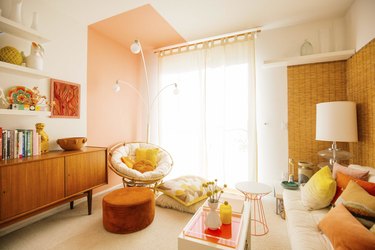 Ideal for: Living rooms and Offices
The color orange represents enthusiasm, productivity, happiness, determination, and stimulation. While it's a lesser-used hue in interiors, orange can really warm up your home and help with energy levels. Plus, it looks very midcentury modern. Bright versions of this tone will make you feel adventurous and motivated in an office situation, while a richer shade can help you feel grounded. Use it sparingly to avoid overpowering your space, and check out these orange bedroom ideas for further inspo.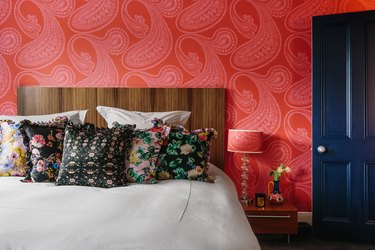 When we think of red, two things spring to mind — romance and danger. The latter is the reason why many people avoid using the shade within their homes. But a red room needn't recreate scenes from a horror movie or emulate a bourgeois hotel you'd book on Valentine's Day. The bold hue is ideal for adding a sense of warmth and edge to your abode, especially if you pick a rich and rusty shade.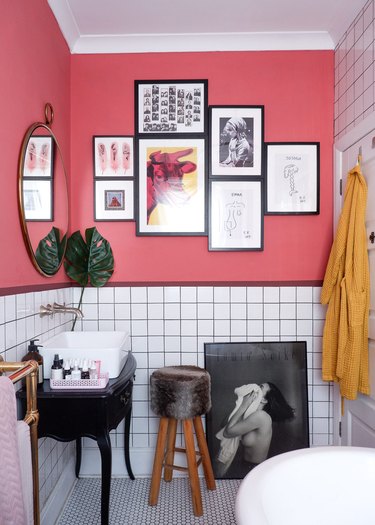 Ideal for: Bedrooms and Bathrooms
Pink is an extremely versatile color in interiors and will work in a variety of spaces. Representing love and compassion, and also historically linked to wealth, pink can be calming or extremely playful depending on the tone you choose. If you want to avoid an overly feminine feel, choose a more muted shade for your living room or bedroom. Or go bright and bold in a bathroom to really make a statement.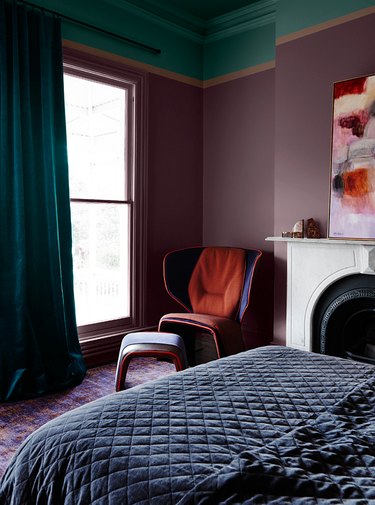 Purple is interesting when it comes to color theory. It's heavily intertwined with royalty and nobility and can automatically give any room it's used in a sense of luxury. If you fancy a regal look or Hollywood Regency vibes, this rich shade will be right for you. Lighter versions, such as lilac, evoke a sense of purity and spirituality, making them great options for the bedroom.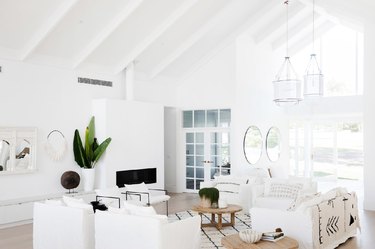 It'll be all right with all-white (according to color meanings, anyway). This hue is associated with positivity and innocence. It also represents new beginnings. On a practical level, white can feel clean and sterile, which is why it's often used in hospitals and clinical areas. Accordingly, it's important to add in textures and other pops of color when you have white in a home setting. Don't be fooled into thinking there's just one shade to work with either — there are warm versions, cool tones, and more to choose from.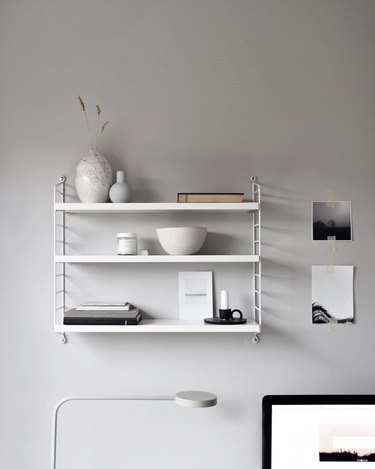 Ideal for: Bathrooms, Kitchens, Offices, and Entryways
Looking for a neutral color that will work almost anywhere? Gray is what you need. Representing neutrality and balance, this shade is safe and likely to complement many interior aesthetics. However, it can also create some negative feelings, so make sure to test multiple tones before committing.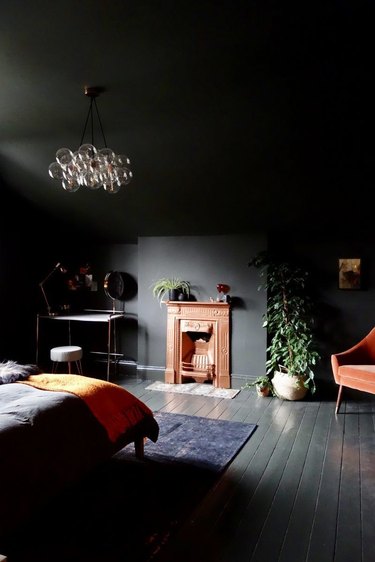 Black can look extremely striking, particularly in bedrooms. And while it may spark unease in some people, the inky hue can be connected to sophistication, elegance, and mystery. Let's not forget the link to rebellion, either! If you're looking to create a cozy place for hunkering down, black could be the perfect accent.