One of the beauties of Paris is that it's a "walking city." To tourists, that means it's much easier to take in the sights. But to residents, it's something a bit different — especially if you live in one of Paris's hilly neighborhoods. "Living in Montmartre requires a physical commitment that not everybody is willing to make," explains Alex Delaunay, founder of architecture and design firm Sabo Project. So when his company was tasked with carving out a new interior for a seventh-floor walk-up in the city's notoriously steep district where streets are sometimes connected by long staircases, he understood that the place had to be something really special: "Getting to this home in particular can sometimes feel like an achievement in itself," Delaunay half-joked.
The client, a young fashion designer, wanted to make the 775-square-foot layout feel less chaotic and more spacious. The result combines the apartment's historical characteristics (exposed beams, gorgeously worn wood floors) with fresh and unapologetically fun details: a rainbow floor and hydroponic garden in the kitchen and a modern Jenga-like staircase leading to the mezzanine. Meaning, yes, there are even more steps to take. But clearly, it's all worth it. Take a look: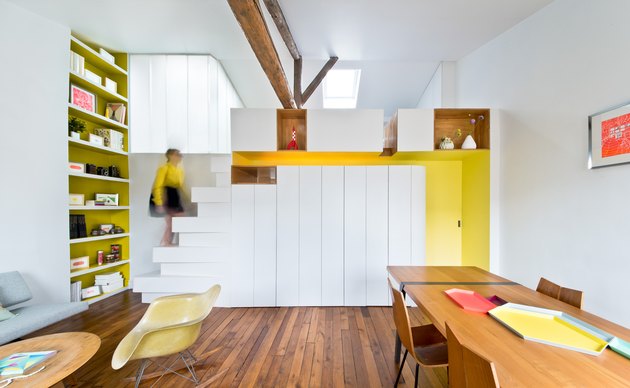 1 of 7
Living Room
The living room showcases classic Eames pieces, from the coffee table to the iconic molded fiberglass rocking chair. Pops of bright color behind built-ins help to frame the space.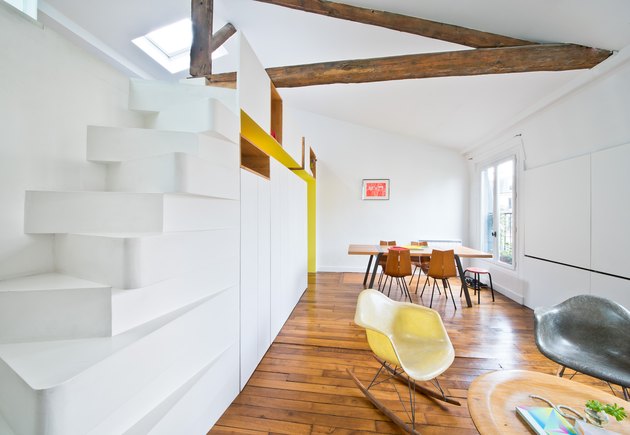 2 of 7
Living Room
While the unique staircase leading to the mezzanine isn't something we'd attempt after a few glasses of wine, we admit: The alternating, Jenga-like steps make the space feel modern and almost sculptural.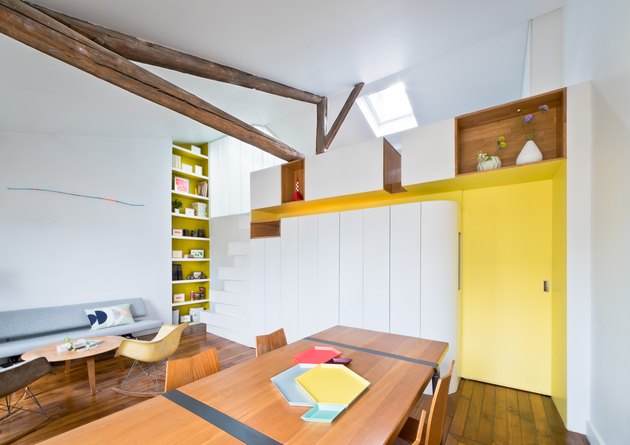 3 of 7
Dining Room
The open living-dining area feels like a tribute to the great midcentury furniture designers: Aside from the Eames pieces, there's a 1950s era sofa by Martin Visser and dining chairs are by Swiss maker Hans Bellmann. The cute pillow on the couch is from Scandinavian brand Ferm Living.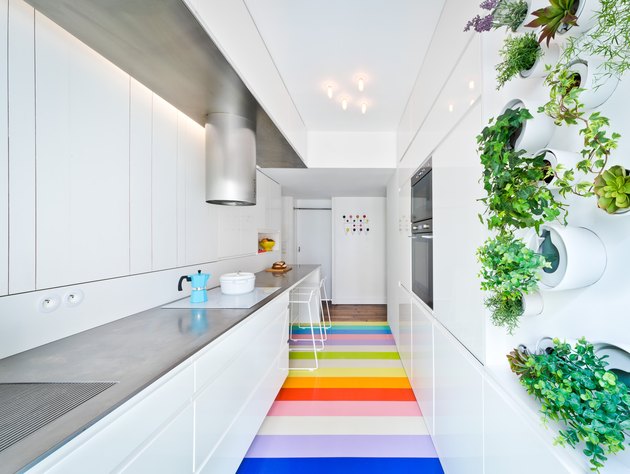 4 of 7
Kitchen
In the kitchen, a vertical garden — which grows via both natural and artificial light — offers color against the stark-white walls (as well as delicious fresh herbs). The rainbow-like rubber floor strips elongate the rectangular kitchen. "The owner deals with color swatches on a daily basis and was immediately on board with the idea," said Delauney.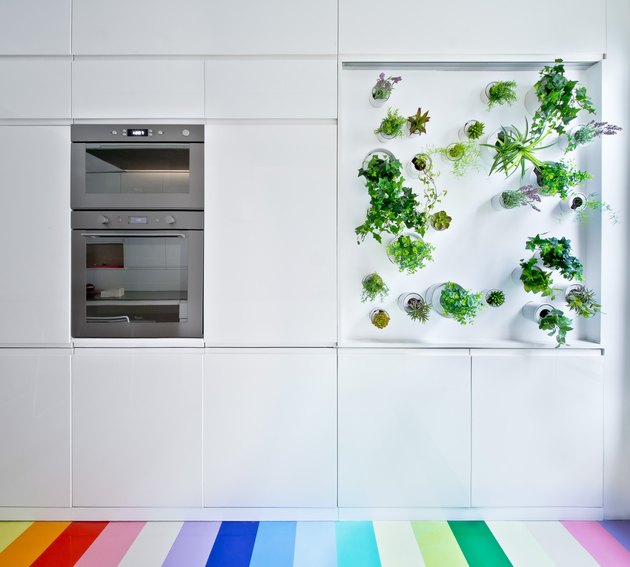 5 of 7
Kitchen
The kitchen was all about creating a surprising contrast. "The idea," explained Delaunay, "is to put in relationship the simple aesthetic of [a] highly functional kitchen with the brash colors of the flooring."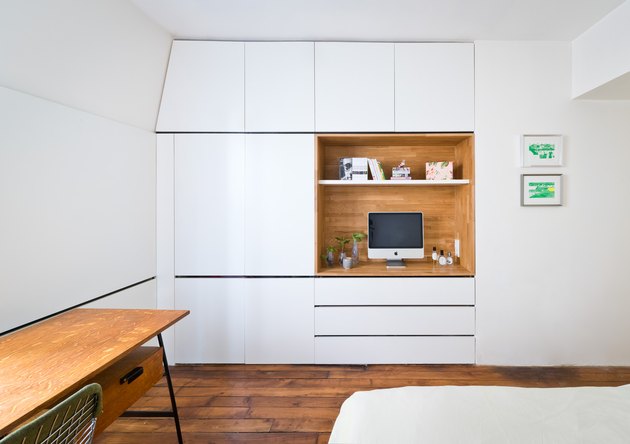 6 of 7
Bedroom
Aside from the usual challenges that come with a century-plus old space (dark corners, unnecessary walls), the firm needed to figure out ways to make the apartment more functional. This included creating built-ins that didn't add bulk.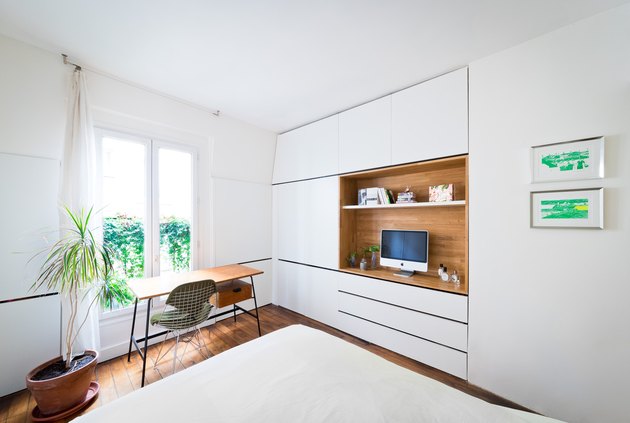 7 of 7
Bedroom
A vintage desk by the Parisian modernist furniture designer Pierre Paulin offers a simple workspace in the bedroom. The green artwork is by Astrid de l'Aulnoit (whose work is also featured in the living room area).
---
After interning at Dwell magazine in San Francisco, Kate began writing about arts, design and culture for other national publications. She is based in Los Angeles and San Francisco.
View Work