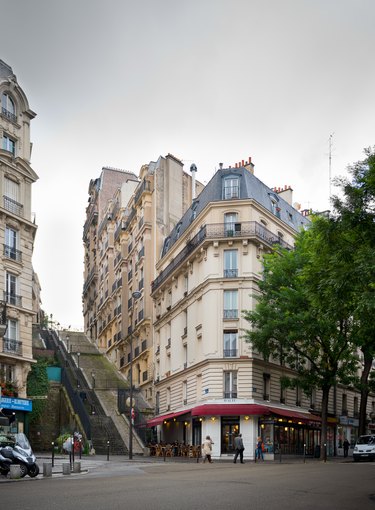 One of the beauties of Paris is that it's a "walking city." To tourists, that means it's much easier to take in the sights. But to residents, it's something a bit different — especially if you live in one of Paris's hilly neighborhoods. "Living in Montmartre requires a physical commitment that not everybody is willing to make," explains Alex Delaunay, founder of architecture and design firm Sabo Project. So when his company was tasked with carving out a new interior for a seventh-floor walk-up in the city's notoriously steep district where streets are sometimes connected by long staircases, he understood that the place had to be something really special: "Getting to this home in particular can sometimes feel like an achievement in itself," Delaunay half-joked.
The client, a young fashion designer, wanted to make the 775-square-foot layout feel less chaotic and more spacious. The result combines the apartment's historical characteristics (exposed beams, gorgeously worn wood floors) with fresh and unapologetically fun details: a rainbow floor and hydroponic garden in the kitchen and a modern Jenga-like staircase leading to the mezzanine. Meaning, yes, there are even more steps to take. But clearly, it's all worth it. Take a look:
---
After interning at Dwell magazine in San Francisco, Kate began writing about arts, design and culture for other national publications. She is based in Los Angeles and San Francisco.