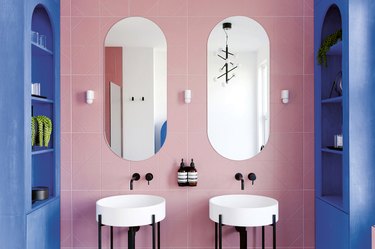 Merging design styles when you get married can be a challenge. For one couple in South London, blending her French country furnishings and his contemporary pieces felt impossible, so they found the perfect mediators: Russell Whitehead and Jordan Cluroe of 2LG Studio. The designers, who recently published their first book, Making Living Lovely, are used to working with couples who have opposing design ideas. "The objective was to bring them together and create a design that represented both of them," says Cluroe.
The couple wanted something bold and colorful — 2LG Studio's specialty. Whitehead and Cluroe chose a palette of pink and blue with elements of lilac, black, and white. "In a very literal sense, it brings masculine and feminine colors together, although we try to avoid gendering colors," says Cluroe.
The designers also took inspiration from the home's Victorian architecture. "We've unified the period features throughout by having the one floor color that connects all the spaces downstairs," says Whitehead. The sitting room's stately marble fireplace influenced the coffee table and kitchen backsplash.
The result is lively, colorful, and best of all, everything the husband and wife both wanted. Says Whitehead. "What happens when neither person compromises — that, for us, is when the magic happens.