Things You'll Need
Fans

Newspapers

Small bowls

Kitty litter

Sandpaper

Vacuum

Washcloth

White vinegar

Dryer softener sheets

Tape
Tip
Turn on the air conditioning and clean the filter often to remove the chemical smells.
You can replace the kitty litter with baking soda.
Warning
Wear a mask when sanding the drawers to prevent inhaling the wood shavings.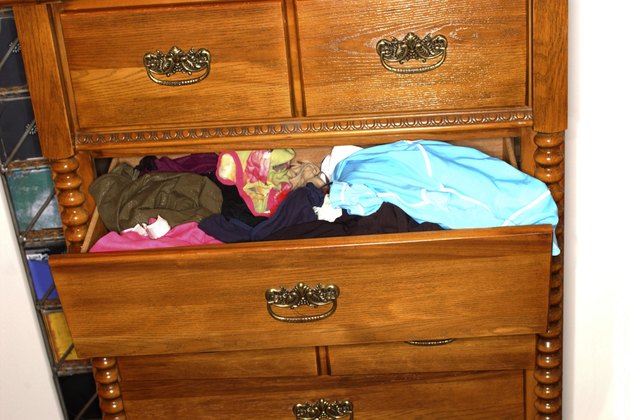 When a new dresser doesn't have time to air out after stain or varnish is applied at the factory, the smell will come home to you. The chemical smell in a new dresser not only fills the bedroom with an unpleasant odor, it also lingers behind on your clothes. Once you remove the chemical smell from the dresser with items in your home, keep it smelling fresh so you can enjoy your new furniture without offensive odors.
Step 1
Remove the dresser drawers and place them on the floor. Open the windows in the bedroom so air can circulate. If possible, place fans next to the window to blow the air outdoors for a few hours.
Step 2
Place the drawers back into the dresser. Stuff the dresser drawers with crumpled newspapers, which will absorb the chemical odor overnight.
Step 3
Fill small bowls with kitty litter if the smell remains. Place the bowls in the dresser drawers until the litter removes the odor.
Step 4
Remove strong chemical odors by lightly sanding the inside of the dresser drawers. Vacuum up the wood shavings. Dampen a washcloth with white vinegar and wipe down the dresser drawers.
Step 5
Line the dresser drawers with dryer softener sheets to keep them smelling fresh. Tape the sheets in place to prevent them from sticking to clothing.
---

Angela LaFollette
Angela LaFollette was born in raised in West Virginia, but she currently resides with her husband and children in Minnesota. She is food freelance writer and blogger as well as a full-time stay at home mother. She holds a Bachelor of Arts degree from Marshall University. Angela's work has appeared on many online publications like Yahoo!, eHow, and Leaf Group.