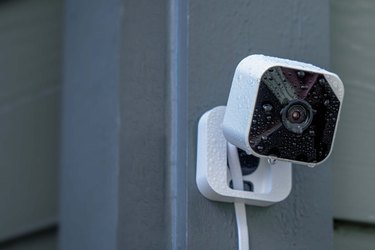 ​Self-monitored security systems​ are perfect for homeowners who want to take full control of their home security without high costs. Typically, self-monitored security systems are more affordable since they don't require any month-to-month fees or long-term contracts. Customers also get the freedom to use, manage, and monitor their equipment without the obligation of a professionally monitored system. Self-monitored systems are an ideal option for homeowners who use smart home compatibility too since most are easily integrated with Apple HomeKit, Amazon Alexa, Google Assistant, and more.
Without a professionally monitored security system, it's important that you can access your system from anywhere. Self-monitored systems make it easy to sync your phone or tablet with the equipment so you can check on your home from any place. Just make sure you have an internet connection! Choosing the ​best self-monitored home security system​ isn't simple. But from all the options available, we've hand-picked our top recommended systems. Read more to see what self-monitored security systems made our list.
Top 4 Self-Monitored Security Systems
| | |
| --- | --- |
| ​Pros​ | ​Cons​ |
| Equipment variety | No cellular backup |
| Smart home integration with all of the main platforms | |
| Easy DIY installation | |
| No long-term contracts | |
Abode Packages and Equipment
Abode features a "​build your system​" approach where you can select the security equipment best for you and your home, and skip the features that aren't. Abode offers two security kits to get customers started: the simple ​Smart Security Kit​ starts at $279 while the popular ​iota All-In-One Security Kit​ goes for $329. With Abode, every customer has access to live video feeds and get instant notifications for emergencies like smoke, glass break, water, and theft.
Abode Self-Monitoring Plans
​Standard Plan​ ​($0.20 per day)​: The Standard Plan comes out to be about $5-$6 per month and comes with features like unlimited cameras, live and recorded video, mobile notifications, video storage, person detection, and more.

2. SimpliSafe Home Security System
| ​Pros​ | ​Cons​ |
| --- | --- |
| DIY installation | No facial recognition technology |
| No contract required | Limited starter package |
| Plenty of customization options | |
| WiFi and Cellular connectivity | |
SimpliSafe Packages and Equipment
SimpliSafe packages come with the some of best HD cameras, motion sensors, detectors, and keypads that are built to last. The base station also connects seamlessly with Amazon Alexa. Unlike most services, SimpliSafe offers ​no contracts​ for its services, long term or short. SimpliSafe systems are ready to go; just stick them up, plug in the base station, and that's it. No drilling required. This is especially helpful for apartment living — reliable security without damaging any walls (your landlord will thank you later). Just pack up the security devices when you leave and take them with you wherever you go next. And with the Smart Lock door control, access to your home is controlled, even if you forget to lock the doors. Learn more in our SimpliSafe review.
SimpliSafe Self-Monitoring Plans
​Self-Monitoring with Camera Recordings​ ​($0.33 per day)​: This plan roughly comes out to $9-$10 per month and offers unlimited camera recordings with your SimpliSafe system. There is also no contract required, and customers can cancel at any time.
3. Ring Alarm Home Security
| ​Pros​ | ​Cons​ |
| --- | --- |
| Affordable price | Can be complicated to setup for beginners |
| DIY installation | |
| Equipment variety and compatibility with other Ring devices | |
Ring Packages and Equipment
Tip: As a bonus for signing up with a Protect Plus or Pro plan, you get an automatic 10% discount on select purchases made through its website or on Amazon.
Ring Self-Monitoring Plans
​Free Plan​: With the free plan customers can access live video footage, two-way audio, and motion sensing notifications.
4. Blue by ADT Home Security System
| | |
| --- | --- |
| ​Pros​ | ​Cons​ |
| Easy DIY installation | Can be difficult to setup |
| Smart home integration | No 24/7 customer support |
| Customization options | |
| No long-term contracts | |
Blue by ADT Packages and Equipment
If you are looking for top-notch equipment, Blue by ADT is the way to go. There are four different Blue by ADT packages that new customers can choose from: ​Build Your Own​ ($179.99+), ​Starter​ ($219.99+), ​Starter Plus​ ($299.99+), and ​Premium​ ($419.99+). If you're unsure which ones right for you, ADT makes it simple to hop on the phone with a technician to help you layout your needs.
ADT takes security seriously; so seriously, in fact, that customers can get up to a $500 insurance deductible from the company if a burglary happens on an ADT-protected property. It's hard to pass up incentives like that with nothing to lose (except burglaries, of course).
Blue by ADT Self-Monitoring Plans
​DIY Monitoring ($0 per month)​: The DIY Monitoring plan is free for Blue by ADT customers. The plan offers features like mobile alerts and notifications as well as WiFi connectivity.
Professional vs Self-Monitored Security Systems
There are two types of home security systems: professionally monitored and self-monitored. Professional systems usually cover everything, from installation to monitoring. When you purchase these systems, you don't have to worry about managing unwanted events at your home or risk damaging equipment during installation. However, installation and monitoring services are not cheap; and the costs can add up quickly.
One of the biggest attractions of professional monitoring is that your home is monitored 24/7 on your behalf. Of course, this comes at a price — up to two times more than most self-monitoring plans across different home security service providers. And, in the case of an intrusion, the authorities are immediately alerted on your behalf for the fastest arrival times.
With professionally monitored security systems, keep in mind the potential fees that come with false alarms can be expensive.
On the other hand, self-monitoring systems give you full autonomy over your security system. To cut down on installation costs — and because everyone loves a good DIY security camera project — self-monitoring systems put everything in your control. You get high-quality equipment at low costs, easy installation with detailed instructions, and guaranteed WiFi connectivity.
A self-monitoring system will most likely mean no contracts are necessary, and if there are, they'll be short-term and low cost. You also typically aren't tied to a long-term plan and monthly fees. And when you need to move, you simply pack up your move-friendly, self-installed equipment to be reinstalled in your new location — with some minor modifications where necessary, of course.
Pros and Cons of Self-Monitoring Security Systems
| ​Pros​ | ​Cons​ |
| --- | --- |
| Full control of the system | Requires having a smart phone on you at all times |
| No monthly costs | Professionally monitored plans often have 24/7 staff |
| Smart phone notifications and alerts | |
| Ensure there's danger before alerting professionals | |
Is a Self-Monitored Security System Worth It?
A self-monitored security system is a great way to save money, have control over your system, and manage your security however best fits your needs. Most self-monitored security systems are wireless and simple to setup also, allowing you to avoid the cost of professional installation.
A self-monitored system is not always perfect. Keep in mind that in order to fully control your homes security, you'll need to have your smart device readily available. Thankfully, with notifications and alerts set up, you are able to know immediately when there is an issue.
Companies that offer self-monitoring plans usually have the option to upgrade to a professionally monitored package, too. So if you find your home is better off in the hands of professionals, you can easily change your plan.
FAQ for Self-Monitored Security Systems
​Can I monitor my own security system?​
Self-monitored security systems give you the ability to monitor your home on your own. Some companies offer professional monitoring plans, or give you the option to monitor the security system via smart phone or tablet. Typically self-monitored security systems come with DIY installation and are simple to setup.
​Does SimpliSafe have self-monitored systems?​
SimpliSafe has options for professional monitoring or self-monitoring. Depending on your exact needs, you can choose a monitoring plan that best suits your lifestyle.
​Can ADT be self-monitored?​
Blue by ADT is the one ADT package that allows you to choose between professional monitoring or self-monitoring services. Determining which option is better will depend on your specific needs in a monitoring plan.
​What are door and window sensors compared to glass sensors?​
As the name suggests, these are sensors placed on the top of or around the locks of doors and windows. When triggered, they will alert the homeowner of a possible forced entry.
An upgrade from the door or window sensor, the glass break sensor monitors the sound or vibration when glass is broken. During a break-in when burglars break window glass to enter a home, a window or door sensor wouldn't be triggered. A glass break sensor is useful in these scenarios to detect and prevent an attempted entry by alerting the homeowner of the glass being broken.
​What are motion sensors?​
When activated, motion sensors detect unusual movement in specific areas of the house. If your sensor detects motion when there shouldn't be movement — unless someone's going for a midnight snack — it'll alert you of the potential danger. Some motion sensors even have pet recognition, so you won't be disturbed when Fido decides to go for a late-night run around the yard.
Smart locks let you lock and unlock doors without using traditional keys, but rather by using a passcode with another device (like a smartphone) through WiFi or Bluetooth. You don't have to worry about losing your keys or anyone making an unwanted copy of them to get into your house. They are designed to make your passcode unique to you; no one else has access to your space unless you let them. Some smart locks even generate codes randomly at every entry for even more protection.
​What are smoke and carbon monoxide detectors?​
These devices are able to detect the presence of smoke or carbon monoxide in each room they are installed. They make a shrill alarm sound when triggered by smoke or fire, and send notifications to your phone. With this, you're able to call emergency responders even if you aren't physically at home when the alarm goes off.
​What are flood and leak sensors?​
Flood sensors work by sending an alarm when water touches the probes in the device. A sensor like this could save you time and money, especially in an area where water damage could affect other parts of the house. Be sure to get a flood sensor that is waterproof!