Things You'll Need
Screwdriver

Jumper or 2 small crocodile clips
Warning
Be careful when removing the main electricity supply to the device.
Only tackle this project if you are confident of your ability to do so safely.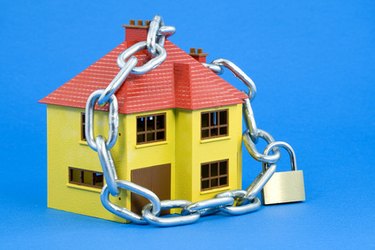 The Powermax system of home security is a wireless-based environment that allows homeowners to view and control their home systems from anywhere via a web-based browser or a mobile phone. The system allows real-time video surveillance and interfaces with the home to control lights, alarms, appliances and equipment. It can send alerts to mobile phones using SMS and via email to computers and other devices.
Step 1
Unplug the power transformer for the unit from the household power supply.
Step 2
Unlatch the battery cover in the bottom left-hand corner of the system. Remove the single screw and plate that covers the rechargeable battery. Disconnect the battery by removing the small plug at the top right of the battery.
Step 3
Remove entire unit from the wall. Place face down on a nonmarking surface. Remove the screws from the rear of the control panel and remove the cover. This will reveal the printed circuit board controlling the device.
Step 4
Find the two jumper pins on the circuit board marked RST and connect the two pins together with either a jumper, if available, or use two crocodile clips on a short piece of wire.
Step 5
Plug in the rechargeable battery on the front of the control panel. Close the battery compartment and replace the screw. Close and relatch the battery cover.
Step 6
Remove the jumper from the RST pins. Replace the back cover of the unit and fasten with screws. Mount the unit back on the wall and plug the transformer back into the power socket.
---
Steve Heap is an expert in telecommunications and has been speaking at industry conferences and writing articles in key telecoms publications such as "Capacity" and "IP Business Weekly" since 1998. He writes about photography online at BackyardSilver. Heap has a bachelor's degree in physics from the University of London.