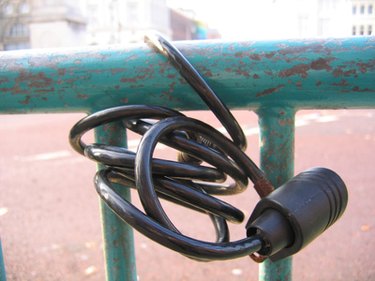 Bicycles are often prey to theft due to weak locks used in public locations. To truly secure a bicycle, riders are advised to use locks that are bolt-cutter resistant. These locks come in the form of padlocks, chains and U-shape locks.
Oxford Nemesis Chain and Lock
The Oxford 16mm Nemesis Chain and Lock has 5/8 inches of Cromo hardened steel round shackle. This bolt-cutter proof lock is 2 1/8 inches tall inside and 1 1/2-inches wide. It features an anti-pick disc locking mechanism as well as a cloth sleeve made with a reflective material to further protect a bike. LockItt claims the Oxford Nemesis can also be "used as a disc lock." The lock comes in two sizes: 6.5 feet or 5 feet. Five keys are included. As of November 2010, the 1.5 meter length costs $219.95, and the 2 meter length costs $269.95.
Bike Anchor Hammer Chain & Lock
Bike Anchor produces a Hammer Chain & Lock Combo that sells for $159 as of November 2010. This lock is drill proof, pick proof, bolt-cutter proof and freeze proof. The chain is bolt-cutter resistant due to its triple hardened chromalloy steel with C65 Rockwell hardness and square bar stock. The lock is a case hardened 9/16-inch steel shackle featuring heel & toe locking. A stainless steel ball bearing deadlock is at each end of the lock. The rotating disc cylinder prevents theft from lock pickers. The Bike Anchor lock escapes corrosion with its chrome-plated lock body. Different lengths are available, and it comes with a lifetime warranty.
Master Lock No. 8285D
The Master Lock No. 8285D bike lock sells for $35.85 as of November 2010. The hardened steel body prevents sawing, cutting and prying. The Force 3 Double Shot U-lock comes with an extra 4 feet, 3/8-inch cable. A double locking shackle has the capability of resisting three tons of pull force. Master Lock produces these locks with a disc key that withstands picks, and the lock comes with a $1,000 anti-theft guarantee. It comes with a carrier bracket for storage, a soft grip for comfort and a sliding dust cover to protect from moisture and dirt.
---
Residing in Bristol, Va., Mitchell Land began writing for various websites in 2010. He worked as a writing center tutor at Baylor School for three years, where he also contributed music reviews to "Baylor Notes." He attends Greensboro College in North Carolina and studies theater and French.