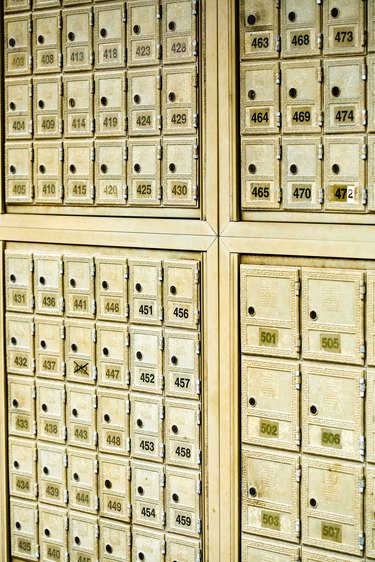 Community mailboxes give residents of a community, condominium or apartment complex a centralized location where they can pick up and drop off their mail. After years of continuous use, mailbox locks may jam up or fail due to rust or internal mechanical issues. The lock will then have to be replaced and a new set of keys issued. Fortunately, mail recipients can request replacement of the lock, as well as a new set of keys for the replacement lock.
Step 1
Check if your community mailbox lock needs replacement. Attempt to open the mailbox with both your standard and spare mailbox keys. If the mailbox does not open with either key, it may require replacement.
Step 2
Request a lock change and a set of replacement keys from the postal service. If you are living in an apartment or condominium, you may have to request the lock change from the property managers.
Step 3
Wait for the lock to be changed out and retrieve the Delivery Notice Card from your front door step. This card will have the address of the Post Office where you can receive your replacement keys. If you are living in an apartment or condominium, the notice may inform you that you can receive your keys from the rental office.
Step 4
Bring the Delivery Notice Card to the Post Office or rental office. You may be asked to provide photo identification before receiving your replacement keys. You may also have to pay a key deposit fee.
Tip
Always make sure the mailbox you're attempting to open is your assigned mailbox. If your keys seem unable to open the mailbox, you may be attempting to open the wrong one.
---
Mark Robinson is a freelance graphic designer and writer. Since 2008 he has contributed to various online publications, specializing in topics concerning automotive repair, graphic design and computer technology. Robinson holds a Bachelor of Science in graphic design from Alabama A&M University.