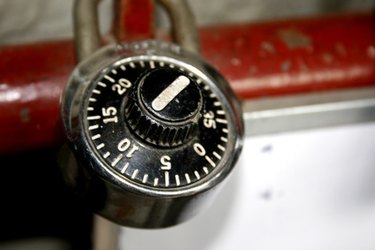 Losing the combination for an American Lock combination lock can be quite frustrating, but steps can be taken online to retrieve the combo. Because American Lock only sells combo locks in bulk (mostly to schools and companies), each order of locks comes with a combination chart. Try to find this chart before attempting to retrieve the combo online. Unfortunately, no comprehensive online database of combos exist, so while information on how to retrieve your lock can be found online, the actual combo cannot be.
Step 1
Attempt to locate a key for the lock. Certain types of American Lock combination locks have a backup key that you can use to release the locking mechanism.
Step 2
Find the serial number of the American Lock combination lock that you have. Only combo charts for locks with serial numbers beginning with the letter "A" can be retrieved.
Step 3
Visit the American Lock website, and click on "Resources" from the menu on the left side of the screen. Pick "Obtain a Lost Combination" from the drop-down menu that appears.
Step 4
Read the information on this web page. You will need to write a letter using the official letterhead of your company or school asking for a copy of the combination chart. You will also need to contact American Lock in order to receive a chart request form, which must be filled out prior to receiving the combo chart.
Step 5
Mail the chart request form along with the fee ($50 for a hard-copy chart or a chart on disc, $100 for a full end-user history chart) to the address listed on the combo retrieval web page. Allow 4 to 6 weeks from receipt of your letter for American Lock to process your request.
---
Michael Black has been a freelance writer based in South Central Pennsylvania since 2010. He graduated from York College of Pennsylvania with a Bachelor of Arts degree in professional writing. He has written music- and writing-related articles for various websites.