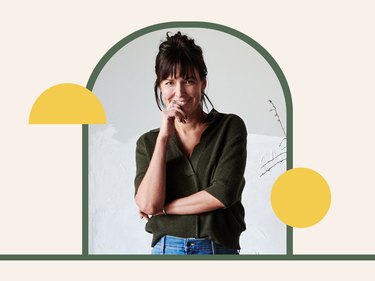 "Make your home better than your vacation," says Leanne Ford. "Your vacation's one week, your home is 51 weeks. So, spend your efforts on that for a little bit."
Leanne knows about the importance of home, of having a home base to call our own. She has a deep love for her hometown of Pittsburgh, Pennsylvania, where she launched her successful career in interior design after gaining attention for the remodel of her home, a former 1907 schoolhouse. Trust me, you've probably seen these pictures somewhere along the way if you look at design magazines, Pinterest, or Instagram. (Just google Leanne Ford The Schoolhouse.)
Since then, she gained even more fame as an HGTV star with her brother Steve Ford on the HGTV shows "Restored by the Fords" and "Home Again With the Fords." And, what's also exciting to Leanne right now is her partnership with Crate & Barrel who carries her first-ever collection of furniture, home decor, and accessories.
We talk about how she creates her gorgeous mood boards for design inspo, and why she likes to give all that insight and resources away.
She shares tips on where she likes to splurge and save with interior design choices, as well as some really clever small space/rental decorating tips and hacks. (She has a great light fixture idea for renters!)
You'll see that Leanne is pure creative inspiration: she encourages us all to be messy, to keep trying things, to keep moving forward, and to play. Don't be afraid to fail. As she says, "the secret to my success is lots of failure."
More Products You Might Like
Her book "Work in Progress," which is like an inspo book encouraging people to take risks and try things.
Moving back to the Pittsburgh area from Los Angeles ... and back to country living with her husband, Erik Allen Ford (the co-founder of Buck Mason, a clothing brand) and their daughter Ever.
How it's important to encourage our children to try and fail — and try again.
How, while Leanne is known for her neutral color palette and love of white paint, she is giving her daughter the freedom of expression (her daughter loves pink, pink, and more pink).
Her new line with Crate & Barrel that was inspired by all the time we've been spending at home — especially our home offices.
The design hacks she's created with furniture through working with Crate & Barrel.
How when helping people curate a design for their home, she encourages them to identify— and then stick with — their original vision of their place.
Three ways she describes her home; her favorite space in her home; and what brings her joy at home.
Laurie's favorite furniture designs by Leanne, such as the Pebble coffee table. (Just don't ask Leanne to pick her favorites!)
Learn More About Leanne Ford
If you want to learn more, read more, discover more about interior designer Leanne Ford, visit any of these places:
​Being Home With Hunker​ ​is a new podcast where we explore the idea of "home"​ — ​not just as a place where you live, but as an expression of your identity. Each week we talk with designers, creatives, and artists about who they are, how they create meaningful spaces, and what "being home" means to them.​
​If you like what you hear, please rate and review the podcast, hit subscribe/follow, and share with a friend. When it comes to podcasts word of mouth is how most people will find the show. It really does help. Visit​ ​Hunker.com/podcast​ ​where you can find, follow, and listen to our show.​