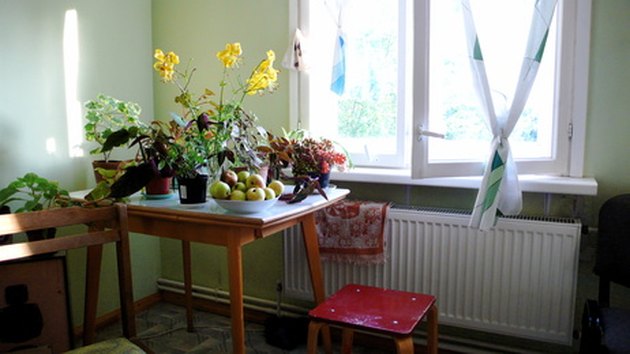 Sage can be a light gray-green or dark gray-green color. Sage shades can include more green than gray or more gray than green. The color is a calming near-neutral shade often used in home decor for wall paint, furniture and accents. Sage works well as a primary color in a room or as an accent color.
Neutrals
Sage and common neutrals such as canvas, khaki and gray work well with many colors. Coordinate sage walls with neutral-colored furniture, carpeting and wood flooring, or mix sage with bold splashes of color including fuchsia.
Earth Tones
Earth tones are colors found in nature, typically greens and browns. The color sage works well in a room decorated with other natural tones.
Complimentary Colors
Green and red are found on opposite sides of a standard color wheel. This relationship makes green and red a complimentary color pair. Pair sage green with red for a striking look. Paint your walls sage and use bright red throw pillows. Or, paint the walls red and use sage green as an accent. Be careful not to allow the red and green color scheme to become too reminiscent of Christmas. Alternatively, purple-red colors such as plum and eggplant make a bold statement when paired with sage green.
---
Leslie Rose has been a freelance writer publishing with Demand Studios since 2008. In addition to her work as a writer, she is an accomplished painter and experienced art teacher. She has a Bachelor of Arts degree in art with a minor in English.