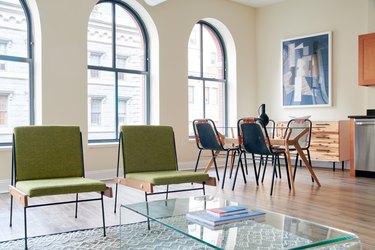 With brands such as PPG, Sherwin-Williams, and Benjamin Moore all selecting variations of sage green as the 2022 Color of the Year, it's safe to say that the verdant hue is having a major moment in the world of interior design. "Sage green is this year's comeback kid," says designer Layton Campbell of J. Layton Interiors. "Its popularity has overtaken previous go-to greens such as emerald and mint."
The pastel shade of green can be styled to best reflect a home's surroundings, designers say. "When designing with sage green, layering varying tones of the color itself along with a natural color palette, and designing to the climate/region, will help create a sense of place," says Sherry Hope-Kennedy of Studio SHK Interior Design. In general, Hope-Kennedy uses a few go-to hues when working with sage. "We like pairing sage green furniture with an earthy color palette of woodsy browns, off-blacks, other shades of sage, and warm whites," she explains. "These pairings create a calming, classic look that is both sophisticated and relaxed."
10 Wall Colors That Go With Sage Green Furniture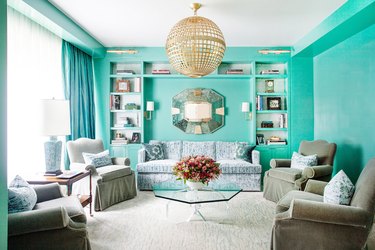 A bold turquoise paint color graces the walls of this living room by designer Jennifer Hunter, and makes quite an eye-catching statement. The four sage-colored lounge chairs help tone down the vibrant shade while simultaneously enhancing the green scheme. The chairs are accented with throw pillows in a blue and white fabric that coordinates with the sofa upholstery in the room, tying the whole space together beautifully.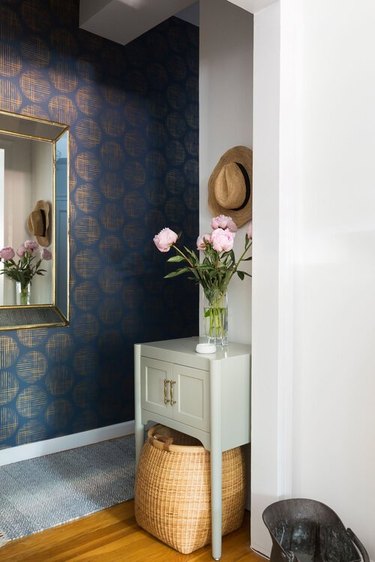 If you love the color blue but are looking for a deeper hue, consider opting for navy, as designer Megan Hopp did in this hallway. Here, dark blue wallpaper — complemented by a light blue runner — pairs nicely with a sage green end table. And bonus: The gold detailing on the wallpaper pattern matches the frame of the mirror and the door pulls on the table.
One of the best things about sage green is that it stuns alongside both vibrant and neutral colors. Here, in a family room designed by Erin Gates, a light green lounge chair and accent chairs complement built-in shelving showcasing a pale green back panel. Meanwhile, all of the other walls are painted in an inviting shade of cream.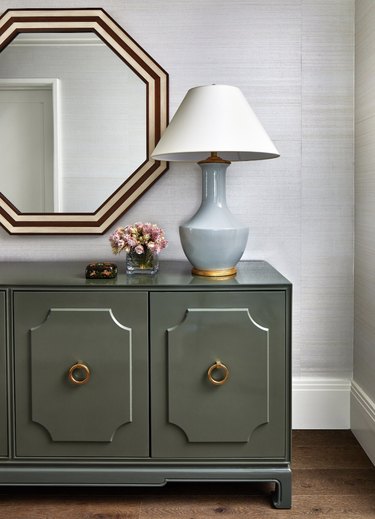 Sage green is a color that can be styled to appear contemporary or traditional. Here, in this art deco-inspired space by Erica Burns, a cabinet flaunting a darker shade of sage looks lovely paired with a cool color such as light gray. The feature wall clad in grasscloth wallpaper provides a perfect backdrop for the swanky furniture piece and a geometric-shaped mirror.
Sage and tan go together wonderfully in this Palm Beach living space by designer Caitlin Kah. The tan grasscloth wallpaper, leather bench, and area rug add a touch of masculinity to the coastal-inspired space. The sage green sofa and refreshing blue accents temper the warmth of the light brown hue used throughout.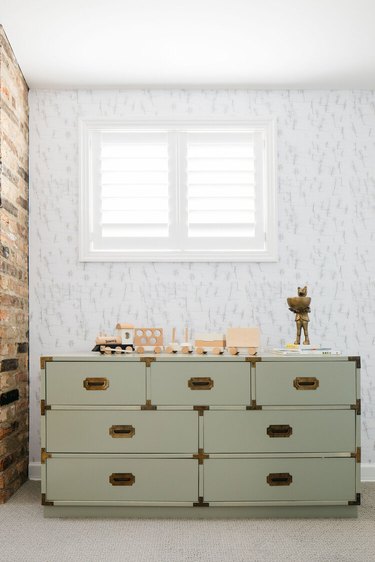 There's no reason to shy away from the color brown — in fact, the earth tone has seen a resurgence lately. However, if the chocolatey shade gives you pause follow the lead of Kira David Design and opt for a brown brick accent wall. The textural material makes a handsome addition in this gender-neutral nursery, while the sage green campaign dresser adds a subtle pop of color to the cool scheme.
Yes, sage green furniture can most definitely be styled alongside sage green walls, as witnessed in this home office by Chauncey Boothby. The monochrome color scheme alleviates visual distraction and evokes a sense of calm that comes in handy when dealing with stressful work tasks. The artwork, Roman shade, and greenery reinforce the tone-on-tone palette.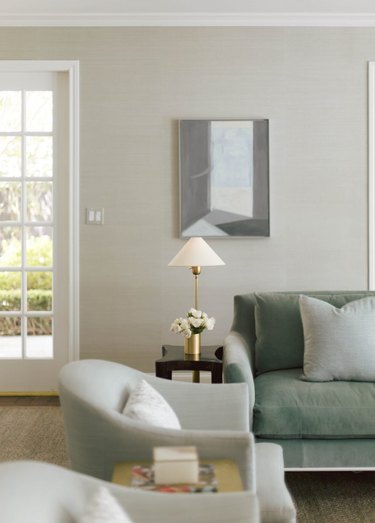 A sage green couch and a pair of lighter accent chairs provide a subtle pop of color to this neutral living room by Courtney Hill Interiors. The walls are covered in a greige grasscloth wallpaper that acts as a quiet backdrop for the verdant pieces of furniture.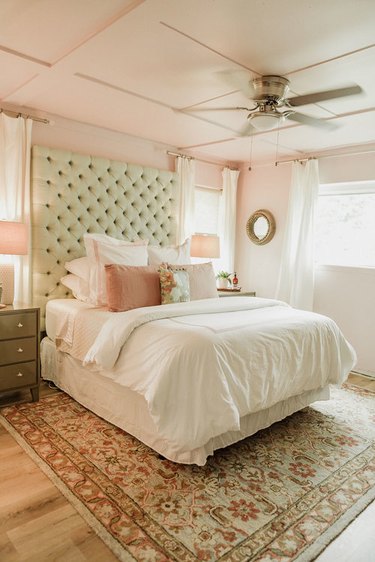 A soft shade of pink provides a warm and inviting backdrop for this cozy bedroom from Lambert Home. The tall sage green headboard shines alongside the blush-colored walls and accent pillows. A healthy dose of white accents keeps the cottagecore setup feeling light and airy.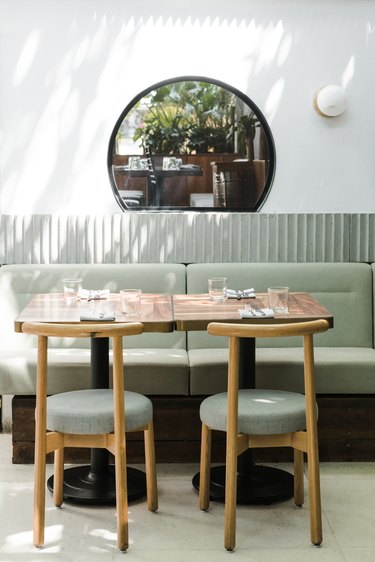 Sage green and white make a classic combo that will never go out of style, as proven by this stunning dining room. Here, light green seating stands out alongside crisp white walls, while the wood finishes add a hint of warmth. Black accents punctuate the sophisticated space and add a bit of contrast.
The Best Colors to Pair With Sage Green Furniture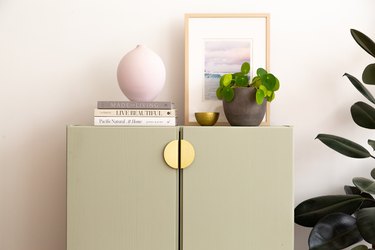 When the time comes to select a color palette that will work alongside sage green furniture, there are many viable options at play. Neutrals and classic hues such as white, black, and gray will always pair well with sage, but so will brighter colors that may seem a bit more daring.
And since sage green actually comes in different shades, it's important to consider your specific piece of furniture and the undertones that are present when considering color combinations. If you're feeling stuck, note that a monochrome space is always a welcome possibility, too. Now, if you're ready to finalize your decorating ideas, here's a recap of the best wall colors to pair with sage green furniture:
Turquoise
Navy blue
Cream
Gray
Tan
Brown
Sage green
Greige
Pink
White