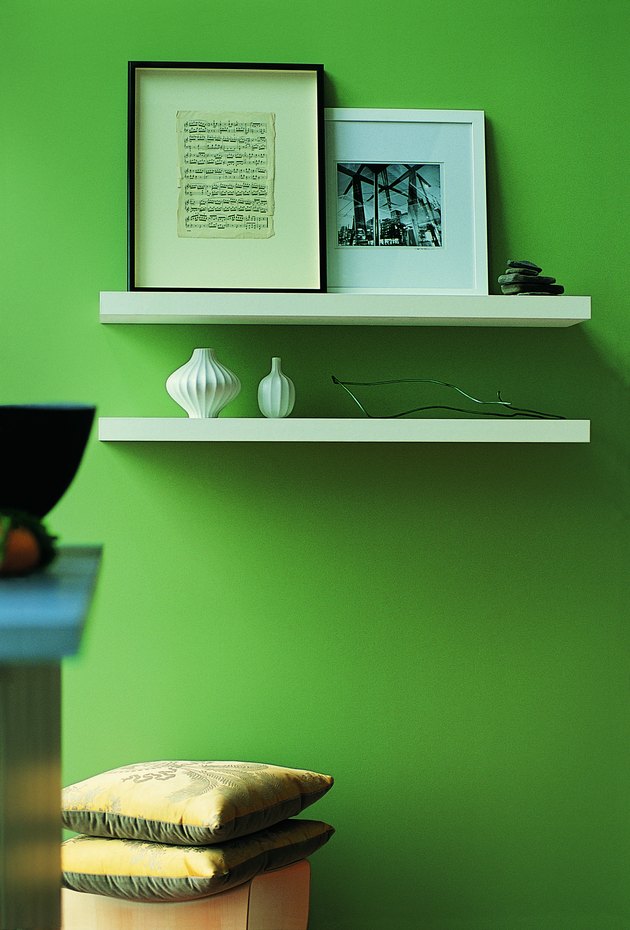 Sage green is a suitable color for any room in your home. Depending on the colors you use with it, it can be playful, serene, sophisticated or funky. This versatility makes it an appropriate choice in traditional and modern decorating schemes. Walls painted sage green provide a beautiful backdrop to highlight furniture and accessories in contrasting colors. Use sage-green accessories to tone down bright colors or reflect the greens of nature.
Purple
Purple occurs almost directly across from sage green on the color wheel, making the two a high-contrast pair. Use plum or eggplant for a dramatic look in a dining room or a child's bedroom. Pair sage green with lavender and lighter shades of purple for a soothing effect in a bathroom.
Red
Reds pop against a sage-green backdrop. Rust and brick reds add sophistication, while cherry reds create a fun, youthful atmosphere. Paint walls sage green and the backs of built-in bookcases red to give a room an energizing facelift.
Orange
Orange provides a youthful contrast for the sophistication of sage green. Even a small bit of orange against a sage-green base invigorates a room. Add a few orange throw pillows to brighten a living room. A couple of orange dish towels in a sage kitchen provide a fun surprise.
Brown
Pair sage green with brown for an interesting twist on tradition. Sage walls behind dark wood in a library or study look distinguished. Use lighter browns, such as taupe and tan, for a soothing look in the master bedroom.
Black
Black and sage make a dynamic couple in a modern decorating scheme. Look for the two colors in a dramatic print for living room upholstery, or add a black shower curtain to a sage-green bathroom for a contemporary look.
Blue
Perhaps no two colors better reflect the natural world than blue and green. Slate blue is soothing with sage green. Add accents in butter yellow for a cheerful yet distinguished palette. Navy blue creates interest, too. Use sage-green bedding against navy-blue walls for a sophisticated yet fun bedroom.
---
A professional writer and editor, Kristi Roddey began freelancing in 1999. She has worked on books, magazines, websites and computer-based training modules, including South Carolina Educational Television's NatureScene Interactive, "Planted Aquaria," "Xtreme RC Cars" and online courses for Education To Go, Inc. Roddey holds a Bachelor of Arts in journalism from the University of South Carolina.