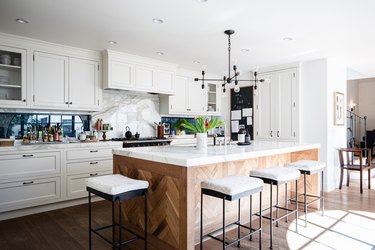 The kitchen island table isn't going anywhere, folks. Whether your cooking zone is farmhouse, modern, or industrial, you probably have an island (or you want one for your next kitchen remodel). And the space is so multifunctional; it's where we eat, where we work, and where we entertain.
To make sure your kitchen island table is as useful as possible, add seating. The barstools or chairs will transform the prep and storage space into a communal gathering area. Much like the more traditional dining table, the island is where so many familial interactions take place. Add seating, and the island will work harder than almost any other spot in the house.
Here are nine ways to make the kitchen island table work in your home, whatever your style.
1. A Bold Centerpiece in a Mountain Kitchen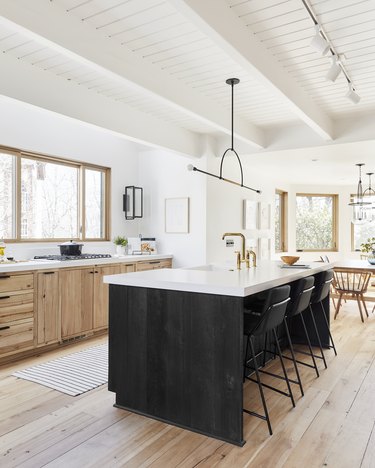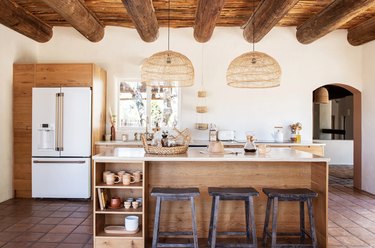 A kitchen island table even works well in Southwestern adobe-style homes like The Posada. Here, the shared chef's kitchen, a completely new addition, is modern and open with boho lighting, yet it fosters togetherness because of the seating. Plus, there's room to share a cup of coffee with your fellow guests.
3. A Dark Counterpoint in a Classic All-White Kitchen
The Beckham Project, by Studio McGee, was designed to appeal to a wide variety of buyers. So going with a kitchen island table in the open concept living area was a no-brainer. Here, the island table is a point of drama in the otherwise white kitchen. The dark countertops, dark cabinets, and dark stools with spindle backs are moody in the best way.
4. A Space-Definer in an Open Concept Design
In an open concept area, the kitchen island table doesn't just add casual seating. It really helps define the space. In this kitchen from Daleet Spector, there is ample room to pull up a barstool and engage with whoever is prepping the meal.
5. A Multifunctional Addition to a Small Kitchen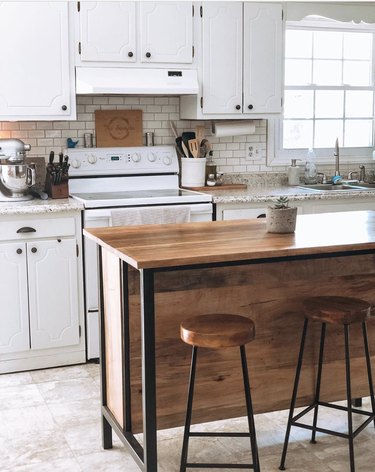 The small space kitchen island table adds a slightly rustic, industrial vibe to this North Carolina kitchen. In addition to aesthetics, though, it makes the cooking zone infinitely more functional. On one side, there's open shelving. On the other, two stools make for an impromptu workspace.
6. A Highly Functional Extension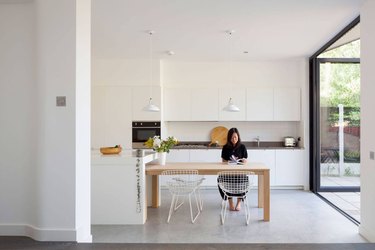 Minimalist design seems simple and effortless, but it's often more challenging than it looks. Take this dreamy minimalist kitchen. The island table is nested into the central island, but nothing looks crowded or heavy. Even the concrete floors match the neutral vibe.
In this stunning summer house renovation from Kate Lester Interiors, the second-floor kitchen moved down a level, where it could have the very best views of local tennis courts and community fields. How can you copy the look even if you don't have a lush summer dwelling? Go for a stately blue kitchen island. It'll anchor your space while woven stools and nautical pendant lights will add that wow factor.
8. A Savvy Way to Capitalize on a Long Kitchen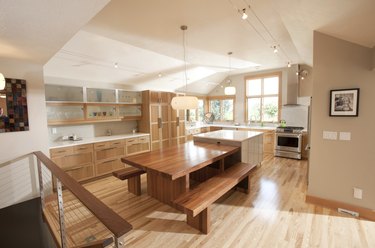 There's a lot of wood in this long kitchen. But the wood kitchen island table complements the floor and really makes use of the unique room shape. Multiple people can sit here, but the footprint is narrow. Now instead of being distracted by the island, everyone who visits this space will be awed by those vaulted ceilings.
9. A Pop of Pattern and Color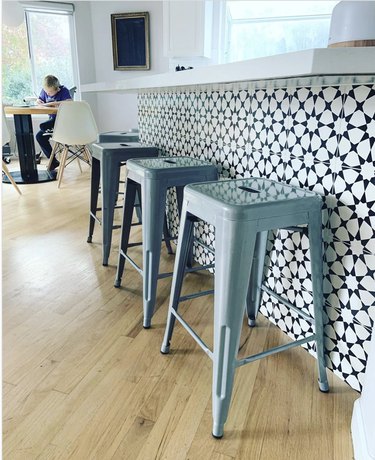 When Ally Vaughn decided to reno her kitchen, she wasn't sure about the bold island tile. She shared, "For years I wanted to brighten up our kitchen. But because there is so much natural sunlight in that space, an all-white kitchen wouldn't work. Way too bright." To solve the conundrum, she painted the lower cabinets gray and added visual interest to the island with bold tile. And the same fix can work in equally bright kitchens. You can DIY it with stick-on tile.