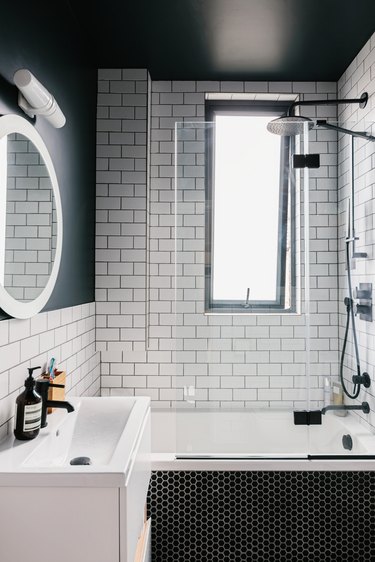 When it comes to designing a small bathroom, defining your style is just as important as functionality and storage. While a tiny loo will work well with just about any aesthetic that strikes your fancy — from industrial to boho to farmhouse — the clean lines of modern design work particularly well in a tight space.
By incorporating modern features that cater to a small footprint — like a floating vanity, walk-in shower, or a pedestal sink — you can create a space that makes a big impact, even without the sprawling square footage. Need proof? Ahead, we've rounded up 12 small modern bathroom design ideas that you can easily adopt in your next home renovation.
1. Consider a floating vanity.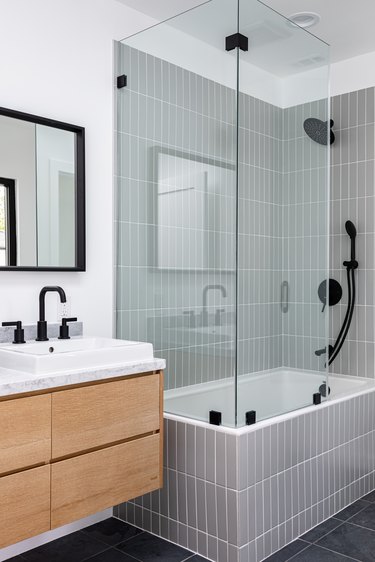 2. Draw the eyes up with a statement ceiling.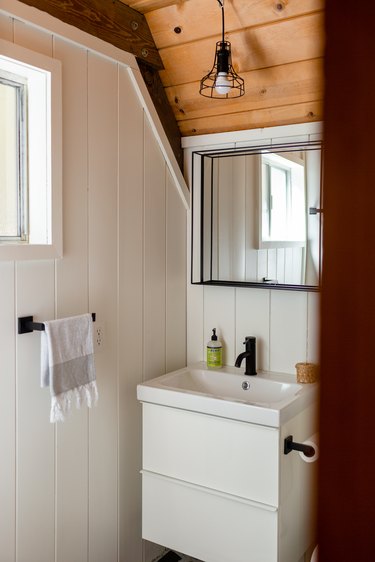 High ceilings can make even the tiniest rooms feel spacious. To recreate this small space design idea, contrast white walls with a wooden tongue and groove ceiling to add rustic flair in an otherwise modern bathroom.
3. Add a woven basket for concealed storage.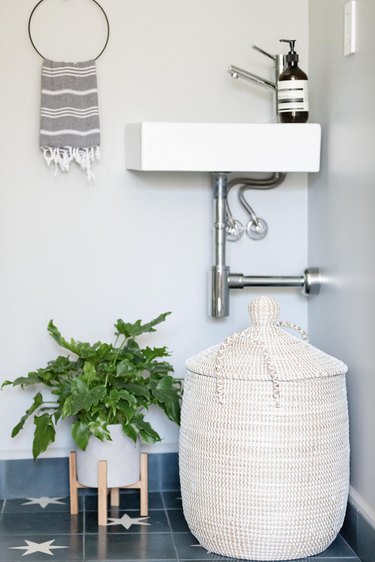 Finding opportunities for concealed storage is one of the biggest headaches when it comes to small bathroom design. Rather than installing bulky built-in's or cabinetry, opt to bring in an oversize woven basket with a lid that you can use to store extra toilet paper and towels, without taking up too much precious floor space.
4. Make the entire space a wet room.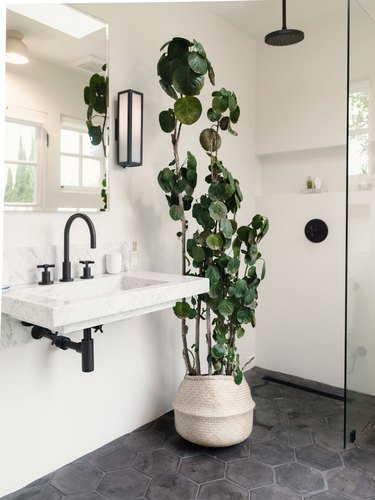 If you're lacking square footage, but still want a luxurious shower setup, look no further than this small modern bathroom design idea. By turning the entire space into a wet room with hex-shaped floor tile, you create the feeling of an expansive personal spa without sacrificing an ounce of functionality.
5. Enjoy the convenience of a double vanity without the bulky cabinet.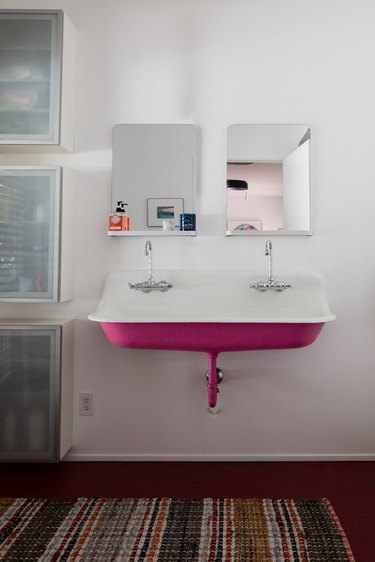 Anyone who's watched a single episode of ​House Hunters​ on HGTV can attest to the popularity of double vanities. Unfortunately, this coveted feature can be tricky to incorporate in a small bathroom. Follow the lead of this modern setup, and opt for a large trough sink instead of a bulky vanity cabinet. Pair with two wall-mounted gooseneck faucets and a set of frameless mirrors, and ... voilà!
6. Run the wall tile from the floor to the ceiling.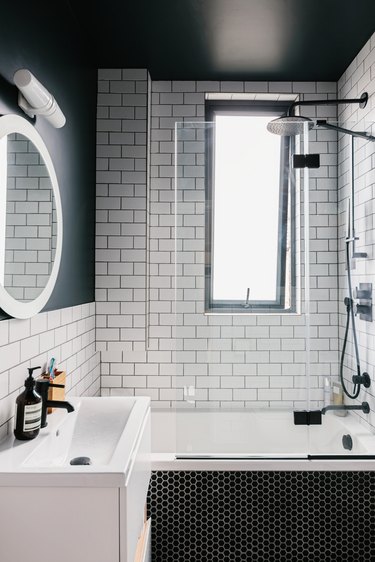 Subway tile is a classic choice across all design styles, but you can make a modern statement in a small bathroom by capitalizing on vertical space and installing the wall tile from the floor to the ceiling. Not only does this make the entire room feel more high-end, but it also gives the illusion of a higher ceiling.
7. Make a statement with colorful, geometric tile.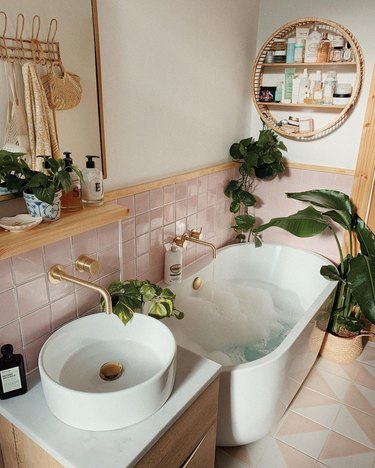 Take a note from blogger Kate Spiers and turn your tiny bathroom into a modern oasis with bold, geometric tiles. While the wall and floor patterns are different, the monochromatic color scheme keeps the room feeling effortlessly spacious and chock-full of luxury.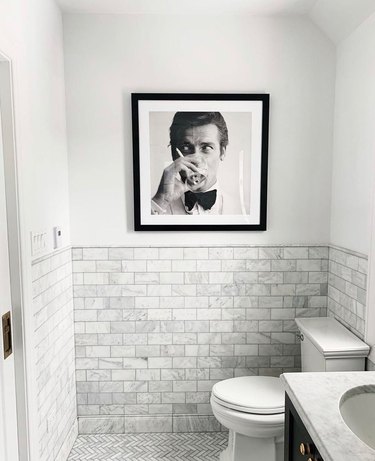 If neutrals are more your speed, look no further than The Everygirl co-founder Danielle Moss's small modern bathroom. The marble wainscoting and chevron mosaic floor tile complement the black and white artwork, bringing in varied textures and patterns while maintaining a light and airy finish.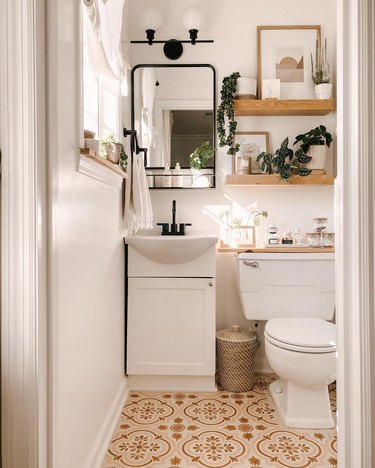 The floating shelves seen in this bathroom belonging to Hannah of Thistle Harvest double as storage and modern wall art. To recreate the look, add dimension by bringing in objects with varying heights and shapes, such as potted plants, leaning artwork, and storage containers.
10. Create contrast with a black accent wall.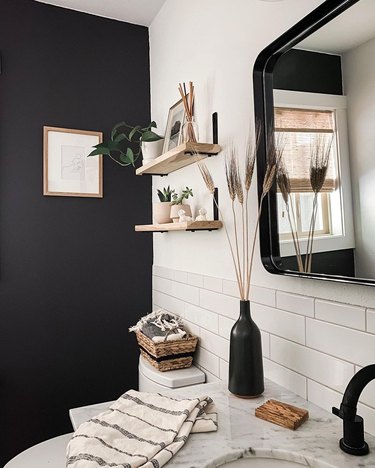 A black and white bathroom is effortlessly classic, but a black accent wall — like the one in this setup belonging to Allisa Jacobs' — exudes a strikingly modern sensibility. Use matte black hardware to create cohesion with the rest of the space, and complete the look with matching hand towels and modern accessories.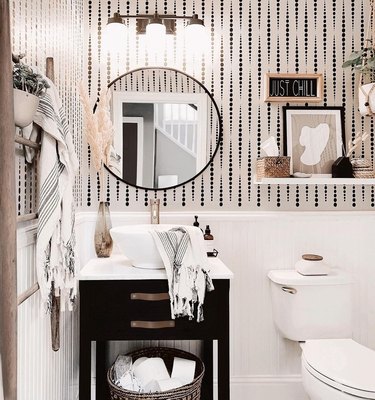 While it might not be instinctual to bring pattern into a confined space, this small modern bathroom by Maggie Miller will certainly have you reconsidering. Select a similar striped pattern wallpaper to naturally highlight the vertical space of the room, while the restrained color palette will keep the overall vibe sleek.
12. Add interest with color blocking.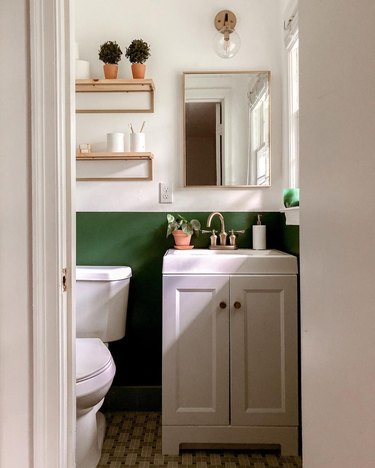 Blogger Ajai Guyot upgraded her small modern bathroom with a green accent wall that perfectly contrasts with the rest of the open and airy space. To bring this look into your own home, allow the verdant green wainscoting to take center stage by opting for a clean, white vanity cabinet and simple brass hardware.