Basements can be truly versatile, doubling as anything and everything from family rooms to home offices to all-encompassing bedroom suites. But when you're working with an unfinished space and a tight budget, suddenly, the options can feel significantly less promising.
Remodels can be costly and time-consuming, but that doesn't mean it's a lost cause. Sure, it may be a little rough around the edges — with exposed pipes, concrete floors, and French drains tracing the perimeter — but with a few clever tricks and inspired unfinished basement ideas, you can upgrade your lower level with effortless flair. Here's how.
Embrace the raw edginess inherent in a basement by using the setting as a form of inspiration. Emily Henderson's take on an unfinished basement idea includes a monochrome scheme that plays up the industrial character of the room. The whitewashed walls are contrasted by a painted gray ceiling and floors, while bold leather furnishings are complemented by wrought iron accents.
2. Get creative with lighting.
Unless you're working with an above-ground basement, chances are lighting will be limited. Outside of the standard fluorescents that can feel way too overwhelming, install an ambient light source for a more comfortable touch. Naturally, a design-forward pick that will make a statement goes without saying. Cue this party shack spotted on Hunted Interior, showcasing a woven pendant that invites a wealth of warmth and personality to the space.
If you're looking for an unfinished basement idea with a little more impact (without having to commit to a full reno) consider adding some drywall and flooring to emulate the feel of an actual room. Allow this desert-themed bedroom, with its airy ambiance, to serve as inspiration. By keeping the palette bright and simple, you'll evoke an ethereal quality that offsets a lack of natural light.
4. Build out a laundry room.
A basement laundry room deserves to be more than just a lonely washer and dryer pairing in a dark corner. With a few clever additions and decorative accents, you can transform your lower level into a Pinterest-worthy area with functionality to boot, just as the creatives over at Beginning in the Middle did. The couple's unfinished basement revolved around embracing its imperfections. Outside of adding in a copper rail and clothing rack, they built a wrap-around cabinet for storage that features ample counterspace for folding clothes and more.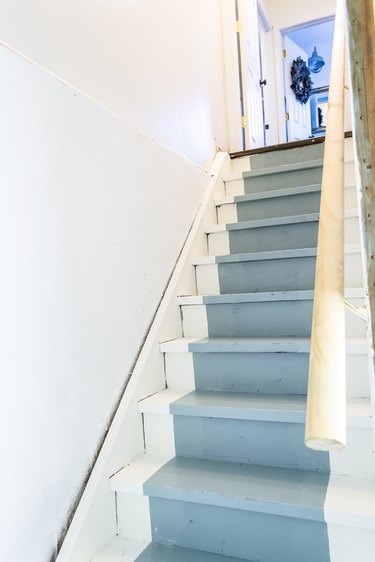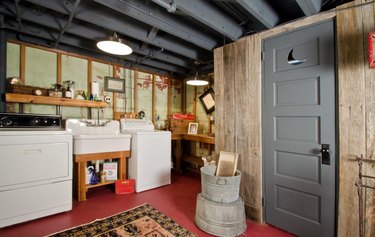 Sprucing up an unfinished basement need not require a top-to-bottom renovation. Something as simple as painting the rafters (the exposed wood beams that make up the ceiling) can instantly reinvent the area with a cohesive touch. Take, for example, this nook from Merrick Design and Build, where the charcoal gray ceiling plays off of the deep red floors, taking attention away from the bare bones walls.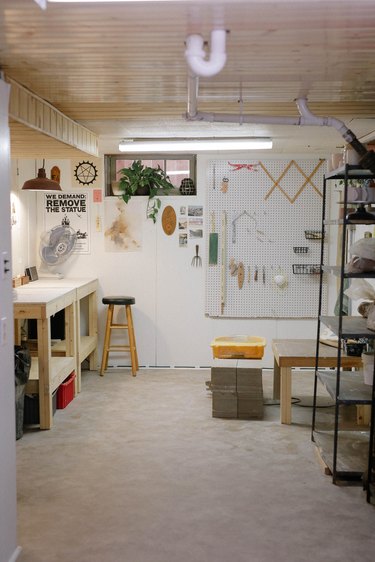 For an unfinished basement that happens to be a little rough around the edges, clutter can make it seem a lot more so. Double down on organizational systems such as rolling racks and open-shelving to keep storage in check. We're all for Nikki Norberg's basement-turned-studio, which includes a wall-mounted pegboard and tabletops with shelving to keep her workspace tidy.