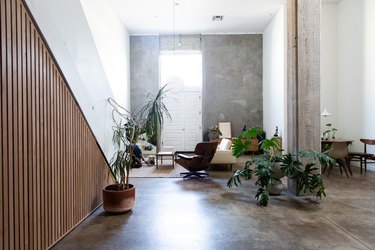 Concrete floors aren't just for basements and garages any more. Modern concrete finishing techniques, such as acid staining and stamping, offer enough design variations to suit just about any room's style. As with other types of flooring, prices can range from economical to quite pricey, so it's worth your while to get a few estimates before diving into a new floor project. The home's structure can also play into the price, as some floors may require extra structural support before the concrete is installed.
Ideal Rooms for Concrete Floors
Concrete flooring can be an excellent option for many areas of a house, including hallways, entryways and foyers. It's also a nice choice for a bathroom or kitchen, provided the floor is properly sealed to keep moisture and stains out. Concrete floors can also be installed in living rooms, basements, the man cave or virtually any space you'd like. While you could install concrete for a bedroom floor, it may not be the best choice if you like a little comfort underfoot.
Concrete: The Pros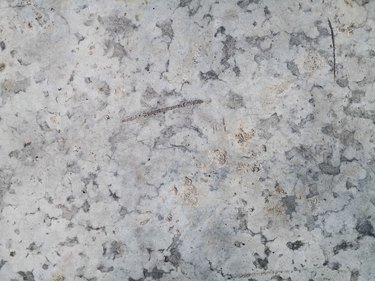 Concrete is an excellent flooring option in many cases, as it lasts long enough that it won't have to be replaced in your lifetime. It's quite versatile as well, given the wide range of design options available. Here are a few more reasons to consider concrete:
The simplest concrete floors, requiring the least amount of installation time and labor, cost as little as $2 per square foot_,_ making concrete an economical flooring option that offers a lot of bang for the buck.
Concrete lasts a lot longer than vinyl or carpet flooring. With proper care, it could last several generations.
Concrete requires little maintenance beyond routine mopping. But it often needs to be resealed periodically for stain-resistance.
Much like a painted floor, decorative concrete flooring can be styled to suit just about any design or color scheme you like. A skilled professional can easily recreate the look of marble, stone tile, slate or even wood.
DIY staining, etching and overlay kits are available so you can transform the look of a plain concrete floor yourself.
Concrete is a great option in a house with dogs or young children, as it doesn't scratch or dent.
Poured concrete flooring is ideal for pairing with a radiant heating system. The concrete is poured over the heating tubing so the floor is heated from the inside. Concrete also holds the heat well, which could help reduce heating costs.
Dust, pet dander and dirt don't become trapped on hard surfaces like concrete, so it's an excellent alternative to carpeting if anyone in your home suffers from asthma or allergies.
If the room already has a concrete floor that's in good shape, a new decorative concrete overlay can give it a completely new look for far less cost than an entirely new floor.
Concrete: The Cons
As versatile as it is, concrete flooring does have a few potential drawbacks that should be considered:
Concrete is hard. Fragile items dropped on a concrete kitchen floor are likely to break. The floor is also hard underfoot and can be fatiguing to stand on for extended periods, such as when cooking. Likewise,

concrete offers no cushioning for kids who like to sit on the floor and play. Cushion must be provided by area rugs or floor mats.

Concrete is heavy and needs a strong, rigid supporting structure underneath it. Wood-frame floors may need reinforcing to ensure they are strong and stiff enough for the concrete.

The floor can be cold if you live in a cool climate and floor is not heated. It may not be a good option if you like to walk barefoot on somewhat warm floors indoors during all seasons.

In a room that's below grade, such as a basement, moisture can migrate up through the concrete. However, concrete will not be damaged by moisture, unlike other flooring materials that are vulnerable to mold issues when they get wet.

Concrete can chip and crack. Like most building materials, concrete expands and contracts with changes in humidity and temperature. Fine cracks in concrete slabs are almost inevitable, and they are very difficult to hide. Chips may occur from heavy impact or result from improper finishing.

Concrete can be expensive. Highly detailed designs requiring many extra hours of labor can raise the price of a concrete floor up to $10 to $30 per square foot.
Concrete Flooring Installation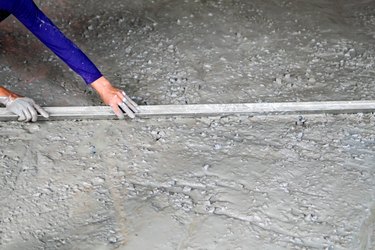 Concrete flooring can be installed over a compacted soil or gravel base, or it can go over an existing slab or a standard wood-framed floor and subfloor. Installation over soil or gravel (called slab-on-grade) involves the same process as installing a basement slab, with the potential addition of in-floor radiant heating. When new concrete is poured over an existing slab it is called an overlay. This is poured in place and finished much like a standard slab, but the new concrete layer is much thinner than a full slab. The overlay creates a new surface that can be colored, stamped, or otherwise decoratively finished just like a new slab.
Installing concrete over a wood-frame floor is similar to stucco application. The wood subfloor is treated with a primer or may be covered with felt paper or a decoupling membrane. Then, a layer of metal lath is fastened to the subfloor and a base coat of concrete is applied over the lath. When the base coat cures, a top coat of concrete is applied and is finished with decorative effects as desired.
Concrete floors may be decorated or embellished during the pour, while the concrete is wet, or afterward, which involves grinding and polishing the cured concrete. Finally, the concrete is sealed with either a liquid floor wax or a water-based or polymer sealer.
Concrete Flooring Care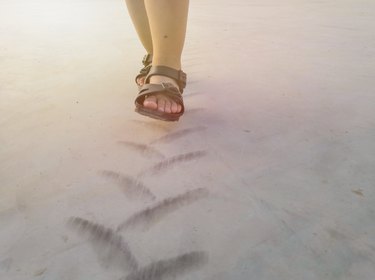 As with other hard floor surfaces, sweeping or dusting a concrete floor with a dust mop at least several times a week keeps it looking its best. Spills should be wiped up as soon as possible; concrete is susceptible to staining even when properly sealed. Spills also can become a magnet for dirt.
Concrete floors can be mopped with water and a pH-neutral floor cleaner. The mop should be damp, not wet. Every few years, a concrete floor may need a new coat of wax or sealer, depending on the type of sealer and the amount of traffic the floor receives.
A polished concrete floor that loses its shine through wear can be buffed with a commercial polishing compound. In any case, the concrete contractor can recommend the best product for maintaining a particular concrete finish.