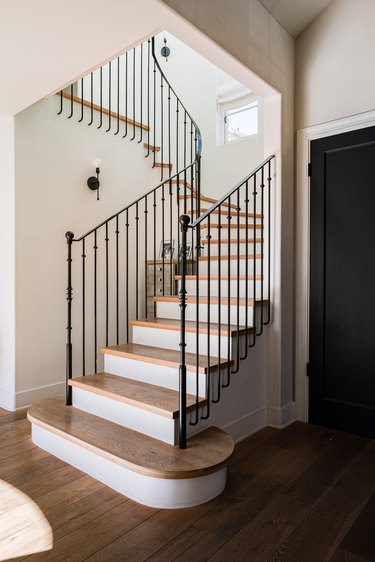 Stair railings are an under-the-radar design element that you might not think too much about. But once you do, you won't stop noticing them — the variety of styles, the color options, and the overall influence they have on the look and feel of a space. For a maximum impact that will stand the test of time, might we suggest going to the dark side? Like everything else graced in the color black, a black staircase will never disappoint.
So, whether you're building a modern dwelling, tweaking a traditional abode, or simply gathering inspiration, here are nine black stair railing ideas to consider.
1. Amp up the drama with something ornate.
Temper an ornate black stair railing with au courant, one-of-a-kind furniture and accessories, like a zebra-striped runner and a contemporary marble entryway table for a show-stopping foyer. Maximalist design guru Kelly Wearstler grounds the whole look with rich mahogany floors.
2. Stick with the classics.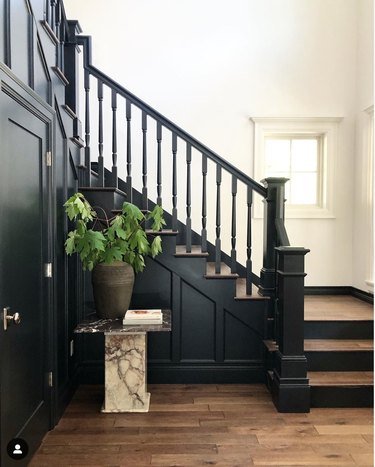 Classics are classic for a reason. Install a black stair railing you'll never tire of, like this traditional one in the home of Katie Kincaid Farris, and then accentuate it with farmhouse-inspired wide-plank wood steps. Paneling adds depth and a sense of history to the walls, and is the perfect backdrop for an elegant marble pedestal table.
3. Try out the less is more approach.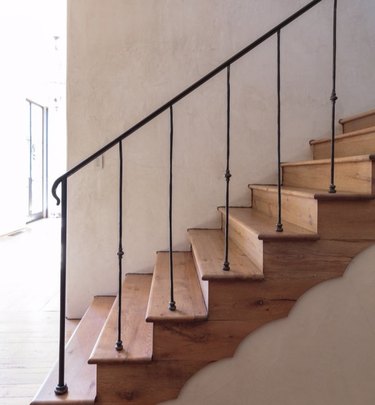 Black stair railings run the risk of being overly distracting, particularly in a home with a pared-down aesthetic. Make a measured statement with a slim-profile banister and well-spaced balusters like this one from Summerour Architects. Wood steps wrap around to create a decorative wall detail and add plenty of warmth.
4. Blanket your staircase.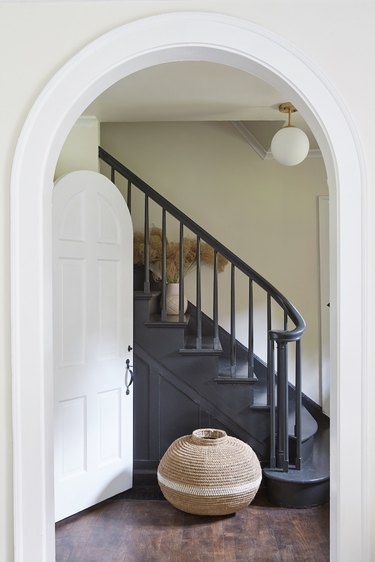 5. Go horizontal.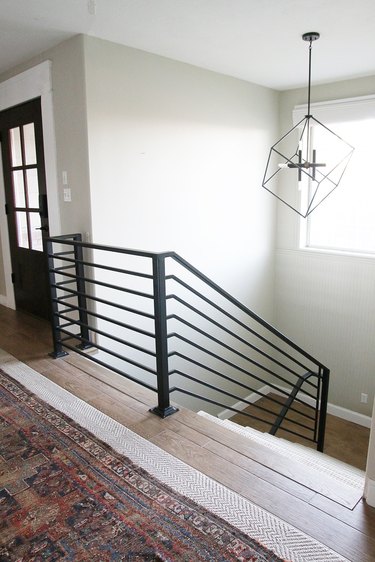 A black stair railing with a horizontal orientation is a sleek alternative to ubiquitous vertical posts. This one, seen on Chris Loves Julia, has a modern vibe and an unfussy design that keeps all eyes on the decor, like the cube-shaped pendant hanging over the stairwell and the kilim rug in the adjacent hallway.
6. Opt for a spiral.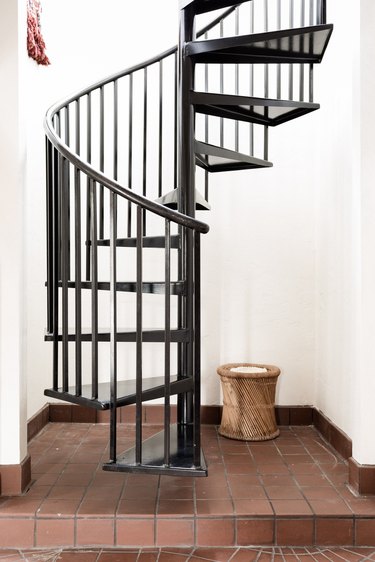 Working with limited real estate? Spiral staircases are ingenious space-savers that add interest and a bit of whimsy to interiors. This one, tucked away in a little alcove, has an industrial bent thanks to its black steel frame construction.
7. Welcome elegance.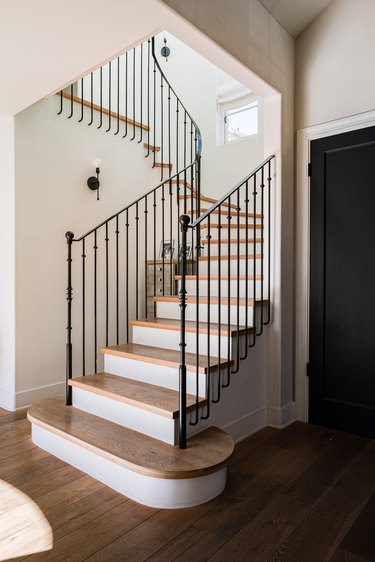 Maximize a black stair railing's visual impact with an uncommon structural feature that enhances its beauty — in this case elongated balusters that attach into the wall below the steps (instead of directly on the steps themselves). They create a mesmerizing pattern that's highlighted by creamy white walls.
8. Emphasize details.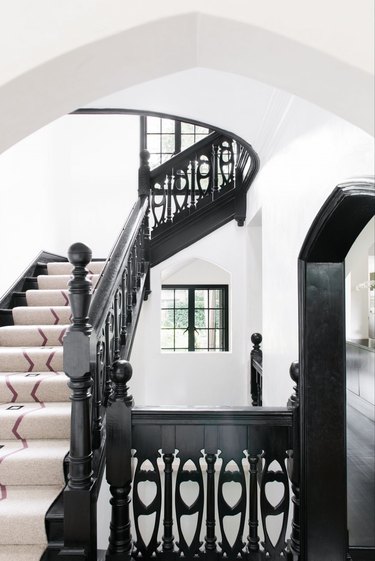 Is the staircase one of your home's defining features? Take notes from Cortney Bishop and play up intricately carved details with a high-contrast combination of glossy black paint and crisp white walls. An eclectic runner brings a free-spirited vibe to the heavy architectural element.
9. Introduce a focal point.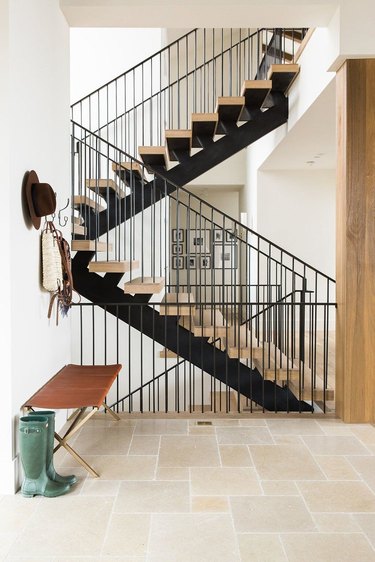 Put your staircase front and center, making it an integral feature in your home's design. Floating steps in bleached wood balance the black metal supports and handrails in this three-story streamlined beauty, courtesy of Studio McGee. Limestone pavers laid out in an ashlar pattern add warmth and rustic undertones to the clean lines.