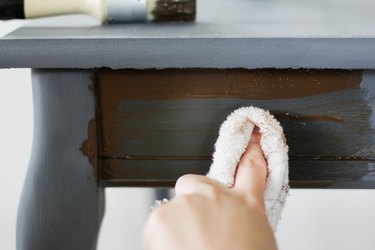 Let's not waste anyone's time here. If you're reading this article, you're legit wondering, "Just what the heck is the difference between chalkboard paint and chalk paint?"
Below, we break it down to the basics.
Chalkboard Paint
Pretty much the sole purpose of this paint is to use on surfaces where you want to write or draw (most likely with chalk), such as on a wall or door. Basically, you're creating an erasable surface. While you can easily buy chalkboard paint, you can also do the DIY thing and make your own, creating any color you wish.
Chalk Paint
This is a latex-based decorative paint mixed with a finely ground power substance, like plaster of Paris. The powder thickens the paint, and when applied, gives furniture and other surfaces a distressed, matte finish. What can you use it on? Pretty much sky's the limit: cabinets, walls, tiles, furniture, floors, you name it. What shouldn't you do with it? Write on it.
We have a whole comprehensive guide on chalk paint, literally all you need or want to know on the subject, including how to DIY your own chalk paint, techniques for applying it, and best brushes to use. We go deep into the subject.
In a Nutshell
So, if you want to paint a wall in your kid's room or on the door to your kitchen pantry (for family notes and grocery lists), go with chalkboard paint.
If you want to paint just about anything for the sake of giving it an antique-y, matte type of look, go with chalk paint. Just don't write on it!