Nowadays there isn't one ​right​ way to design an office. Sure, they all need the basics — a desk, storage, lighting, task chair — but the overall arrangement can vary vastly from person to person, especially now that more people are choosing to work at home. And while the haphazard setup at the dining table gets the job done well enough, it won't hold up for the long haul — regardless of whether you're working from home indefinitely or you just need a place to focus on personal projects. But, if not the dining room, then where?
As you search your home for a space that can house all of those office ideas dancing around in your head, perhaps there's one area that you've overlooked: the basement. We know what you're thinking, but hear us out. All it takes is a creative makeover and some interior design magic to transform that cold, industrial space into a stunning workstation. Scroll on for six home office ideas that will change the way you look at your basement, and finally put that unused space to work.
1. Include color in your office makeover.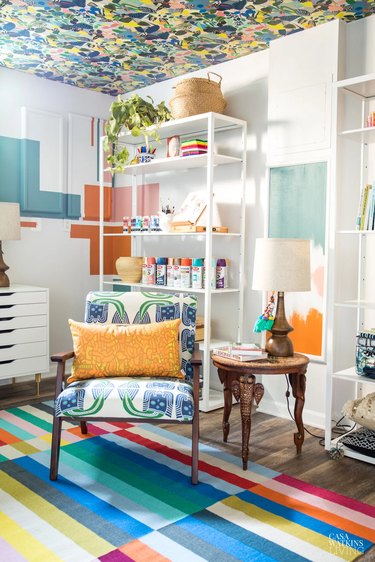 We can all agree that generally, basements aren't exactly bright, happy spaces. With all that gray cement, you might feel like throwing in the towel before you even get started. That's where color, and lots of it, comes into play. Punctuate the ceiling in vibrant, patterned wallpaper, paint a mural, and add plenty of kaleidoscopic home decor à la this now-cheerful workspace by Stephanie of Casa Watkins Living.
2. Incorporate built-in bookshelves.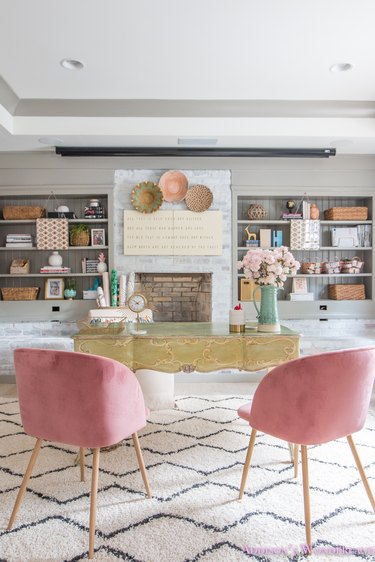 Planning a basement remodel? Then we highly recommend you take a few design ideas from this workstation by Brittany of Addison's Wonderland — specifically, the built-in shelving. Adding this functional feature to your lower level will instantly pull everything together, making it look and feel like a traditional office, while also providing much-needed storage space.
3. Make the most of nooks and crannies.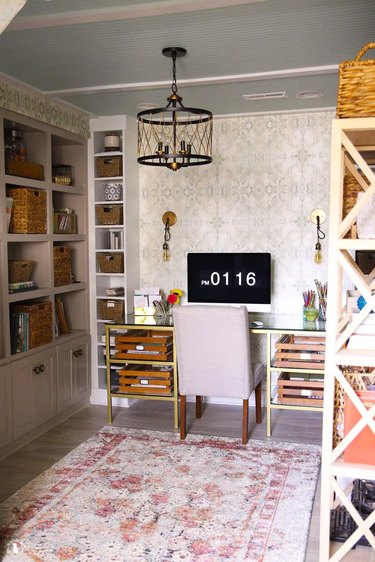 You know that small space between the cabinets in your basement? Yeah, that can totally work as an office space. With a little wallpaper, chic shelving, eye-catching sconces, and a pretty area rug, it's entirely possible, as proven by this space from Jamin and Ashley of The Handmade Home.
4. Transform an entryway.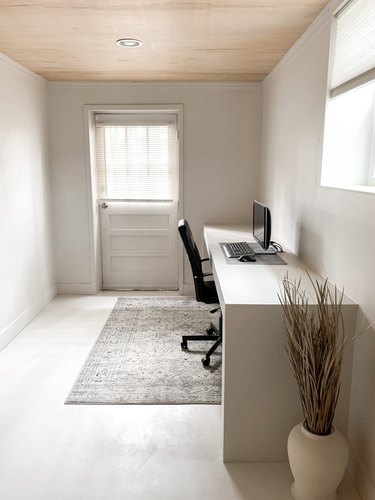 As it turns out, that random, empty space near your basement door can actually make for a pretty ingenious home office design. Put that square footage to good use, like Scot and Bridgett of This Minimal Home did, and go for a pared-down workstation made up of the essentials: a simple desk, task chair, and cozy rug.
5. Embrace existing materials and features.
If a finished basement just isn't in the cards for you right now budget-wise, simply work with what you have. Take a cue from Emily Henderson and embrace the concrete floors, columns, exposed ceiling beams, and brick walls. Just add a coat of paint here and there to freshen things up. The result is a home office with an industrial vibe, complete with cool bits of decor and just enough task lighting to brighten up the space.
6. Lighten up your decor.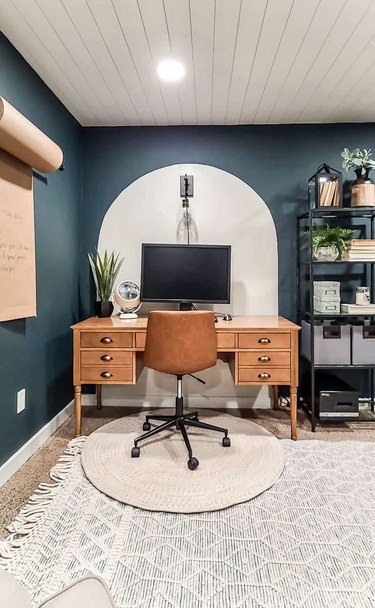 No natural light? No problem. Roll up your sleeves and put your home improvement skills to work by tricking the eye in your basement office. Here, Chelsea and Logan of Making Manzanita installed recessed lighting, painted a white arch on the wall, added a white shiplap to the celling, and put down neutral rugs, all things that make a dark space appear lighter and brighter.