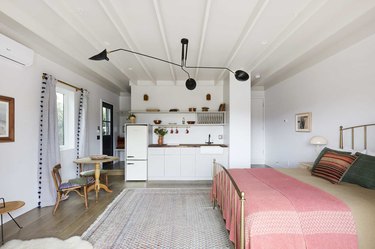 We love a garage makeover as much as the next person, but a truly transformational one that pulls double-duty, even more so. We're talking bedrooms, master suites, or quaint guest quarters. Cue the ever-so-dreamy classic carriage homes of the South. While transforming the attic-like space above the garage is one way to go about it, converting the actual lower level into a livable area involves a bit more elbow grease. Spoiler alert: It'll all be worth it, especially considering the extra room you can get out of it. With a focus on the streamlined and contemporary cool, we set out to source the best modern garage bedroom ideas that are ripe with inspiration. Take a look.
1. Integrate natural light.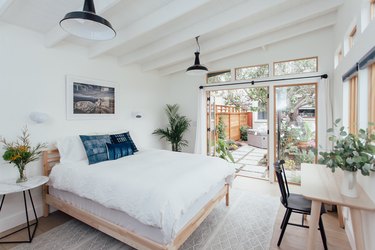 Garages aren't always the brightest so if you have the opportunity to take on a full reno, consider designating at least one of the sides to serve as a wall of windows. Not only does it open up the space but it leads to an airy scheme. Follow the lead of this bright garage-turned-Airbnb (dubbed the Rockridge Casita) where French doors, coupled with a floor-to-ceiling window, offer uninterrupted views of the charming garden outside.
2. Use the door as a headboard.
Instead of using the main door as your primary point of entry, seal it off (you'll conserve more energy this way, too). You might also consider installing a proper entrance with a doorknob and all. In this converted Silver Lake garage, the swing-out doors serve as a statement-worthy backdrop that distracts from the lack of a headboard.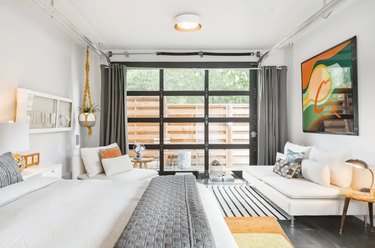 Window treatments are the ultimate finishing touch and even more so when it comes to converted garage ideas. Whether you're looking to conceal an unsightly element (think bulky doors or exposed pipes), or simply want a little privacy, a set of drapes or curtains can get the job done. This modern spot by Maxable shows how impactful they can be.
4. Make lighting a moment.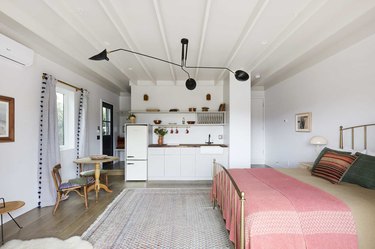 The creative genius behind this project, spotted on Emily Henderson, is no other than Shanty Wijaya from Allprace Properties. The transformational garage has all the conveniences of a home — a kitchenette, HVAC, bathroom — plus a handful of inspired style moments to boot. Take a cue from Wijaya and install a bold light fixture (in lieu of a standard floor lamp) to take the space from modest to artful.
5. Double your floor space.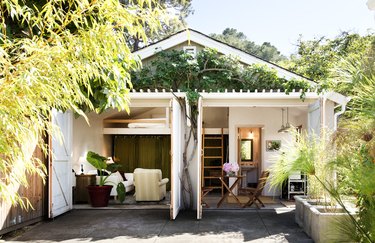 This coastal retreat by Beth Dana Designs is giving us all the feels and plenty of garage bedroom ideas on top of it. In order to utilize every available square inch, the designer opted for a lofted bedroom layout, which made the space below available for a cozy living room setup. A sturdy ladder leads up to the bed that's cleverly placed to overlook the lush landscape outdoors.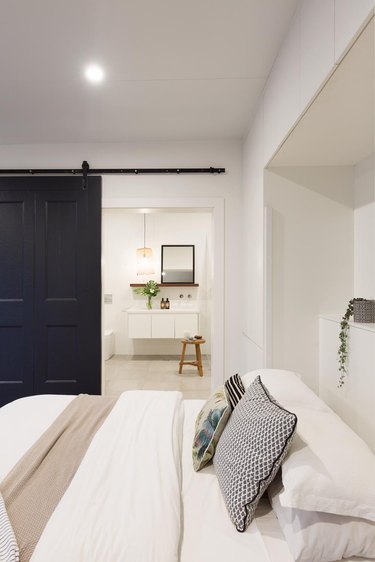 File this under garage ideas worth recreating. This converted garage by Sydney-based design studio Heliconia is serving up all sorts of design envy — from its high-contrast palette and rich architectural details to the intimate bedroom nook surrounded by streamlined built-ins. Take note and bring in a divider or a sliding door to set your bed apart from the rest.
7. Maximize where you can.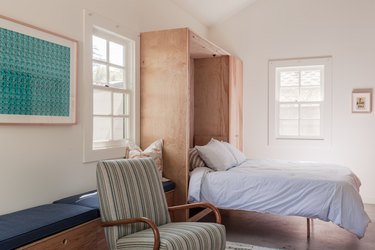 If you're short on floor space and not looking for a living room-esque setup, a Murphy bed is the next best thing. It folds discreetly into the wall, providing a vacancy below for whatever you may need — be it a table or simply extra room to roam. Take it from this inspired homestead, with its streamlined design and beautifully modern vibe.
8. Go for a sleeper sofa.
When it came to carving out space for overnight guests, the creatives behind the New Darlings turned to their garage. Looking to squeeze a little more square footage out of their home, the duo transformed the area to include a compact kitchen and an equally charming living room that doubles as a bedroom courtesy of a convertible sleeper sofa.
For a simple and inexpensive way to carve out various areas in your converted garage bedroom, use plywood to get the job done. In this charming "granny pad" by Seattle architecture firm Best Practice, the plywood walls not only add a splash of warmth to the room, but also help separate the bedroom from the living space, too.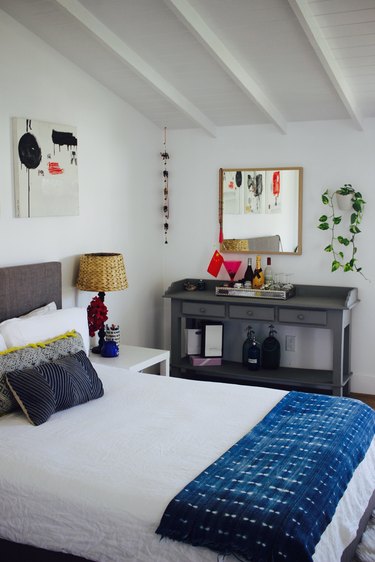 Whether you're painting, totally renovating, or embellishing with fresh details, transforming the ceiling is key when it comes to garage bedroom ideas. Designer Stace King took advantage of the high walls in this Laguna Beach carport with a total whitewash that paved the way for vibrant art and a rich array of textures. In this vein, leave your wooden beams exposed or go for a board and batten-inspired installation for a modern finish.