Similar to finished attics and basement conversions, rooms above the garage offer privacy, much needed breathing room, and the additional square footage to create whatever space you've been dreaming of. Are you desperate for a larger home office? Or maybe a gym? Perhaps you're really in need of a game room to hangout and play games?
As you might imagine, adding a bonus room on top of a garage is quite an investment — it runs around $115 per sq. ft. Of course, the price will vary depending on whether or not you need to reinforce the existing structure before you add onto it, the type of finishes you choose, and if the garage is attached to your home or it stands alone. Bonus rooms on top of freestanding garages are more expensive, because you're unable to use existing walls, power, and plumbing. As with any major construction project, be sure to check local building codes and ordinances before you begin, and hire an experienced contractor.
1. Build an inspiring home office.
Most of us are working from home these days and could use a bonus room above the garage as an expansive office for one (or two); or why not have it pull double duty as a remote learning hub if kids are in the picture? This inspiring space seen on Plank and Pillow is grounded by a wood-paneled ceiling that imparts warmth and personality, while a trio of oversize black pendant lights add contrast and weight from above.
2. Opt for a grown-up game room.
A pitched ceiling, plenty of natural light, and a neutral color palette make the ideal backdrop for a sophisticated multitasking hangout like this one by Markalunas Architecture Group that was spotted on One Kindesign. They created a bonus room above the garage replete with telltale farmhouse accents — shiplap, white walls, and a welcome dose of reclaimed wood in the form of a handsome pool table.
3. Create the ultimate playroom.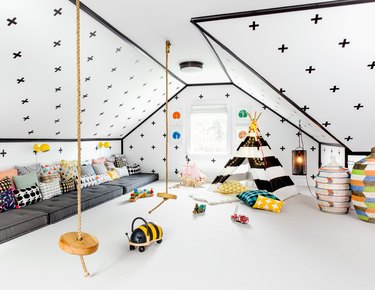 Shorter, darker days are approaching and that means more time spent indoors. Keep little ones from bouncing off of the walls with an over-the-garage-bonus-room idea in the form of a tricked out playroom. Chango & Co. created this whimsical space for one lucky family and included wish list items like dual rope swings and plenty of low slung soft surfaces to rest on.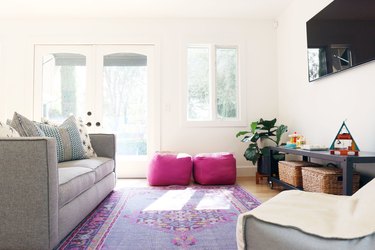 Seek refuge from the rest of your family (or roommates) with a bonus room over the garage idea that centers around a comfy sofa and a big screen TV. Studio McGee created a muted space that keeps all eyes on the television, and then injected personality with easy-to-swap accessories such as a vibrant rug, punchy accents, and eclectic pillows.
5. Design a home away from home.
Whether you're looking to use your over the garage bonus room as a rental or simply desire a self-sufficient home away from home, be sure to include all the essential amenities — from a kitchen to a bathroom to a casual family room. This soup-to-nuts coastal space seen on Sweeten maximizes square footage and uses a beachy color palette for an uncluttered and approachable aesthetic.
6. Construct an envious at-home gym.
You'll have no excuses to not squeeze in your daily sweat sesh with a convenient over the garage bonus room turned home gym, à la this setup by The Barnyard Store. A combination of wood trim and white walls, along with plenty of windows and an open floor plan, creates the ultimate motivating and welcoming environment to get centered.
7. Welcome cozy bedroom vibes.
An ancillary bedroom for guests (or an older child craving more space, perhaps) is a bonus room idea that will not disappoint. This one by Jessica Helgerson is cocooned in floor-to-ceiling pine for a cozy tree house feel, while an ornate chandelier beautifully juxtaposes the rustic scene.