Things You'll Need
Lumber

Particle board subflooring

Drywall

Joint compound

Paint

Electrical wiring

Handrail material

Insulation

Electrical outlets

Light fixtures

Wood trim

Crown molding

Baseboard materials

Interior doors

Closet doors

Wood flooring

Tile

Bath fixtures

Plumbing fittings

Saws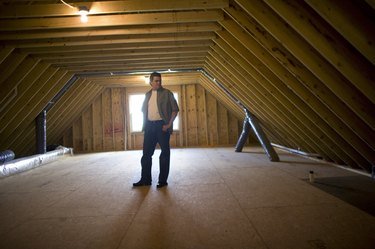 Changing attic space into living space for hobbies, reading or relaxation is a project the entire family can design together. Evaluate how much space your attic will yield and utilize areas in knee wall space under the eaves to expand storage. Designing space to put away clutter will help keep the bonus room neat and make the space seem larger.
Step 1
Check the rafter joists and side wall framing of the house to ensure they will support new construction. Enlist the help of an expert builder for this. A bonus room will add a lot of weight to an attic area. Measure the floor area you can allow for the bonus room, a closet and bath area. Leave at least 10 feet of head room at the room's center. Investigate the space and measure to make sure you can carve out an area 9 feet by 12 feet with an 8-foot ceiling, not counting spaces under a slanted ceiling area.
Step 2
Cut out room for a staircase leading to the area that is at least 4 feet wide. Install framing for the bonus room, closet space and a bath from 2-by-4-inch boards. Utilize space in slanted ceiling areas for storage doors, drawers or cubbyholes. Frame the bathroom to include a large closet and dressing area, if you have room. Enlarge existing windows or frame dormer areas. Check roof areas for needed repairs if you install dormers.
Step 3
Run electrical wiring for all outlets and light fixtures before you enclose the space with drywall. Insulate the walls with roll fiberglass insulation. Install drywall in all areas of the bonus room. Insulate the ceiling area well. Finish the drywall with joint compound, sand and paint. Install electrical outlets, light fixtures and wood trim or crown molding.
Step 4
Place bathroom fixtures and hook up all plumbing lines and fittings. Paint the walls with semi-gloss paint. Use semi-gloss paint or high-gloss paint on the wood trim. Hang all interior doors, and install flooring materials. Install baseboards around the perimeter of the bonus room and in the interior of the closet spaces.
Tip
Skylights framed into the roof area can make the bonus room seem bigger. Install two or three skylights in a row to create good space for an artist's studio or sewing area.
Warning
Create a good exit plan in the bonus room in case of fire. Building a deck area on one end of the attic is a good idea to create an exit route. Also, make sure windows open easily and they are large enough for an adult to climb through.
---
Judi Light Hopson is a national stress management expert and psychology issues writer. Her column on relationships, co-written with a nurse and a psychologist, is distributed by McClatchy Newspapers to over 300 major publications worldwide. Ms. Hopson has written for employee assistance programs that serve over 15% of America's Fortune 500 companies. links provided below.