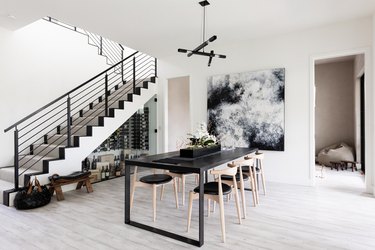 More than simply a means of getting from one floor to another, staircases offer an opportunity to punctuate your home's aesthetic. But sometimes you just want to make a statement without MAKING a statement, and for those occasions, a no-fail black and white color palette will save the day.
It's a timeless pairing that works in just about any room from the bathroom to the boudoir, and bonus — it pairs well with every color and design style, so you can decorate worry-free of clashing. Ready to amp up the drama in your entryway? Check out these eight black and white staircase ideas to see how the high-contrast look can work for you.
1. Tap into your inner artiste.
The black and white stairs showcased in this design by Leanne Ford features free-form paint, complete with splatters and drips, for a casual and artistic approach. White walls and minimal accessories ensure that the staircase will remain the central focus.
2. Introduce subtle pattern.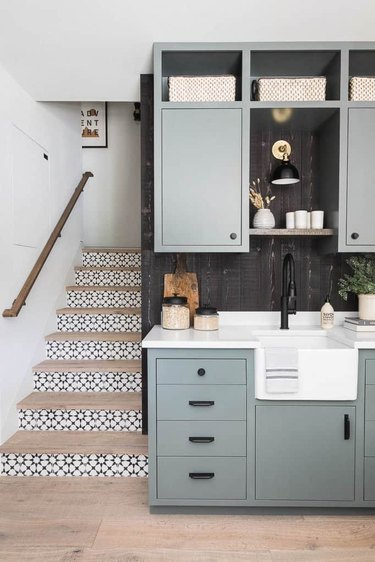 Stair risers are the perfect way to add a bit of color or pattern in your home. Low-committal versions of this idea include paint, wallpaper, and peel-and-stick decals, but Mindy Gayer makes a compelling case for embracing tile — she used a whimsical star pattern to introduce contrast to this rustic sage green kitchen.
3. Layer on classic details.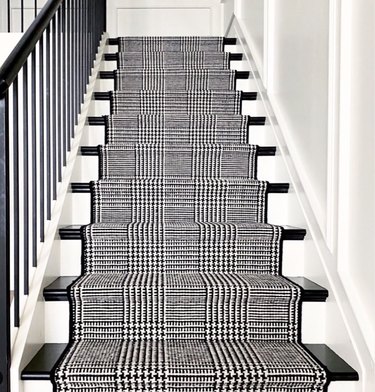 A black and white houndstooth runner atop a matching staircase provides softness underfoot, and brings a classically tailored look to this bold entryway. Kelly Hurliman successfully layered these elements for a refined flight with timeless allure.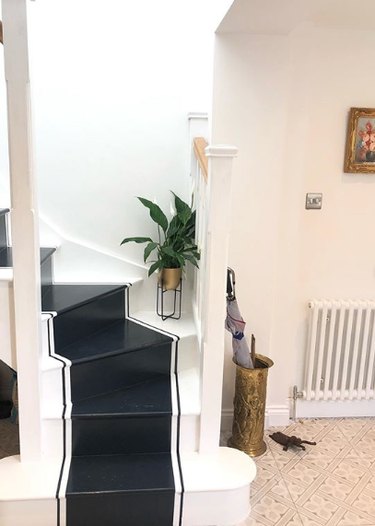 Try your hand at black and white stairs (that you can execute without the professionals) with a painted runner. Of course any color combination will work, but there's no denying the charm and universal appeal of this monochrome version by Louise Dench of Forging Our Forever Home.
5. Say "yes" to traditional.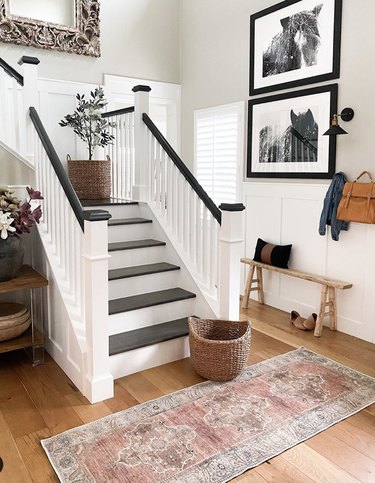 If you're a traditionalist at heart, these black and white stairs in the home of Jordan from House Becomes Home will be right up your alley. It blends classic elements like white squared-off balusters, a black handrail, black treads, and white risers. Wall paneling adds dimension and character while bohemian accents personalize the space.
6. Opt for straight lines.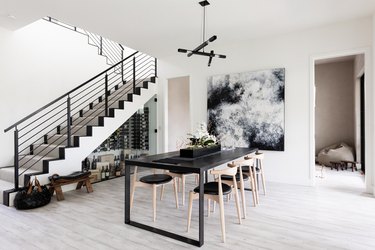 Opt for a streamlined black and white staircase idea to complement minimalist interiors, like the high-contrast beauty seen here. The sleek construction and horizontal lines anchor the open floor plan and add depth without distracting from the pared-down aesthetic.
7. Or, embrace some curves.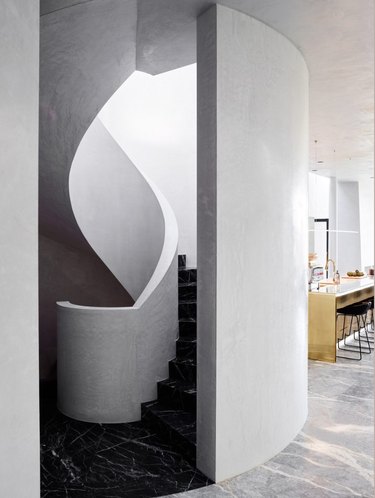 Introduce softness with a sinuous black and white staircase idea like this one designed by Rob Mills Architects — it pairs luxe black marble steps with white plaster walls for an organic look that's sophisticated yet approachable. We especially like the way it contrasts with the straight edges and brass finishes of the kitchen in the background.
Add weight and a focal point to an open floor plan with a black and white staircase idea that features a black metal handrail resting on white walls. Wide plank wood steps, that seamlessly transition from the main floor, infuse warmth and rustic undertones.