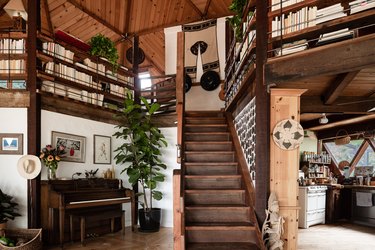 Less can be more when it comes to rustic design, so let those raw materials — think wood, metal, and stone — stand out. And leave layers of old paint to chip. Sounds simple enough, no?
1. Blend rustic and traditional.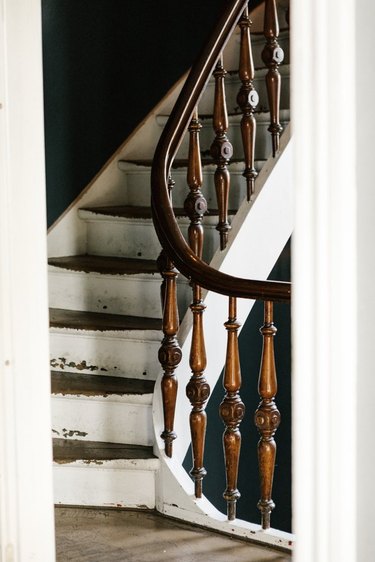 This rustic staircase, beautifully worn with age, stands out all the more when paired with a one-of-a-kind curved banister with intricate spindles. The railing's heftiness and timeless aesthetic contrast the steps' antique look which harkens back to another century and adds endless character to the entryway.
2. Go for simple cylindrical wood railings.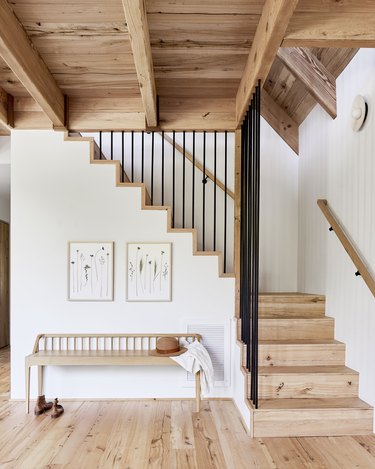 When rustic decor meets a newly renovated mountain house, the aesthetic is bound to feel a little old, a little new, and a whole lot classic. Emily Henderson designed this staircase with step-to-ceiling black posts that add a hint of modernity while the sleek wood and white walls make for a fresh, clean space. The simple cylindrical railings, though, are key to nailing the simple cabin getaway vibe.
3. Welcome farmhouse flair for a timeless look.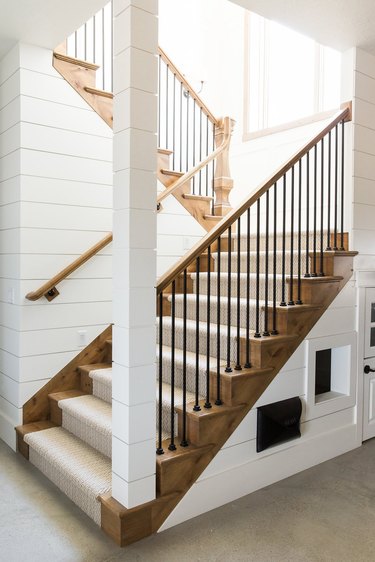 Mix one part rugged with one part traditional, and you'll get this staircase designed by House of Jade Interiors. The thin black rails add a contemporary nod while the thick, ornamental wood banisters are straight rustic. And we can't get over the cream stair runner's cozy effect and the shiplap walls that are perfectly farmhouse.
4. Use natural materials like wood and more wood.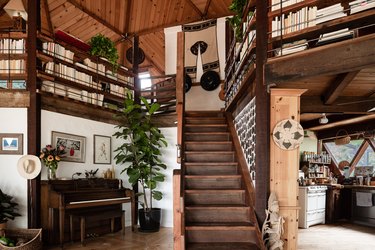 What's more kitschy-cool than a 1970s geodesic dome in Topanga Canyon? Nothing, especially when the space includes a rustic stair railing that leads to a loft filled with books, music, and floor pillows. Homeowners Colleen and Mathew Gerson kept the staircase simple with sturdy wood that coordinates with various other reclaimed pieces, the angular ceiling, the piano, and a wrap-around bookshelf.
5. Embrace your home's age.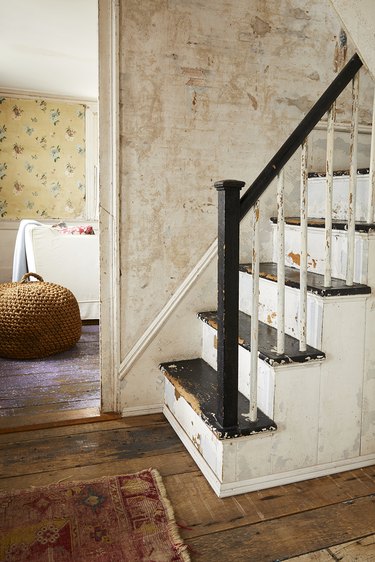 It doesn't get more rustic than this. Artist John Derian kept renovations to a minimum in his 18th-century Provincetown home. Besides updating plumbing and electrical, Derian left the rest of the historic house intact, including the beautifully weathered staircase and railing. This is proof that less oftentimes is more.
6. Opt for a vintage look.