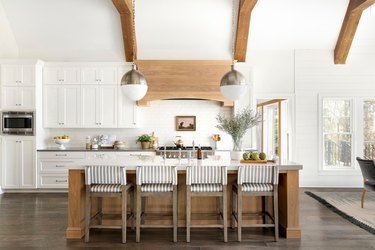 These are some of our favorite culinary spaces, each showcasing a farmhouse kitchen floor that acts as the ideal finishing touch.
1. Patterned Cement Tile
Although the farmhouses of yore usually had standard wood floors, nowadays, one of the defining design touches of a farmhouse kitchen is patterned cement tile. Typically displaying black and white hues in a feminine pattern, it's an artful accent full of personality to add to the mix, as proven by Sarah Joy's cook space.
2. Painted Wood
3. Light Wood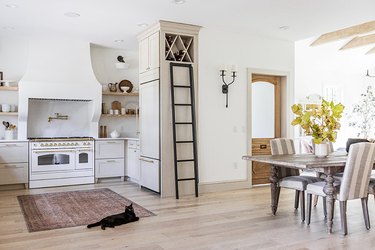 As you search for farmhouse kitchen floor ideas that will lend a breezy feel to your space, consider light wood. Showing off varying tones and distinctive knots, it's a perfect partner to Jenna Sue of Jenna Sue Design Co.'s all-white work station.
4. Dark Wood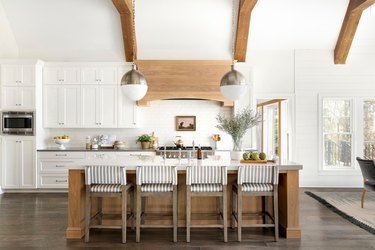 Or, if you'd rather bring some depth to your cook space, ponder a wood floor in a dark shade. Mahogany and walnut are preferable to achieve a dreamy, dark farmhouse kitchen floor. In this setup by Bria Hammel Interiors, the rich finish lends flawless juxtaposition to an otherwise all-white farmhouse design.
5. Black Tile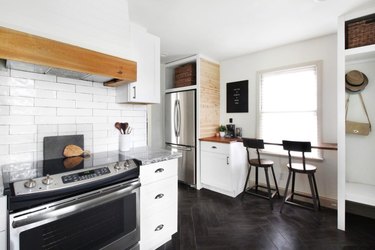 6. Brick
To really capture old-school vibes for your farmhouse kitchen floor, look no further than as-vintage-as-it-gets brick. It'll provide the bygone ambiance you crave, and it'll look visually-impactful alongside several different hues. For instance, in this deVOL Kitchen, the warm, earthy material plays nicely with cool, gray cabinets, creating a farmhouse-industrial look that's unique and beautiful.