The freshness of a cream kitchen coupled with the warmth of wood flooring is hard to beat. It's like rocking a tailored cream suit every day that expresses confidence, elegance, and fearlessness: "Bring on the grit and grime of the outside world ... I'll come out spotless!"
Though that may not be your battle cry ​yet​ in terms of dressing yourself or designing your kitchen, especially if you often find your light-colored clothing and walls being magnets for dirt. But it's a new decade, an adventurous you, and if you look at these enviable combinations of cream kitchens and wood floors, 2020 may be the year to welcome a little vanilla into your home and wardrobe — in a good way. Take a look.
There's beauty in simplicity.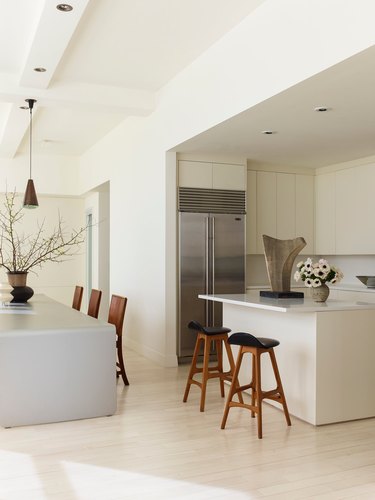 This Soho penthouse designed by Neal Beckstedt Studio shows how to take a cream kitchen design into the 21st century. For any minimalist skeptics who consider the idea of a "cream kitchen" too traditional, he responds with hardware-free cabinet doors, neutral wood floors, and a sub-zero fridge in the starring role.
Or go traditional with timeless elegance.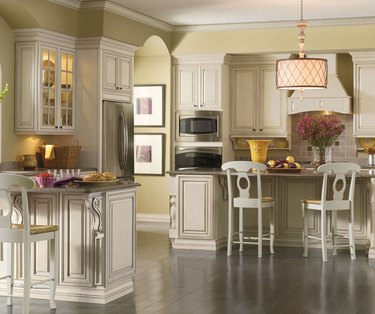 Care to escape to the French countryside? This Kemper Cabinet kitchen design and its decorative details — from the range hood to the scrolled corbels beneath the countertops — easily transport a visitor to another time, while the gray wood floors nicely capture the incoming sunlight and reflect the creme cabinetry without overpowering the room.
Find comfort in contrasting elements.
Contrasting light-colored cabinetry with darker flooring adds nice dimension to a kitchen. In this Master Brand–designed kitchen, we appreciate how prominent the grain is in the hardwood to give texture to the scene, as well as the use of the no-frills black hardware on the maple shaker kitchen cabinets to create a very contemporary look overall. Added points for carrying the cream color into the window shade, but going black with the pendant lighting and barstool cushions. These choices keeps the kitchen feeling airy where the cooking is happening and more intimate where socializing takes place.
Maximize natural light in your layout.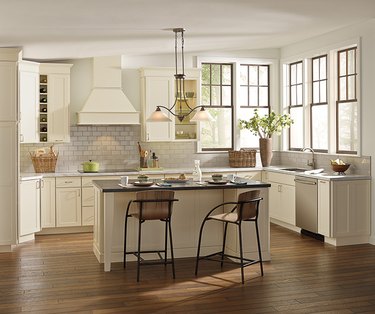 If you live in a place where the sun is just your sometimes friend, keep the mood cheery year-round with white backsplash and cream cabinetry throughout the space (and definitely facing the windows) to maximize the natural light in your kitchen. The mix of warm wood tones in the kitchen's floor adds some charm while complementing the wood window frames.
Where there's grain, there's interest.
Whether you highlight the grain in your cabinetry or your flooring, it instantly adds a rustic touch to your cream kitchen that can make it feel more alive. Natural elements do that. And in this wonderful kitchen design by Tish Mills, wood grain makes appearances in the floor, kitchen island, and even above the doorway. Together with the cream cabinetry, walls, hood, ceiling, and countertops, this kitchen is an absolute keeper.