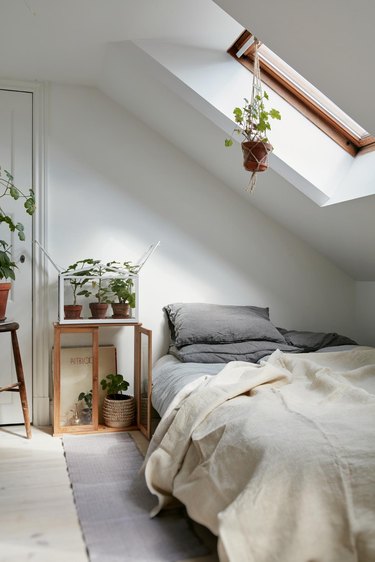 It's a dream you've had for awhile now: Having an extra room in your house. One that you can transform into a charming and cozy office, or perhaps a fun and colorful playroom for the kids. Or, even better, a warm and welcoming guest bedroom. But without a traditional spare room to speak of, you'll need to get creative with your limited space to turn this dream into a reality. This would be a good time to consider the attic.
While it's true, attic bedroom ideas do take a fair amount of planning and building, the end result will be well worth the hard work. For starters, you'll need to confirm that your space meets local building codes. Generally speaking, is there seven feet of vertical clearance? A minimum of seven feet in width? Is there 70 square feet of space available? And, is there a window that can double as a fire escape? If the answer is yes to all of these questions, then that's half the battle.
Next, you'll need a building permit so that you can begin your project, which will likely include installing proper heating, ventilation, insulation, and electrical wiring. And don't forget new flooring, wall panels, and painting, of course. Like any remodeling project, it can seem a bit daunting, but we guarantee that in the end you'll be happy you did it.
Scroll on for 10 beautiful attic bedroom ideas to inspire you.
1. Keep it airy in all white.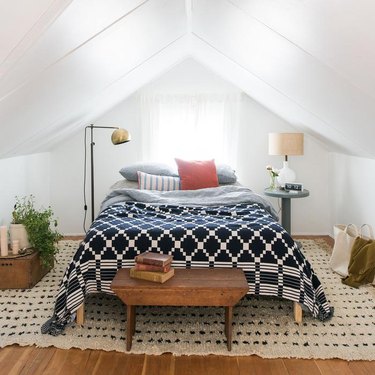 If you want your attic to appear larger than it is, we highly recommend white paint, and a lot of it. Between a window that invites in natural light and a white ceiling and walls, your attic bedroom will seem downright airy, like this light-filled space showcased by Schoolhouse.
2. Go for the minimal approach.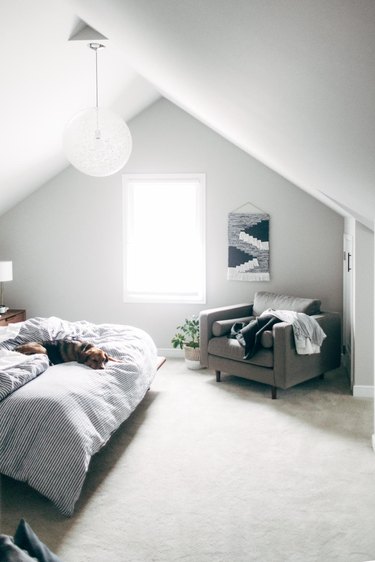 Another attic bedroom idea that will make your space seem larger is to go minimal with your decor and furniture — no need to pack the space with stuff. Here, Lindsay of Pinch of Yum chose simple furniture, a sleek pendant light, and a boho wall hanging to complete this dreamy refuge.
3. Include an accent wall.
To add visual interest to your space, allow us to suggest an accent wall. Since the attic won't have traditional square walls, including a focal wall can draw attention to the geometric lines of the room, which can look cool and modern. In this bedroom, Annie of Most Lovely Things chose to make the wall stand out with peel-and-stick faux wood wallpaper.
4. Shiplap is always a good idea.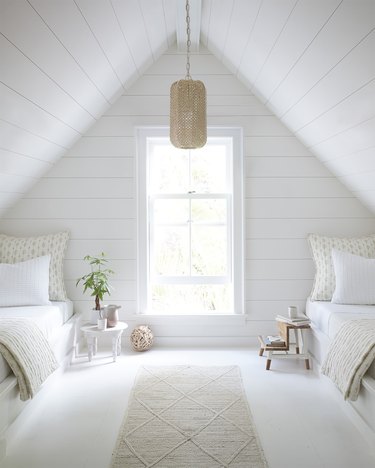 To kick the look of white walls up a notch, you can always install shiplap. It's a surefire way to instantly add farmhouse charm to your attic bedroom idea, as proven by this space styled by Serena & Lily.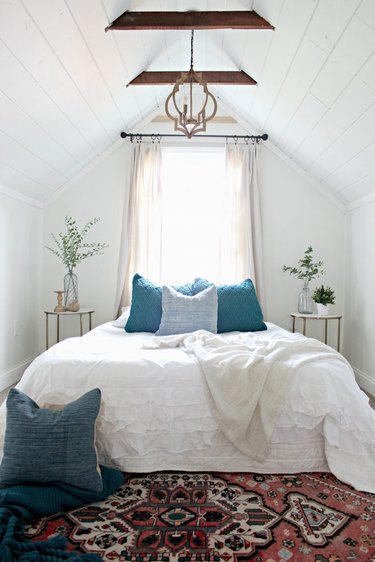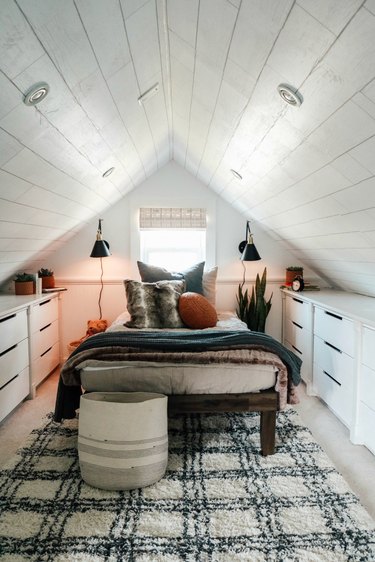 Storage is pretty much a non-negotiable in a bedroom, from master suites to kids' rooms. And even though attic bedrooms are small, it is possible to include convenient storage. For instance, in this space styled by Brooke of Nesting with Grace, streamlined dressers tuck in easily where the ceiling meets the walls, while woven baskets provide additional storage, too.
7. Bring in bits of personality.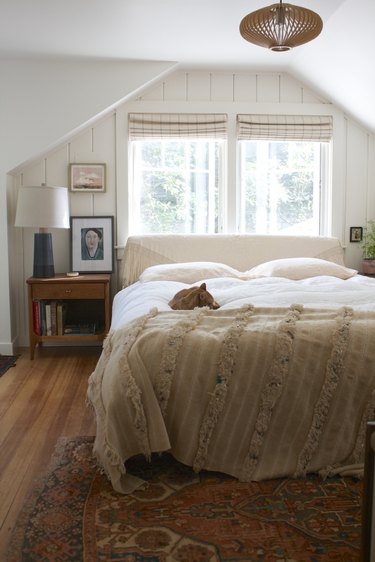 So, attic bedroom ideas don't exactly allow for giant works of art on the walls and big pieces of decor. In this case, look to uncomplicated, yet stylish, decorative elements to include in your space, such as smaller framed prints and diminutive vintage finds. That's what Katie of Red House West did in this attic bedroom, and the end result is flawless.
8. Create a playful feel with color.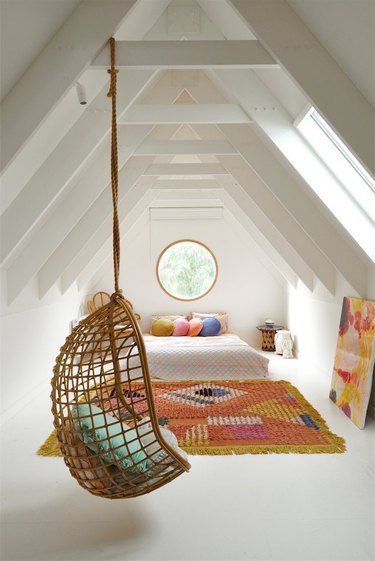 Since an attic bedroom isn't in the main portion of your home, you have the opportunity to push your decor in an unexpected direction or experiment with color. The Local Project spotlighted this attic bedroom belonging to Hayley Pannekoeck, and we are loving the creative, lighthearted use of color.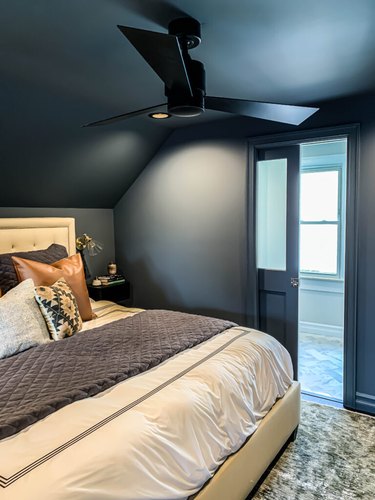 To give your attic bedroom a moody, dramatic vibe, ponder a dark paint color for the ceiling and walls. Danielle and Michael of Clark + Aldine chose a deep blue-gray for their attic bedroom, and the result is a sanctuary that's equal parts on-trend and comfortable.