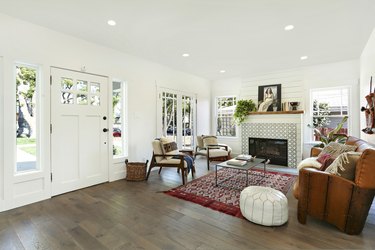 There's a reason we pay architects, designers, and contractors the big bucks — remodeling your home is not for the faint of heart. But, at some point, the experts leave the project, and you still have to live there. It's your home, and, more often than not, you're the one who knows what's right for it — even if you don't have a degree or license.
Friends of Hunker have been there. Here are seven times they've said no to a contractor or designer — or even a husband or wife! — and, in the end, were glad they did.
1. You know your color best.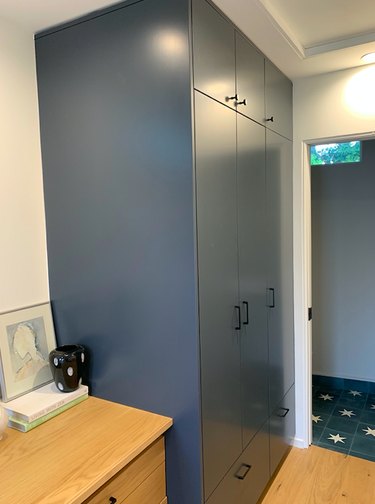 "I knew that I wanted my house to be painted entirely white with a neutral palette — except for one area: my pantry," says Laurie Grossman, editorial director for Hunker, who recently renovated her cozy, light-filled home in Del Rey, California. She wanted the pantry doors to be painted a soft black-blue color — specifically Railings by Farrow & Ball — but both the contractor and her husband thought it would be way too dark.
"Even though everyone was against the idea, I just felt like it was right — not to mention a gorgeous color. Once we painted it, everyone agreed about how it was surprisingly the right choice. Now it's one of my favorite spots in my home."
2. Embrace the outdoors.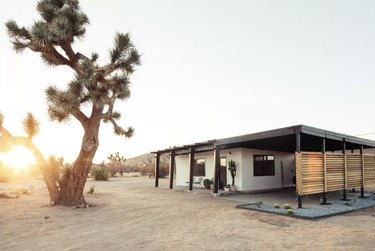 Paul Anderson, creative director for Hunker, renovated a homestead cabin in Joshua Tree, which is now available on Airbnb. "I wanted to change our carport into an outdoor gathering space, but it was really raw and my wife and contractor would just sort of roll their eyes at me every time I came up with ideas of what to do," he explains. "It didn't help that every idea just ended up becoming way too involved and over budget."
"In the end, I convinced my contractor to build these floating louvered panels out of rough-cut-cedar around the perimeter of the carport. He came up with the finishing details. It provides privacy, casts really dynamic light throughout the space, and created an architectural detail that we really love."
3. It's your kitchen.
"We did a kitchen renovation shortly after we purchased our first house," says Brett Woitunski, vice president of product and design for Leaf Group's media division, which owns Hunker. "I designed a layout where, in one corner, the countertop ended and then started again instead of wrapping continuously around that corner. The contractor thought we were crazy, but it's where the dishwasher opens, and turned out to work really well for our particular layout. It looks good, and is much more functional."
4. Check their work.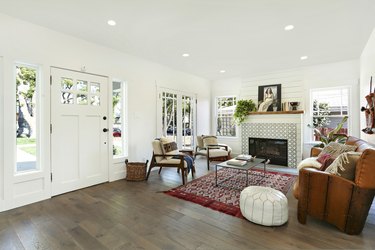 "I met with a fireplace fabricator that our contractor recommended," says Brittany Carr Seeley, who has renovated several homes in Los Angeles as part of a real estate development company. "I was not a fan of his work and trusted my gut to do something more creative, which was a huge sizzle feature in the end."
5. Size matters.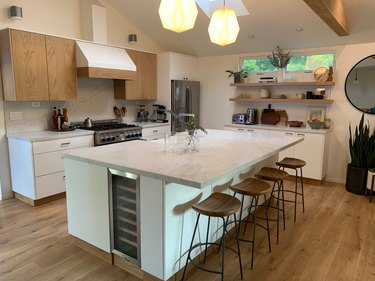 "Everyone kept saying our kitchen island was too big," says Jonathan Grossman, who is married to Hunker's Laurie Grossman. "We didn't listen to them. The final island is the size of a jumbo slab of quartz. It's giant. So glad we stuck to our guns. It's an amazing, spacious centerpiece that we appreciate and use every day."
6. Stick with your vision.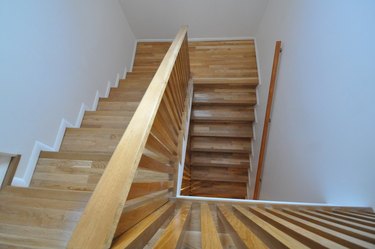 "One house we remodeled a number of years ago was three stories with an internal stairwell that connected the three levels," says Alyssa Valentine, a realtor who has renovated 13 homes in northeast Los Angeles. "I was set on running vertical slats of wood from the bottom level all the way to the top — to create a visual barrier that spanned all three stories. My contractor couldn't wrap his head around it and we went around and around about how to execute it. For a minute, he almost had me convinced that it wasn't possible or wouldn't turn out the way I had imagined. But I stuck to my guns and it was awesome — and it was exactly what I wanted."
7. Make them find a way.
"Don't take 'It's not possible' as an answer," says Mia Marano, who renovated a historic Craftsman in the heart of L.A.'s West Adams neighborhood. "Our contractor put a weight-bearing beam in the middle of the kitchen, which was not the plan. I made them stop all construction until they found another way to do it. Surprise, surprise, they found another way."