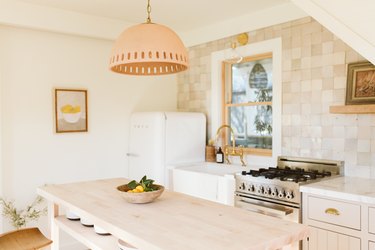 As trends move away from cool-toned, white, and pale gray into earthier hues — think terra cottas, olives, and ochres — and lots of texture, chic desert style just might be the next thing on the horizon. Taking cues from the Southwest, desert decor offers an earthy color palette that still feels neutral, mixes textures and textiles (think woven rugs and wall hangings with stone and exposed wood), and incorporates some of the pieces that have been particularly popular lately (like faux hides and cacti). Think of it as boho style with a Southwestern twist.
We particularly like desert style in culinary spaces, where it adds a sense of warmth to the center of the house. Want to get the look? Here are 10 desert-themed kitchen ideas that are showing us how it's done.
1. Incorporate rustic shelving.
2. Add a rug.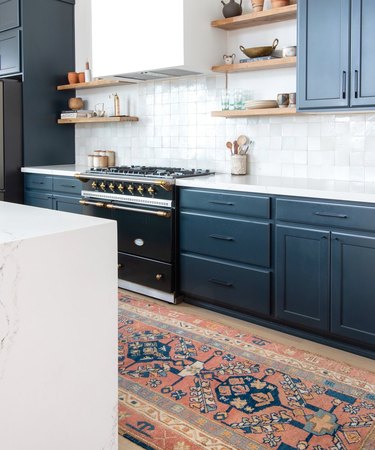 A staple of desert decor? Slightly worn, threadbare rugs, especially in rust red or dusty peach hues. Add one to the kitchen like this vintage Persian number from Loom + Kiln, or mix and match a few to get a layered look.
3. Source terra cotta accents.
Sculptural terra cotta pottery dotted throughout —a vase high on a shelf, an oversize bowl on the table, or a set of coffee cups — are a surefire way to complete your desert-themed kitchen. This modern cook space by Amber Interiors proves our point beautifully.
4. Incorporate stone.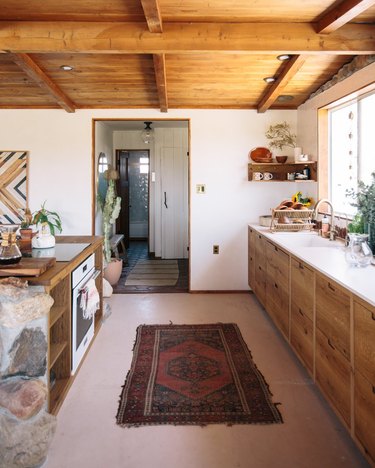 Desert style doesn't just come from decor (like the slightly worn, very on-point rug and abstract painting showcased in this kitchen by the folks behind Joshua Tree House). It also comes from a variety of natural, texture-rich materials, including exposed stone, as seen here, anchoring the end of the island.
5. Mix in wood.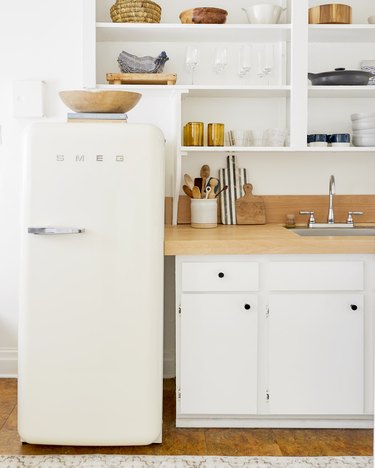 6. Tile the walls.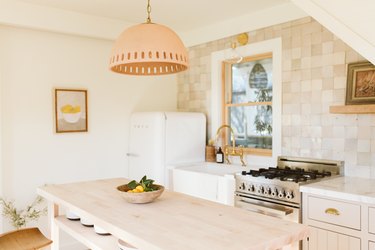 7. Tile the floor.
8. Layer leather.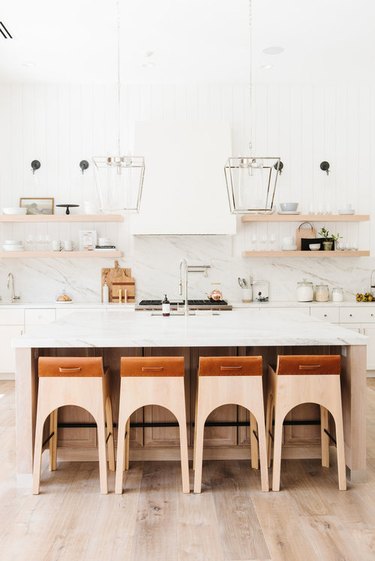 9. Use natural materials.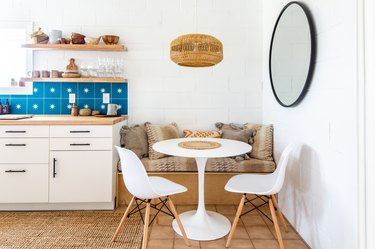 Layering natural textures and materials can help lend a laid-back vibe to a desert-themed kitchen. Channel this space (in a house aptly called #ThatDesertHouse) and add a natural-fiber rug, woven pendant, and even woven placemats or coasters to the mix.
10. Stick in a cactus (or two).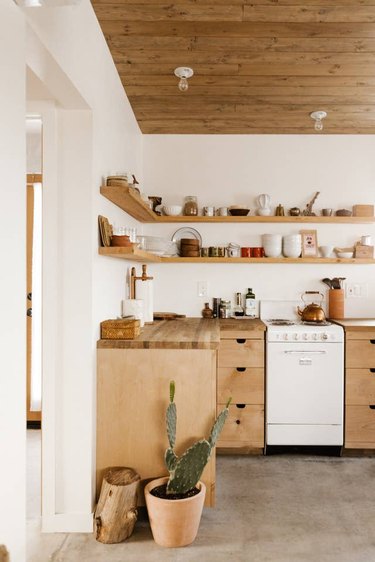 And, of course, you can add a few cacti along open shelving, or even put one on the floor alongside the cabinets, as seen in this desert-themed kitchen by Joshua Tree Cabin.