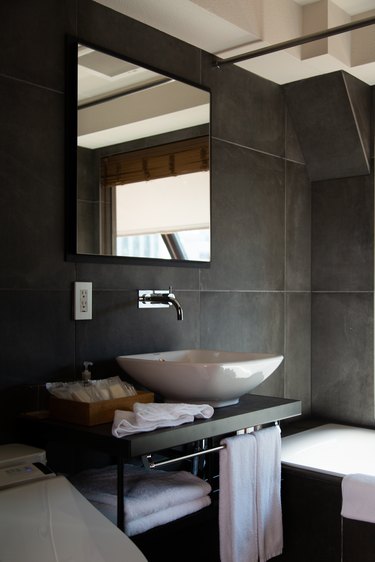 Not just another pretty face, bathroom backsplashes do more than infuse one of your home's hardest working rooms with color, texture, and dimension — although they do that, too. They primarily serve as an important barrier between your walls and water.
Backsplashes are available in a dizzying array of materials and style from tile to marble to travertine, many of which don't require you to be a contractor or a formally educated designer to install. Whether you fancy yourself a master DIYer or you are just starting out, we have six DIY bathroom backsplash ideas that everyone can tackle. Read on!
If a farmhouse-inspired backsplash idea, like this one from Nedda Roach, is on your wishlist, look no further than one constructed from shiplap, a quintessential detail that adds dimension, architectural interest, and charm. Ensure it's sealed properly because, you know, wood and water, and this look will last for years.
2. Try your hand at tile (and grout).
3. ... Or, skip the grout.
We believe in you, but if the thought of installing individual tiles and all that goes with it — spacers, levelers, and snap cutters — feels completely overwhelming, skip the hard stuff and choose a DIY bathroom backsplash idea with a built-in adhesive, like the peel and stick option that Jenni Yolo from I Spy DIY used in this youthful WC. It really is as user-friendly as it sounds.
4. Consider the humble mirror.
Take your bathroom to new visually expansive heights with a DIY bathroom backsplash idea that's often overlooked: The humble mirror. This traditional piece of decor is a workhorse that pulls double duty by giving the illusion of more space, while also functioning as a backsplash when it reaches the top of your vanity à la this timeless sanctuary by Ore Studios.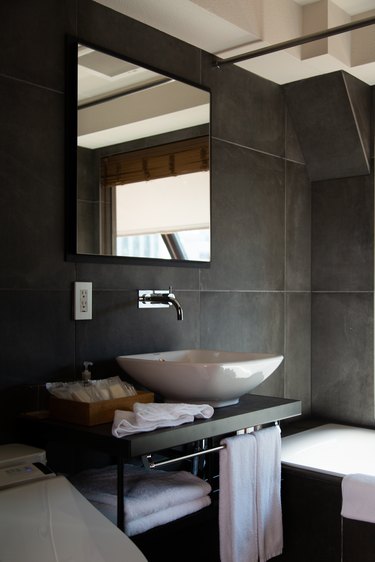 Whether it's removable or the real deal, white tile is always a classic choice. But if you're craving something with a bit more personality, opt for a lively or dramatic shade instead. Color has a surprisingly meaningful impact on our emotions and the way a room feels, and the options are seemingly endless — black, gray, pink, blue, and green to name a few. So grab a color wheel and let the DIYing begin.
6. Try the wallpaper trend.
For those looking to make a big impact in a humdrum space, it's pretty hard to beat the power of wallpaper. While you might love the personality, pattern, and color it introduces, if you're like us you're probably having a hard time accepting the long-term commitment that comes with it. Don't fret. There's a simple solution: peel and stick wallpaper. It's affordable, DIY-manageable, and best of all, easy to remove. Just be sure to select something water-resistant such as vinyl.
---
Jaclyn Schatzow is a freelance writer living in Santa Monica, CA